I have tons of stuffed animals, but was wishing I could hand deliver them to children who are sick, or have been in traumatic situations. It would bring me such joy to see the smiles on the children's faces when I hand them a wonderful stuffed animal. I have collected these stuffed animals over the years. I also have a huge collection of Beanie Babies and Beanie Buddies. Where is it possible for me to do that, and when would be a good time? I live in Burlington, Washington. I would love it if I could take it to Seattle Children's Hospital, but it is too far away from us now. Does anyone know of a place in Mount Vernon, or Burlington, WA that I could take the stuffed animals and deliver them in person? Does Skagit Valley Hospital have place I could take them? Please let me know.
By Kristen
November 11, 2013
0

found this helpful
A word of caution, some kids are allergic to stuffed animals. But I agree it would fun to brighten a scary situation. Also have you thought of giving to a domestic abuse center or to an orphanage or to a daycare or churches! God bless you for being so thoughtful!
November 11, 2013
0

found this helpful
My advice would be to call the Fire and Police Departments in your area and ask them. I know that some police officers carry stuffed animals in the trunks of their cars to give to traumatized children in bad situations. You could call Seattle Children's and ask if they know of any places up in the Burlington area where you could donate.
Women and children's shelters would welcome them. So many time women have to grab their kids and get to a safe place with only what they are wearing. A sweet stuffed animal would go a long way in calming a scared child.
Thank you for doing that... It will mean a lot to some very deserving kids and their families.
November 12, 2013
0

found this helpful
Hi - yours is a noble cause but sadly, most hospitals can only accept new toys.
However, all of the other suggestions are great and your gifts would still be going to a child in need.
November 12, 2013
0

found this helpful
You can call them or yes, donate to the police. Kids who have lost someone to an accident, violence or a trauma love and need them. That is where I sometimes give just after I have purchased them from a yard sale and/or thrift shop. I wash them and do the "sniff test" (this nose knows ciggies and kitties a mile away). Some Febreez and a day in the open air and they are ready to give a kid something to hold.
I hope this helps.
PBP
Where can I donate stuffed animals? I want to give them to kids who have lost some they love or have been placed in a new home. They are animals that my dad has won in claw games. My mom has passed and he has five girls; we are 40 and over. We just want to see them to go to a places were they can help someone smile, even if it's just for a minute or two. Thank you.
By PMJ
March 18, 2012
0

found this helpful
If they are new looking and free of soil, cigarette smoke, etc. find a group who is packing shoe boxes for Operation Christmas Child. Most people pack their boxes in November.
If they need a wash put them in a zip up cloth pillow cover and throw them in the washer on gentle wash and toss in the dryer. It is important to put them in this bag to insure one doesn't open and ruin your machine or dryer. Then let them air for a few days to make sure they are dry clear through. You can cut the tags off.
Replace the ribbons if they are tattered. Must look new. I do this every year for donated small stuffed animals and take 3-4 hundred to the processing center and they go into the boxes for children all over the world to enjoy.
March 18, 2012
0

found this helpful
In my area the police use them to give to children at crime scenes/fires to hep calm them down.
March 18, 2012
0

found this helpful
Contact your state foster care bureau and deliver some to them.
March 19, 2012
0

found this helpful
Here is a google search with lots of ideas. I live in Henderson which is near Las Vegas NV. There is a charity called "Teddy Vegas" They take any stuffed animal donation and clean it if it is used then they give them to the police, firefighters, hospitals with terminally ill children so they can be handed out to kids in crisis. It's such a blessing to give to someone in need.
http://www.google.com/search?source ... aa992f2e946&biw=1600&bih=693
March 21, 2012
0

found this helpful
Your local women's shelter would likely be glad to have them for the scared and confused children there.
I have a lot of stuffed animals my grandchildren do not play with and would like to donate them to some needy children in my area. Anyone know where I can donate these?

Ron from Warrington, PA
By guest (Guest Post)
Flag
February 23, 2009
0

found this helpful
I'm trying to contact the Iraqi Engineer so I can donate my daughters soft toys. I tried his e-mail and it did not work. Can anyone help me?
By guest (Guest Post)
Flag
March 1, 2009
0

found this helpful
My daughter is turning 12 in April and no longer has the desire of looking at stuffed animals anymore. They have been sitting on several shelves,on canopies hanging from her ceiling and she just want to donate them. I work for the Salvation Army, but they won't accept stuffed animals. I don't want to throw them out due to them never being used.If someone can tell me where to donate them in Philadelphia PA I would greatly appreciate it. I have all different sizes.
March 10, 2009
0

found this helpful
I am with SAFE. They collect stuffed animals for needy kids. There are chapters all over the US. Here is the link www.stuffedanimalsforemergencies.org
April 11, 2009
0

found this helpful
Hi, my name is Edmay Mayers and I was deployed with the US Army Corps of Engineers (USACE), GRS in Tallil, Iraq (near the town of Nasiriyah) for 22 months from Nov 05 to Sep 07. I started a program for the children of Iraq with the help of Ash Dornfest, Parenthacks.com. She and I were in contact and she called the program "Spread the Word." We recieved so many toys, school supplies, shoes and clothes for the children of Iraq that I was given a conex to store them in. The people were so generous and kind. I left GRS in Sep of 2007. Friends of mine, Mike Fellenz and a few others took over the program for me. It is still ongoing in the South (GRS) and Mike has taken it to Mosul. I have now returned to Iraq and am deployed for USACE, GRN in Kirkuk, Iraq. I certainly would love to have the program started here too. So, if anyone could possibly spare some "gently" used toys, clothes or whatever items, the children of Kirkuk would certainly appreciate it.
My address is: Edmay P. Mayers, USACE-GRN-KAO, FOB-Warrior-Kirkuk, APO, AE 09359.
Thank you and God bless. /Edmay
Profile under Kacismaymay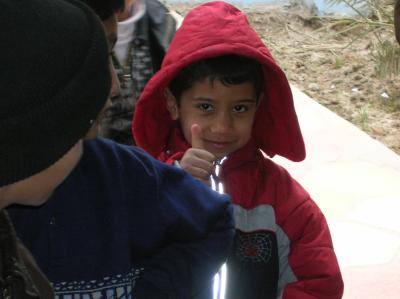 June 30, 2011
0

found this helpful
I am the director of the Teddy Bear Brigade a program of Gleaning for the World, a 501c.3 non-profit located in Central VA. We accept new and gently used stuffed animals for distribution as humanitarian aid or disaster relief to children in developing countries. For more information visit our website at http://gftw.org/current-projects/teddybearbrigade/. Stuffed animals can be shipped to our warehouse at:
Gleaning for the World
Att: Teddy Bear Brigade
7539 Stage Road / P.O. Box 645
Concord, VA 24538
Thanks, Chris Ellis