I have a lot of stuffed animals my grandchildren do not play with and would like to donate them to some needy children in my area. Anyone know where I can donate these?

Ron from Warrington, PA
By guest (Guest Post)
Flag
March 1, 2009
0

found this helpful
My daughter is turning 12 in April and no longer has the desire of looking at stuffed animals anymore. They have been sitting on several shelves,on canopies hanging from her ceiling and she just want to donate them. I work for the Salvation Army, but they won't accept stuffed animals. I don't want to throw them out due to them never being used.If someone can tell me where to donate them in Philadelphia PA I would greatly appreciate it. I have all different sizes.
April 11, 2009
0

found this helpful
Hi, my name is Edmay Mayers and I was deployed with the US Army Corps of Engineers (USACE), GRS in Tallil, Iraq (near the town of Nasiriyah) for 22 months from Nov 05 to Sep 07. I started a program for the children of Iraq with the help of Ash Dornfest, Parenthacks.com. She and I were in contact and she called the program "Spread the Word." We recieved so many toys, school supplies, shoes and clothes for the children of Iraq that I was given a conex to store them in. The people were so generous and kind. I left GRS in Sep of 2007. Friends of mine, Mike Fellenz and a few others took over the program for me. It is still ongoing in the South (GRS) and Mike has taken it to Mosul. I have now returned to Iraq and am deployed for USACE, GRN in Kirkuk, Iraq. I certainly would love to have the program started here too. So, if anyone could possibly spare some "gently" used toys, clothes or whatever items, the children of Kirkuk would certainly appreciate it.
My address is: Edmay P. Mayers, USACE-GRN-KAO, FOB-Warrior-Kirkuk, APO, AE 09359.
Thank you and God bless. /Edmay
Profile under Kacismaymay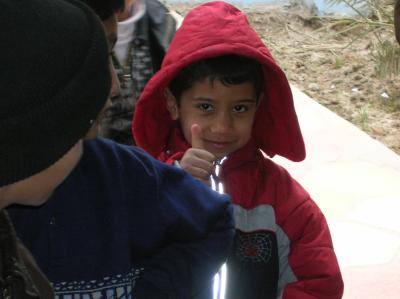 June 30, 2011
0

found this helpful
I am the director of the Teddy Bear Brigade a program of Gleaning for the World, a 501c.3 non-profit located in Central VA. We accept new and gently used stuffed animals for distribution as humanitarian aid or disaster relief to children in developing countries. For more information visit our website at http://gftw.org/current-projects/teddybearbrigade/. Stuffed animals can be shipped to our warehouse at:
Gleaning for the World
Att: Teddy Bear Brigade
7539 Stage Road / P.O. Box 645
Concord, VA 24538
Thanks, Chris Ellis