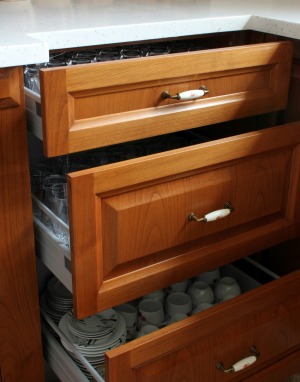 There are many products that can be used to line drawers and shelves, in addition to those sold for this purpose. This is a guide about drawer and shelf liner ideas.
Ad
---
Solutions: Drawer and Shelf Liner Ideas
Read and rate the best solutions below by giving them a "thumbs up".
If you are looking for an economical, durable way to line your cabinets and drawers, then I would suggest the self-adhesive floor tiles you can purchase at local dollar stores. The material is easily cut with scissors and easy to apply. It also cleans easily with a wet rag when needed. Since it comes in different colors, it is easy to match your decor. The best part is that it lasts for years, but can easily be removed if needed.
By onesoutherngal from MS
Look for discontinued wall paper. You can use it for shelf liner.
By duckie-do from Cortez, CO
I don't know how all the crumbs get into my kitchen drawers. It seems like I'm always taking everything out of the drawers, dumping the crumbs, and wiping them clean - and replacing the liner! Well, one of those great ideas out of nowhere popped into my brain the other day: plastic canvas sheets!
I went to my craft room and got a few pieces of it. Cutting it to size was so easy. Measure, and cut on the convenient line. One sheet wasn't enough, but cutting what I needed to cover the drawer completely was really simple. You can buy it in several different colors, so it looks good. Crumbs fall through the spaces, and the canvas keeps everything off of them.
It's really easy to wash. It's cheap, and it will last forever. You can buy it at any craft store, and a lot of other places like Walmart. You can buy it one sheet at a time, or in packs. No more cutting paper or sticky back paper to size, no more replacing it every little bit.
By Free2B [217]

Use linoleum leftovers to line your sink base cabinet and oven drawer for easier cleanup. You can even use linoleum pieces in cabinets instead of shelf paper so spills can be cleaned up easily.
By Sallyd from Pottsville, PA
Use wax paper to line your kitchen shelves instead of buying expensive shelf liner paper. It's easy and cheap!
By Lisa M.
Give a "thumbs up" to the solution that worked the best! Do you have a better solution? Click here to share it!
Questions
Here are questions related to Drawer and Shelf Liner Ideas.
What can I use to line dresser drawers, instead of buying expensive drawer liner?

By Maplesugar
AnswerWas this interesting? Yes No
Ad
---
---
Best Answer
By Frugal Sunnie 11 1,677 01/24/2012 Flag
You can find inexpensive (read cheap:) shelf liner and contact paper at the dollar stores.

You can also cut up old bed sheets to fit the drawers, or use tea towels. The advantage is that your stored items don't 'slosh' around in the drawer, and you can take the fabric out and run it through the wash when it's got grungy.
---
Has anyone ever tried to line drawers with wrapping paper or wall paper? If so, I'd like to know how well it worked. I have been trying to find suitable drawer liners, but the only ones I found are adhesive or rubberized which are expensive for lining a lot of drawers.
By Zerubabel from Covington, KY
AnswerWas this interesting? Yes No
Ad
---
---
Most Recent Answer
Believe it or not, I used cheap floor tiles from the dollar store to line my kitchen drawers, cabinets, bathroom vanity, dresser drawers, linen closet shelves, etc. I got the no wax oak for my kitchen and bedroom, no wax marbelized for my bathroom and linen closet and when a spill or drip occurs in the bathroom it just wipes up like a charm. I will never use shelving paper, wallpaper or wrapping paper again.
---
How do I make scented drawer liner paper? Any one with any ideas other than fabric softener sheets?

Tracey from Ohio
AnswerWas this interesting? Yes No
---
Most Recent Answer
By Tamara (Guest Post) 10/26/2007 Flag
A friend of mine lines all of her drawers with plain copy paper. She Puts in the drawers, lays it out to size and tapes it together. Simple and neat. Then I would think spraying it with scented linen water would be great. I'm planning a move and I'm going to "start fresh" myself!!
---