Dyeing Suede Shoes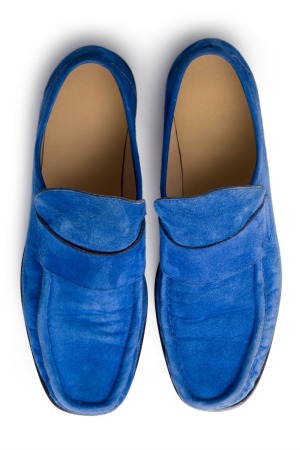 Renewing or changing the color of this leather can be a challenge to maintain the suede texture. This is a guide about
dyeing suede shoes
.
Questions
Ask a QuestionHere are the questions asked by community members. Read on to see the answers provided by the ThriftyFun community or ask a new question.
December 1, 2009
1

found this helpful
I have a pair of Ugg boots that are light brown, and I want to dye them charcoal gray. Is that possible? How would I be able to do it at home?
Erin
December 4, 2009
0

found this helpful
This is my advise....Ugg's are expensive, keep them the color they are. Light brown is a neutral color and I'm sure you'll have use for them in the future. You can get Ugg look a likes for a fraction of the price. If you do deside to color them please remember that in winter ground is wet with snow and salt (sometimes a chemical is put in the road to melt ice). Keep in mind as nice as they may turn out, getting any of these things on them might change the color in spots. Also, if you do dye them each boot might be a little off, two different shades. Hope this can help, good luck with whatever you do!
December 6, 2014
0

found this helpful
I have light brown suede boots. Can I put shoe polish on them to make them black?
My very comfy, affordable Earth Spirit 60% suede sandals have become stained and ugly from wear, but are otherwise in very good shape. I can't get them clean. Any ideas?
I was wondering if I could dye them, and if so, what should I use? Or where should I go to have them done?
July 4, 2017
0

found this helpful
Sandals may be more difficult to clean but here is a site that has some good instructions on cleaning suede/leather.
http://www.oneg … clean-suede.html
You may have a problem if you try dyeing as your sandals are not like the suede shoes/boots that most sites give instructions for. Your sandals are only 60% suede and the balance of the sandals are either leather or manmade materials that may/do not take dye the same as suede. Not positive but I believe that Leather dye and suede dye usually only work on the material they are designed for.
I would personally try cleaning before thinking about dyeing.
https://www.lea … n-suede-sandals/
July 4, 2017
0

found this helpful
can you stain them a different color? I've done that with some boots that had worn out in some areas
Read More Answers
My brown suede boots are looking faded in the creases. Does anyone know how to restore the color? I have seen dyes to restore smooth leather shoes but nothing to improve the color of suede.

Thank you,
Julia from UK
By guest (Guest Post)
September 30, 2007
0

found this helpful
Thank you I will try Meltonian Suede Renew.
Read More Answers
I have light brown suede boots. Can I put shoe polish on them to make them black?
By Karen K.
December 9, 2014
0

found this helpful
I cannot really answer your question but I can say that my granddaughter (teenager) put some shoe polish on a pair of suede boots and the dye "took" but the suede was GONE - the boots now look almost like regular leather.
Have you thought of having this done at a shoe repair shop? May be expensive but I think they use a spray dye. This spray may be available to buy but I have not seen it.
December 13, 2014
0

found this helpful
I believe you can dye suede, but not with shoe polish. Shoe polish will ruin them (See the previous poster's experience.). I don't know if this is the sort of thing that you want to try at home. It could ruin your boots.
February 15, 2012
0

found this helpful
My navy blue suede boots are losing their color. Can they be dyed?

By RH
March 29, 2012
0

found this helpful
Yes, they can be dyed, but often when people try to dye suede shoes themselves, the results are not so good. I would advise having them dyed professionally.
May 20, 2012
0

found this helpful
Can I dye red suede flip flops black?
By D.R.
Archives
ThriftyFun is one of the longest running frugal living communities on the Internet. These are archives of older discussions.
December 1, 2009
0

found this helpful
Does anyone know how to dye suede shoes? I have a pair of bright blue suede loafers that somehow look like bedroom slippers. I would like to change them to brown or even red. Please help.
PatsAZ from Arizona, in the Desert
Answers:
Dying Suede Shoes Cream
If you use bleach to remove the present color, the suede will probably turn yellow brownish. Perhaps if you use a product that the silk painter uses to remove color it might do a better job. Try contacting Rainbow Silks in England. They carry all the products needed for fabric painting and dying. Tell them your problem, perhaps they can help. A friend of mine used fabric paint on her shoes and had set it with a hair dryer. (04/04/2005)

By Janette Budnark
Dying Suede Shoes
I checked in with our local leather and saddle shop a while back with the same question. I was told there is no way to do it and have it come out looking good. They checked and could find no solution.

Good luck, and by all means let us know if you find a way. (01/14/2007)

By patsAZ
Related Content