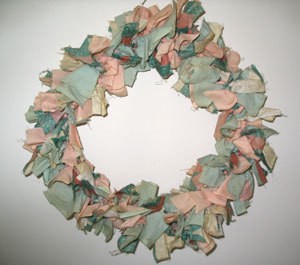 A simple, inexpensive way to create a seasonal decoration for your home or someone else's. This guide contains fabric wreath craft projects.
Ad
---
Solutions: Fabric Wreath Craft Projects
Read and rate the best solutions below by giving them a "thumbs up".
To make a Victorian wreath use a straw wreath and cut 4x4 inch pieces of ecru lace (fabric store). It depends on how large the wreath is for the amount of lace. Take Phillips screwdriver and in center of each lace square, puncture it into wreath until the wreath is nice and full.
Decorate with holiday ornaments or just a big bow and hang. Its easy and beautiful above a sofa or fireplace. When you store it put in large plastic bag; will last for years. Enjoy!
By gammy2player from Monroe, GA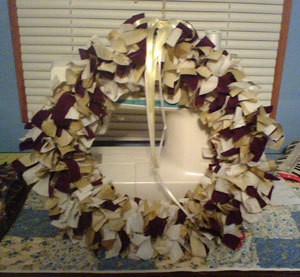 This is a rag wreath and is so simple to make! Take a hanger, leave the hook on, and shape the hanger into a circle. Cut your material into 1x6 inch strips. Simply tie the strips onto the hanger sliding them tightly together as you go.

When you cannot squeeze any more fabric strips onto the hanger you are almost done! Fluff the strips to make the wreath full. For the hook, take a half inch strip of fabric, about 16 inches long and tie one end to the hook and wind the rest around the hook to cover it and fabric glue the end to stay put. Top off with ribbons or any other embellishment you wish and voila!

By Andrea from Radom, IL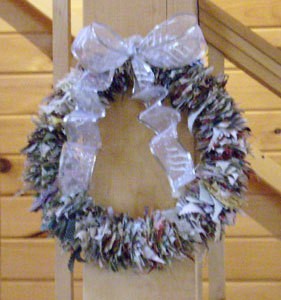 I made a yo-yo quilt for my mother-in-law for Christmas and had 4 bags of scrap material. I made a fabric wreath using the scraps. I took a wire hanger, cut off the "hook" and bent one side to make a "U" turned sideways. then I took the scrap of material, pierced it (or cut) and "threaded" it onto wire form. Repeat until you have completed circle. At other end, make another "U" turned the opposite way so you can hook the 2 sides together. I crimped it so it would not come apart. I then added a ribbon bow where the crimp was. It turned out beautiful. I had enough to make 2 3/4 wreaths. I kept one and gave the other 2 as gifts. Not bad for "free".
By Kat from PA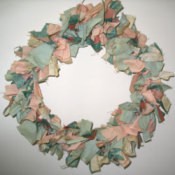 Are you looking for a way to tie in the colors in your room? Or do you just need to fill in a blank wall? Want a wreath to match your Christmas decorations? This project doesn't take a super creative person to complete. It's inexpensive, too. Your finished project will look professional and give your room that custom decorator look.
Materials:
one wire coat hanger (the thin white ones are easier to work with)
three to five different coordinating colors of cotton or cotton blend material (total yardage is less than 1/2 of a yard. I just used scraps that I had.)
pliers
scissors
ruler
Directions:
First use the pliers to bend the coat hanger into a round shape. The hook on top will be used to hang the wreath.

Then cut the material into strips 2 inches x 7 inches. You'll need 120 of these.

You can spray starch and press the material before you cut. It makes it a little easier to handle. The finished product will look a little crisper and it will be easier to dust when it is finished.
Next, tightly tie the strips on the hanger. Twist each strip so the ends are pointing in a slightly different direction than the previous strip.
Fluff it a bit, hang it up and you're done!
By Kim D
Fabric Wreath
This wreath is inexpensive to make (I made mine for under $10!) but will be a treasured gift for many years. It can be made to fit any decor, personality, or holiday.
Approximate Time: 1 to 3 hours depending on size
Supplies:
any size straw wreath with plastic wrap left on (12 inch size used in example)
approximately 3 yards of fabric* (for 12 inch wreath)
small phillips head screwdriver
scissors or rotary fabric cutter
wreath accent(s) or ribbon to compliment fabric (optional)
craft glue (optional)
*cotton fabric that has a print on both sides works best
Use one print of fabric for the whole wreath or mix and match multiple fabrics. For the example I used $1/yard fabric I found at Walmart!
Instructions:
Step 1: Cut fabric into 2 to 3 inch squares. They do not need to be perfect but try to keep them approximately the same size.
Step 2: Use the screw driver to push the center of each square of fabric into the wreath until it is completely covered. Put the squares as close together as possible so the wreath looks full. If you are having problems getting any of the squares to stay, dab some craft glue on the fabric before inserting it into the wreath.
Step 3: If you wish, add complimentary ribbon or accents to complete your wreath.
By Dominique S. from Kalamazoo, MI
Give a "thumbs up" to the solution that worked the best! Do you have a better solution? Click here to share it!
Questions
Here are questions related to Fabric Wreath Craft Projects.
I would like to know if anyone has a pattern for a fabric wreath. It is a ruffled material wreath panel that is sewed and then slides onto a Styrofoam circle form.
You sew the material in a long panel and bunch together to form ruffles on the form, then you can attach a bow. Its pretty and also very country, I had a pattern years ago, but cannot locate now. Thanks.
By Debbie from Christiansburg, VA
AnswerWas this interesting? Yes No
Ad
---
---
Most Recent Answer
By Sandi/Poor But Proud [446] 02/15/20100 people found this helpful
Debbie: Sandi here from Yorktown!!

You don't need a pattern. Measure the width of your form (in other words, how wide it is around the form, not the entire circle) then give yourself about 1/2" leaway. If the form is 2" from the inside of the circle to the outside, it will be another 2" in the back, and then there will be the width in the bottom and the top.

Cut your fabric 3 times the circumferance of your entire circle. Sew the tube, thread it on, whip stitch the two ends together and decorate.