Is it OK to feed my Labrador cooked chicken breast once a week for added protein?
By Sharon from Nashville, TN
January 4, 2012
0

found this helpful
Not too much chicken. Google arsenic in chicken. Some chickens are only 4 weeks old and at your market as fryers. Arsenic. Kind of related, chicken poop is gathered and put in food for cattle. Cattle food then contains arsenic. NO chicken jerky treats from China. Nothing from China, please.
Strengthen the immune system with good food. Do not destroy immune system with vaccines. vaclib.org. Some raw diet and always human grade food. Omegas, yogurt, sweet potato (boiled is good) brown rice, washed lentils, fresh veggies, some raw meat, kale, vitamins, coconut oil, no genetically modified fruits or veggies, fruits (NO raisins or grapes--they can kill). Forget dog food from the market.
If you have to have a little kibble, EVO or not bad and less expensive is lamb and rice by Diamond at co-op, groomers or specialty store. Never any corn wheat or soy. Unconditional love from your pets. You are family. Never a better friend.
January 4, 2012
0

found this helpful
Adding a bit more information after muttmom's comment.
Definitely steer clear of any food items from China (including for 'human' consumption) because that country even intentionally poisons it's own people (read about baby formula infant deaths made there during the time of the Olympics they last sponsered a year or so ago).
Also, please know that there is a difference between organic (naturally occurring) and inorganic (man made) arsenic. Arsenic is and always has been naturally in our environment and that includes our water, air, all food products and soil. Chicken poop in organic and you would have to eat a heck of alot of chicken poop products to be poisoned by it. ;-) To understand more about both types of arsenic here's a good article:
January 5, 2012
0

found this helpful
When making food for your dog a LITTLE garlic for flavoring is OK. I make a meatloaf that I got from the vet's office in which a small amount of garlic is used. Of course, no onions. This is the first I've heard about broccoli. My dog eats more people food than he does kibble but I'm real careful about what and how much I feed him. No bones of any kind. I showed the vet a list of the foods I feed my dog and got his OK. I was feeding him boiled chicken livers with rice and the vet said don't feed him very much chicken liver. There does seem to be a lot of difference of opinions about garlic but small amounts for flavoring seems to be OK. I'd never give mine fresh garlic.
January 9, 2012
0

found this helpful
Ignore what others say. I personally feed my new pup an all raw diet that includes all parts of raw chicken cow and any other animal parts I can get a hold of. Far as cooked meats, it's pointless and he won't be able to get much protein from it. Dry dog food is bad for dogs in my opinion because they cook it so much at such a high temperature that it is bad for the dog because his body works so much to get such little protein from the food.
So if you want the truth just read up on raw dog food diets. Or if your dogs spoiled rotten like my oldest dog, you can buy him/her Blue Wilderness dog food, or B.A.R.F dog food, just look them all up :) depends on the owner.
Read More Answers...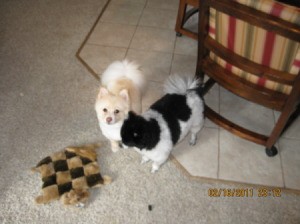 We have been feeding our two Pomeranians baked chicken for four years. Only white meat, checked for fat or bones is fed. Our vet says "people food" is not good for dogs.
It is interesting that the vet clinic has pronounced our two little boys as: "healthy dogs" in the written report.
What do other dog owners think about the safety of this food?
By David B.
February 1, 2013
0

found this helpful
Some good advice here. I do raw feed my cat and cooked for my allergic dog. He lived to be 17 on home cooked food. I think the chicken is a good start. But you will need to vary the diet to see that they get necessary vitamins and minerals. I fed my dog canned salmon with brown rice. The salmon supplied the calcium he needed from the soft cooked bones. So you do need to know what nutriients your dogs need and then construct a recipe that supplies then. But that information is available with an internet search. A one food diet will not be adequate. By the way....dark meat chicken is more nutricious than white meat. So by all means home cook for your dogs; but take the time to study nutrition and choose your recipe accordingly.
February 1, 2013
0

found this helpful
Here is a link to a vet site with a good dog food recipe. This Vet goes into the basic nutrition you need to know. One last thought..dont throw away the chicken skin. Dogs and cats need a good amount of fat in their diets.
February 1, 2013
0

found this helpful
God - I'm so confused. Of late I've read not to feed dogs canned food, not to feed dogs raw meat, not to feed dogs cooked meat, not to feed dogs dog biscuits, and not to feed dog chews.
I've never been so confused about what to do. I've had dogs for 10 years & am now so paranoid that I'm left wondering what to feed my dogs to insure they have a safe & happy life.
February 1, 2013
0

found this helpful
Congratulations "heather dianne" you said it all. And if we all listened to these well intended advice/options from non professional people we could become so confused that a "psychiatrist' would need to sort the problem out for us. Dogs are pack animals that have roamed the world for centurys finding live animals to survive on. Humans domesticated them fed food foreign to their nature and the rest was "history" just use common sense and use what-ever best suits your own animal.
Read More Answers...