December 29, 2011
0

found this helpful
Is it OK to feed my Labrador cooked chicken breast once a week for added protein?
By Sharon from Nashville, TN
December 29, 2011
1

found this helpful
Best Answer
Chicken meat is fine for dogs. But be sure and completely de-bone it first, and take as much of the skin off as possible. Chicken bones splinter really easily (as do other bones) and should not be given to the dog, or cat for that matter.
If you're giving it to him simply for extra protein, there's no need as long as he is on a good quality food. I give it to mine periodically as a special treat.
December 29, 2011
1

found this helpful
I make a pot of chicken breast/thighs (no bones or skin) and rice & this is used to supplement my dogs, and cats, diets! They love it! I add garlic, too, & for the dog, I will add other things and make it a stew... like green beans & sweet potatoes! He loves it. Cats are a bit finickier but will eat the chicken & rice (good fiber)!
December 29, 2011
0

found this helpful
I was also going to say chicken meat is good for dogs but definitely not the cooked bones! No cooked bones of any animal for any animal is good because not only can the bones splinter but also they can lump up in powdery form in the animals stomach and cause a blockage.
Also, please never give your pets any form of garlic, onions or anything in the allium family (look up what plants are alliums because even flowers like lily's are in that family) because, depending on the weight, age and breed of the animal, eating those items over time can cause leukemia and have even caused serious illnesses or death in the short term.
December 30, 2011
0

found this helpful
Chicken is OK but not the bones. The bones fray to easy and can cause harm to the insides of your dog.
January 1, 2012
0

found this helpful
Just seconding what everyone else has said & adding to what Deeli said; I have read that onions can cause anemia in cats, and neither onions nor garlic is good for dogs.
January 2, 2012
0

found this helpful
Ever since I can remember I fed people food to my dogs, I love dogs and have had alot of them over the years. Vet visits and health issues were none existent.
Back about 6 years ago I bought 2 Shi-tzu's I got lazy and decided to buy store bought dog food; yes what a drastic mistake I made, Both Shi-tzu's came down with numeral health issues within a year of eating that junk. My female was given a year to live without a very serious and risky operation which she may very well have never survived... While talking to the vet I said I'm done with store bought food going back to real food the same as I myself eat and what I fed every other dog I ever owned, Which I might add one lived to be 27 years old!
Upon mentioning putting my dogs back on REAL food my Vet became very adamant that if I did that she would not survive even a few months, I must say it bothered me. But rational told me to go with what I knew and my gut said was right, 3 years has pasted now. Both Shi-tzu's are the healthiest they have ever been, and vet visits are none existent again. The brown staining they use to get around their eyes and under the belly is gone. Eyes are always clear and bright. They both run around here playing like young pups. No more runny poop.. just solid and firm. My brother had a male poodle yrs ago, He spared no expense on food bought only the best of the best, at 9 yrs old it would make a step then drop with a heart attack, The Vet told him there was nothing they could do, was only a matter of time. My brother was heart broken, my mother told him, stop all the store bought garbage, IT"S all garbage! Fed your poodle nothing but the same food you eat, When you cook just cook for another person.
He did and the poodle went on to live another 7 years or so. We all need to stop and think a min, All the dogfood you buy either from the store or the Vets, it's all processed. We all know the world of health problems associated with processed foods, The same holds true with our pets. They are real dogs that was made to eat real food! We kill ourselves and our pets with pretty words and delicious looking pictures they present to us on all the packaging. Its a feel good they know we will fall for.
January 2, 2012
0

found this helpful
I should state their is lots of foods that should not be feed to your dog. Fortunately I was never a garlic or onion person for a big part of my life, Chocolates, sweet and the likes never got along to well with me either. So when I cooked it was pretty much always dog friendly. I like simple foods, real foods, getting older now myself and have had a lot of people amazed that I have had no real health issues myself until just lately. Which as it turned out all I needed was a good multivitamin and super enzyme., We have been destroying our land and thus the nutrients are not there as they should be.
We all would do good to add a good multivitamin/ mineral to our diets and our dogs.
January 4, 2012
0

found this helpful
I have also found that we have fewer health issues and no vet bills since feeding 'real' food (the past 9 years).
However I do feed the bones. I feel they would eat them if they hunted on their own so they probably require them. I got this from my grandfather who would boil up a chicken leg for his little feather duster of a dog every night for dinner. I asked him about the bones and he said that if they are boiled they do not splinter. This seems true enough for chicken but not turkey. So I don't give them turkey bones.
I also give mine a nice big hunk of raw meat on a bone (beef or pork). I have found that the cooked (baked or oven roasted) do seem to splinter but the raw or boiled do not.
I also buy fish on sale (whole fish) boil them up and drop them in a dish. Some fish, they eat the bones. Other fish they do not. It is interesting to me that they all seem to know which fish to 'pick the meat off' and which ones to gobble down completely. (They seem to gobble down the small fish but the large ones, they pick the meat and skin off the bones (bones and skin have important nutritional content IMO).
I adopted a severely medically challenged (heartworm, severely malnourished) GSD (typical healthy life expectancy 8 years). He ended up living 14 years when they though he was going to die at 6 years.
After initially taking care of the heartworm, etc., we never had another vet bill for him. Even his severe pannus cleared after going gluten/corn free. After this, I found a vet on line (Dogtor John) who put another (much younger) GSD on a human (corn/gluten free) diet (of course no lily/allium either) and that dog cleared pannus too. Interesting correlation since it is deemed to be incurable.
There is all kinds of corn and gluten in store bought dog food (even the high end stuff). And they don't always label it, it seems. Interesting. So if my budget is more strapped and I need filler, I mix some meat with rice but never corn or wheat.
All of my animals seem to thrive better on 'real' food (big and small dogs, cats, sugar gliders, chickens, ducks, etc.)
That said, they all do seem to crave some greens. In the summer we live on land that is big enough for them to get their own. In the winter, I supplement with a teaspoon of kelp powder a few times a week. They all really like it because it is a little bit 'fishy'. lol
It's definitely worth researching 'real' diets for your animals.
January 4, 2012
0

found this helpful
I have read that broccoli is toxic for dogs so I don't give them broccoli.
January 5, 2012
0

found this helpful
When making food for your dog a LITTLE garlic for flavoring is OK. I make a meatloaf that I got from the vet's office in which a small amount of garlic is used. Of course, no onions. This is the first I've heard about broccoli. My dog eats more people food than he does kibble but I'm real careful about what and how much I feed him. No bones of any kind. I showed the vet a list of the foods I feed my dog and got his OK. I was feeding him boiled chicken livers with rice and the vet said don't feed him very much chicken liver. There does seem to be a lot of difference of opinions about garlic but small amounts for flavoring seems to be OK. I'd never give mine fresh garlic.
Read More Answers
January 30, 2013
2

found this helpful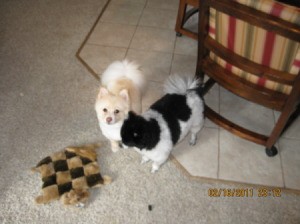 We have been feeding our two Pomeranians baked chicken for four years. Only white meat, checked for fat or bones is fed. Our vet says "people food" is not good for dogs.
It is interesting that the vet clinic has pronounced our two little boys as: "healthy dogs" in the written report.
What do other dog owners think about the safety of this food?
By David B.
January 31, 2013
0

found this helpful
Bravo for you! Don't believe your vet he probably sells dog food too. If you search the web asking if a certain brand has problems like seizures, etc. you will be shocked at what you find. Also search "4D" meat - try not to throw up. Check out "why people food is good for your dog" with your search engine. The dogs will thrive on your chicken - you might want to add vitamins & veggies to their food as well. Check out how other people are doing it. I'm a former dog breeder I think I know what I'm talking about.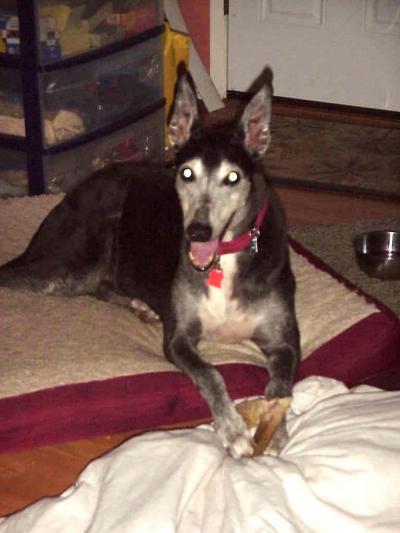 January 31, 2013
0

found this helpful
Some vets and animal experts are trying to sell their (usually very pricey) special blend of dog food, but usually a vet recommends against people food for furbabies because of all of the seasonings and spices used for people food. A lot of those add-ins can KILL your dog.
Dogs especially shouldn't be eating heavily spiced or salted foods and there are people foods like garlic and onion that are strictly off a dog menu owing to allergy and poisoning potential.
So most vets have a blanket rule with their practices that your furbabies should never have people foods because a blanket rule doesn't take up as much office time as having to explain 10-20 times a day (per pet) why. The vet just says 'I don't want Fluffykins and Fido getting even so much as a table scrap' and then either pushes their special blend or tells you to feed XYZ brand available at the grocery (ick, see the previous post). End of and the vet quickly moves on to the next topic or patient.
However - chicken cooked especially for dogs (no salt, no seasonings, no onions, etc) is perfectly healthy and a good vet will admit that-read those labels to see that most dog foods use 'chicken by-products' and some even boast 'all white chicken meat'.
There is a trend now with many vets (since the horrific contaminated feed from China scandal in 2007) to actually encourage pet owners to make their own feeds at home using approved recipes, and chicken features heavily as part of the ingredients list.
Since your vet has pronounced your babies as healthy and fit, he needs to reassess his rule at least in your case.
February 1, 2013
0

found this helpful
Dogs evolved with man for thousands of years by eating what man ate. Dogs live longer and are healthier, I have found, that eat people food. They put so much stuff in the processed animal foods that its like us eating junk food constantly. I have never been able to get an animal to eat the high ticket stuff the vet promotes. Now, they are marketing homemade dog/cat food in little refridgerators at the store. Way more expensive than just doing what you are doing.
February 1, 2013
0

found this helpful
My dog has issues with his pancreas, so processed dog food just doesn't to it for him. I have been going to a holistic vet, who I feel saved my dog's life. They would like me to put him on a raw diet, which I am seriously considering. In the mean time they told me to prepare his food. I usually fix a chicken stew in the crockpot. I use boneless/skinless breasts along with vegetables. The veggies I use are sweet potatoes, winter squash, beets, mushrooms, carrots, green beans. I mix up the vegetables so he gets a different taste each time I prepare the stew. I have also made meat loaf with ground chicken, turkey, buffalo, and I am hoping to get some rabbit from a friend. I process the sames vegetables in the food processor and then use them as the filler in the meat loaf. Needless to say, my little guy is doing well. The vet does have me add vitamin supplements to his food.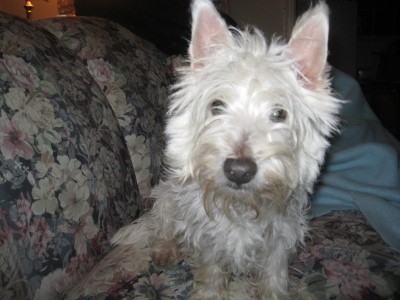 February 1, 2013
0

found this helpful
Some good advice here. I do raw feed my cat and cooked for my allergic dog. He lived to be 17 on home cooked food. I think the chicken is a good start. But you will need to vary the diet to see that they get necessary vitamins and minerals. I fed my dog canned salmon with brown rice. The salmon supplied the calcium he needed from the soft cooked bones. So you do need to know what nutriients your dogs need and then construct a recipe that supplies then. But that information is available with an internet search. A one food diet will not be adequate. By the way....dark meat chicken is more nutricious than white meat. So by all means home cook for your dogs; but take the time to study nutrition and choose your recipe accordingly.
February 1, 2013
0

found this helpful
Here is a link to a vet site with a good dog food recipe. This Vet goes into the basic nutrition you need to know. One last thought..dont throw away the chicken skin. Dogs and cats need a good amount of fat in their diets.
February 1, 2013
0

found this helpful
God - I'm so confused. Of late I've read not to feed dogs canned food, not to feed dogs raw meat, not to feed dogs cooked meat, not to feed dogs dog biscuits, and not to feed dog chews.
I've never been so confused about what to do. I've had dogs for 10 years & am now so paranoid that I'm left wondering what to feed my dogs to insure they have a safe & happy life.
February 1, 2013
0

found this helpful
Congratulations "heather dianne" you said it all. And if we all listened to these well intended advice/options from non professional people we could become so confused that a "psychiatrist' would need to sort the problem out for us. Dogs are pack animals that have roamed the world for centurys finding live animals to survive on. Humans domesticated them fed food foreign to their nature and the rest was "history" just use common sense and use what-ever best suits your own animal.
May 4, 2017
0

found this helpful
What types of Vegetables w/ chicken breast?