Feeding and Caring for Pet Ladybugs
These insects enjoy aphids, but there are other things they may like. This guide is about feeding and caring for pet ladybugs.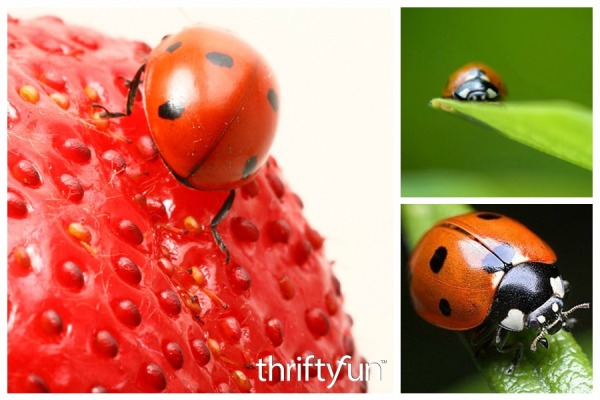 Filter

: All Articles
Sort

: Relevance
I am a science coach with our school district and our first graders are going to be raising and caring for ladybugs in the classroom. We need to know what to feed them other than aphids? Hopefully we can find a food that is "classroom friendly". Can you help?

Pam from Midland, TX
January 29, 2009
0

found this helpful
Best Answer
I did a little research, and the adults do eat aphids, and what I found suggests you keep adults in captivity no more than several days, (they suggest feeding honey water), since their nutrition will not be adequate. If you are purchasing from a supplier that regularly supplies schools, they may be able to offer a more complete diet. Good Luck.
February 1, 2009
0

found this helpful
Best Answer
Here is a website for keeping pet ladybugs and their diet which raisins and bananas and other sweet non acidic fruits are recommended with a moistened paper towel kept sprayed with water for them to drink.
Here is the website I found: http://www.ladybuglady.com/LadybugsFAQ.htm
Sounds like fun! ( I keep crickets). :)
July 5, 2016
0

found this helpful
Ladybirds can drink honey water. Adult ladybirds can't eat aphids
September 9, 2016
0

found this helpful
Thank you Robyn, I want to start looking after Ladybirds now.
I put out any fruit that has a high sugar content and is soft-fleshed to eat. I also figured that a fruit with a high water content is also a good choice when considering appropriate fruits to feed a ladybug, as opposed to putting water out for it to possibly drown in. If you choose a fruit with a high water content, it takes care of both hunger and thirst.
A fruit that I'm currently trying is persimmon (peeled and very ripe). I left little segments out for the ladybug and it's going crazy for it!
What do ladybugs eat?
By Nature_lover11 from Las Vegas, NV
October 15, 2007
0

found this helpful
Best Answer
They love the aphids that eat up your plants!
By guest (Guest Post)
Flag
January 29, 2009
0

found this helpful
Best Answer
Mine eat blueberries and green leaves.
April 1, 2016
0

found this helpful
I have two ladybugs veronica and hannah they like aphids only once a and raisins the rest of the week.soak a cotton ball in cold water and rest on a leave is you have dirt.amimal lover1
May 13, 2016
0

found this helpful
Ladybugs eat aphids and high sugar soft fruits and non acidic
What do they eat besides bugs? What fruits can they eat?
By Luna
I like that name!!!Stewart!
My ladybug,Spot eats soft raisins,and water.
they can eat raisins,apricots,and peeled grapes.
I really want to give, Bonnie, my ladybug homemade food, but I don't know what to make.
August 28, 2015
0

found this helpful
A Ladybug Friend!
The very helpful website below explains how to care for a ladybug for a little while. Ladybugs are not able to live very long in a cage as they need food nutrients and an environment that you cannot provide in a cage. Please care for your ladybug for a day or two and then release her near where you found her! Later, you may see her in a few days on a leaf or the bark of a tree and you will know that you took the best care of her when she was visiting you.
April 8, 2016
0

found this helpful
Give her strawberries
If you don't have aphids, what can they eat?
By Hannah from Watertown, NY
November 26, 2014
0

found this helpful
Checked wikihow for answer and how to keep ladybugs. I suggest releasing your ladybug in a day or two as they are difficult to keep alive for an extended period inside.
April 7, 2016
0

found this helpful
grapes but peel them
May 14, 2016
0

found this helpful
They can eat some kinds of fruit, like grapes but you have to peel them, first
What should I feed my pet ladybug?
By Savannah from USA, CT
August 27, 2015
0

found this helpful
My ladybug bonnie loves too eat raspberries and grapes but you have too peel them first
January 3, 2016
0

found this helpful
I find a ladybug sometimes in my house, and i noticed once; when i put a drop of milk on my finger tip, then put the drop onto a piece of paper towel, the ladybug loved it.
Related
© 1997-2016 by Cumuli, Inc. All Rights Reserved. Published by
ThriftyFun
.
Page
generated on September 10, 2016 at 1:08:26 PM on 10.0.2.29 in 4 seconds. Use of this web site constitutes acceptance of ThriftyFun's
Disclaimer
and
Privacy Policy
. If you have any problems or suggestions feel free to
Contact Us
.