Clean your Lady or Manbugs out of the corners of your windows before painting. I want to paint this window. I'm not quite sure what I'm going to do with these little guys/girls. It's too cold here to throw them out. I sure can't kill them. My plan A is to put them in the basement and let them hold up for the winter there.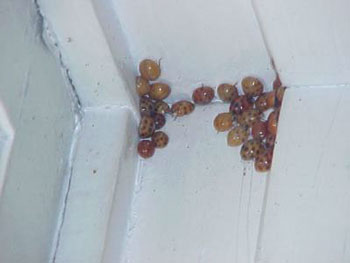 By April from Buffalo, NY
Answers
By Jannie (Guest Post)
December 6, 2005
0

found this helpful
Best Answer
2 winters ago, the Asian beetles swarmed my house, they were all over the front of my house and we couldn't go in or out the front door. Then they started coming in my bedroom window (I don't know how) and I would take the vaccum cleaner hose and suck them up- at least 500 a day (I would count them as I sucked them up.) This went on for about a month and then they finally quit coming...and they bite too!
November 14, 2007
0

found this helpful
Best Answer
If numerous lady beetles are entering the living areas of the home it is advisable to locate the places where the beetles gain access. Typically, Asian beetles will emerge from cracks under or behind baseboards, around window and door trim, and around exhaust fans or lights in ceilings. Seal these openings with caulk or other suitable materials to prevent the beetles from crawling out. A temporary solution is to use duct tape or masking tape to stop the beetles. A helpful hint to remember - the beetles are attracted to light and can see light entering through cracks in the walls or ceilings. Initially, concentrate on sealing cracks in the rooms where asian beetles are most prevalent.
Vacuuming may also help to collect beetles in your home. The major complaint for this method is that the beetles become agitated and expel the yellow, foul-smelling repellent, which is then circulated into the air by the vacuum exhaust. Also, it is advisable to empty the bag and beetles after each vacuuming to prevent them from escaping back into the house. It is possible to capture the beetles inside a knee-high nylon stocking that has been inserted into the extension hose or wand and secured in place with a rubber band. As soon as the vacuum cleaner is turned off, be sure to remove the stocking so that the captured beetles cannot escape. As you remove it, the rubber band closes around the stocking, effectively "bagging" the lady beetles. You then can discard the contents of the stocking. This way you will not need to change the bag every time you vacuum every time.
December 5, 2005
0

found this helpful
These bugs that you have a picture of are NOT and I repeat, NOT lady bugs. These are Asian Bettles and they are a nusiance. They smell terrible when killed, or stepped on, and they do bite and are not good for anything as far as I know. They were in my house horrible 2 winters ago, but not as bad this year. Please do not try to save them, they are not the ladybugs you are thinking of that are good in a garden. Just my 2 cents.
Linda
By Jennifer (Guest Post)
December 5, 2005
0

found this helpful
I would definitely get rid of them. They look like they could become a royal nightmare. Those aren't red/black ladybugs for the garden that eat aphids. I don't know what they are. Where are they? Get them out of and any where near your windows! You do not want them trust me!
Read More Answers