Getting Rid of Asian Beetles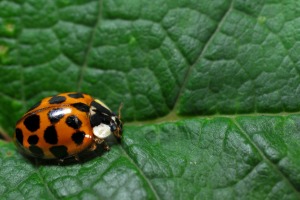 I have used this idea for the past several years and it works well for me: scatter bay leaves around on window sills or anywhere else flat you can place them. It keeps them away.
The next fall I do it again. I haven't been bothered since. If you have ever been bit by one of these buggers, you're willing to try anything. They are nasty.
Read More

Comments
12 Questions
Ask a QuestionHere are the questions asked by community members. Read on to see the answers provided by the ThriftyFun community or ask a new question.

A couple warmer sunny days and the asian ladybug beetles have landed. Somewhere I saw I recipe to put in a gallon plastic jug to attract them, like a trap. Any ideas?
Diane from Mid Missouri
Answers
By Donna Strome Belleville, MI. (Guest Post)
March 12, 2007
0

found this helpful
Best Answer
I heard it was 1/2 c. water, 1 tablespoon vinegar, 1 squirt of dish soap, and 1 tablespoon of sugar. Good luck.
By Dan. (Guest Post)
October 12, 2008
0

found this helpful
Best Answer
An easy and less energy expensive way to get the ladybugs off the ceilings and floor in your house is to buy a big mouth 1 liter pepsi or mountain dew. After drinking fill the bottom with a little water.
Since the ladybugs fall like a rock when you touch them you can just put the bottle head up and tap them into the bottle.
Answer

this Question

How do I get ladybug scent out of my house?
By Trudy from Trout Run, PA

Answers

(Guest)
Gold Post Medal for All Time! 846 Posts
March 25, 2010
0

found this helpful
Best Answer
I had no clue that ladybugs smelled bad! :-o Reading the following link I just can't help but ask how many are in your home? :-o The link explains what the compounds are that create their smell but I think you're going to need to do the homework about those compounds to find out how to get rid of the odor :-(
pubs.acs.org/.../8514news1.html
In the meantime, try putting out small bowls of vinegar in out of the way places around your home because vinegar absorbs a lot of nasty odors. And maybe an exterminator can give you other ideas of how to remove the odor.
Let us know what you find out please :-)

MB Norton
Bronze Feedback Medal for All Time! 207 Feedbacks
March 26, 2010
0

found this helpful
Best Answer
They are probably not lady bugs but an orange look alike called the Asian beetle. They smell bad when smashed and stain as well. They usually get really bad in the fall during harvest as they get kicked up out of the soy plants, corn, etc.
They crawl into cracks and crevices to overwinter. I haven't figured out to get them to leave on their own. I vacuum them with a dust buster or my regular vacuum. This way they don't get smashed.
Answer

this Question

I am looking for a natural way to get rid of Asian lady bugs in the house. I have vacuumed them up in past years, but they continue to come in during the spring time. I just want them to go away. I have an old house so they have lots of places to get in.
By Kippy from Ashtabula, OH
Answers

April 23, 2009
0

found this helpful
Best Answer
The lady bugs are harmless. I live in the North and every fall my house is covered with the bugs. Some show up in the house all winter long. lady bugs eat other smaller bugs.
They can get in the house through the smallest of openings. So you may want to close up any openings you may find. Other than that just sweep them up and toss them outside.
Answer

this Question

My screened in porch is brand new (2014) and fully screened when the house was built so there shouldn't be any openings. I have a terrible problem with them entering, but I cannot figure out where.
If I use a basic caulk to seal up the posts would that help keep them out?
Answers

Gloria Z
Bronze Feedback Medal for All Time! 147 Feedbacks
April 22, 2016
0

found this helpful
They can be extremely pesky and fly in swarms. Buy a good insect killer at the hardware store and go all around the foundation and the area where you see them with the insecticide. OR - go to a garden shop or a local garden club for advice. I had them when I bought my house the former owner ripped out all the annuals to get rid of them.

Louise B.
Silver Feedback Medal for All Time! 337 Feedbacks
April 23, 2016
0

found this helpful
I am not familiar with this type of beetle, but I do know that insects can get in any house at all. How? Who knows? Where I live, we have still snow on the ground on the north side of garages and thick bluffs of trees. We've had some nice days of 50 to 60 F, but today is 35 F.
Dandelions are not in bloom and the grass has not started to green up in the lawn. But, last Tuesday there was a ladybird beetle in my bathroom. How it got there, I haven't a clue. I released it to the wild.
Answer

this Question

Every fall, when the soybeans are picked, we are swarmed by Asian beetles. They come inside through the tiniest crack around windows and doors. They smell terrible when they are crushed. How can we keep them outside?
By Jean
Answers

Myrna
Bronze Feedback Medal for All Time! 168 Feedbacks
October 31, 2011
0

found this helpful
Best Answer
Here's what we do around the home front: Get those cans of bombing spray (Family Dollar) for insect control. Place them under your house in various locations. Close all doorways to the crawl space. This helps control most of the problem. Those that do get inside the house, I use a glass jar with a lid and about 1/4 cup of Pine Sol. Using the lid, scoop the beetles into the jar and close up. Give a gentle shake and they die without the odor. When you have enough beetles in the jar of Pine Sol, you can flush down the commode and start again.
Beetles are attracted to light; ceiling lights, lamps, computer screen you will find them crawling up the walls near them. You might want to keep several jars around the house in different places for easy access to help control. Using a vacuum on them to suck 'em up only helps make their odor linger and not too pleasant when using the vacuum either.
Answer

this Question

I am doing a lady trap and I want to know what scent do ladybugs like?
Answers

poehere
Bronze Post Medal for All Time! 105 Posts
August 16, 2017
0

found this helpful
Ladybugs are attracted to aphid infested plants. They are also attracted to a few flowering plants. If you can find an aphid infested plant it is the best way to attract a lot of ladybugs.

Judy
Gold Post Medal for All Time! 677 Posts
August 16, 2017
0

found this helpful
They like light and food. Get some aphid infected plants and they will love that.
Answer

this Question

We have been invaded by numerous orange and black Asian lady beetles (not lady bugs, but the orange ones). They smell and bite. I can not use chemicals as we have family members with allergies and I do some part time weekend child care. I have been vacuuming them up numerous times a day.
Does anyone have any tried and true suggestions that work as to how to get rid of them?
I am rather OCD about keeping a spotlessly clean and smell free house and it is driving me bonkers.
Answers

poehere
Bronze Post Medal for All Time! 105 Posts
September 13, 2017
0

found this helpful
Lady beetles can be a problem because they enter your home and hibernate in your walls during the winter months.
Diatomaceous Earth Power can be used around your home to prevent the beetles from entering your home. This can also prevent other ground level animals from entering your home.
Wild orange essential oil will help remove the lady beetles scent. The lady beetles don't like the smell of citrus or citronella scents. You can make a spray and use the spray around your home and when cleaning up after the beetles.
Cloves are another excellent way to get rid of these beetles. They don't like this scent either. You should make some small clove bags and place them around your home. Place the bags in the area that you find the beetles the most.
Bay leaves are also another scent that the beetles don't like. Make a few pouches of fresh bay leaves and place them in the areas around your home that you find the most beetles. You can also mix cloves with the bay leaves.

December 1, 2017
0

found this helpful
Lemon oil in a diffuser helps alot and clears them out. Ive also heard planting mums helps keep them out which I havent tried yet. Something about the smell of the mums they cant stand and also mums have some thing in it that is used for pest sprays and bug bombs. I never knew that about mums but its true. I have dogs and I know they make animals sick and worse get stuck in the roof of the mouth of dogs. Eewww.... (Ive seen the pictures of this thats happened to a few dogs) Ive also heard the stuff that leaks out of their legs or whatever it releases after being smashed causes asthma. The government really did us wrong bringing these bugs here as if we didnt have enough bugs. Goodluck
Answer

this Question
This page is about getting rid of lady bugs. These insects can be a nuisance in some parts of the country.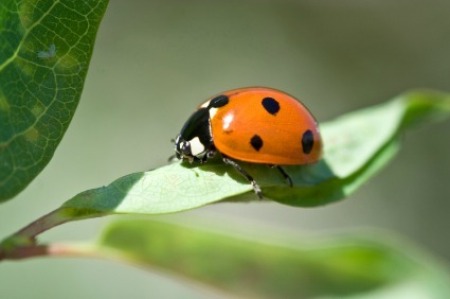 This is a page about making an Asian ladybug trap. While Asian lady beetles can be quite beneficial for pest control, many people find them to be a nuisance. They are known to bite, making them an undesirable garden visitor.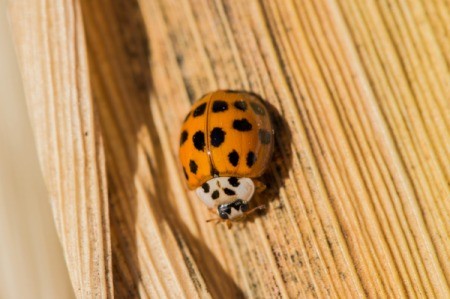 Asian beetle are not ladybugs. Asian beetles look a lot like ladybugs though and can be nuisance. Here is some information about Autumn ladybug invasions.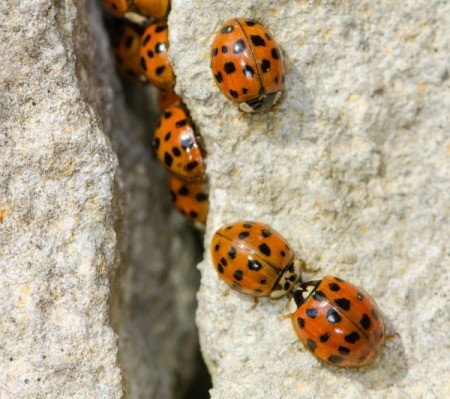 Archives
ThriftyFun is one of the longest running frugal living communities on the Internet. These are archives of older discussions.
I have a chalet in WV and use it two weekends a month. In late Fall millions of Asian beetles (that look like ladybugs) fly in mass from the mountains and head for my chalet for warmth. I cannot figure out how they are getting inside of the house. I'm thinking around the tracks of the two sliding doors maybe?
Read More...
Published by ThriftyFun.
© 1997-2022 by Cumuli, Inc. All Rights Reserved.
https://www.thriftyfun.com/Getting-Rid-of-Asian-Beetles-1.html