Feta Salad Recipes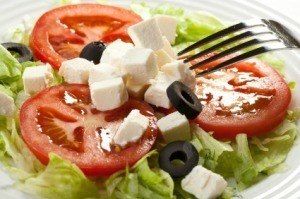 Feta is a salty cheese usually made from goat or sheep's milk; it is delicious when added to many salad recipes. This page contains
feta salad recipes.
Solutions
Share on ThriftyFunThis guide contains the following solutions. Have something to add? Please share your solution!
June 5, 2012
7

found this helpful
This tastes awesome using baby spinach instead of hearts of romaine too!
Ingredients:
1/2 cup extra virgin olive oil
1/4 cup red wine vinegar
2 Tbsp. balsamic vinegar
2 Tbsp. brown sugar
1 tsp. honey
1 tsp. Dijon mustard
1/2 tsp. minced garlic
1 head hearts of romaine lettuce, cut or torn into bite sized pieces
1 pint fresh raspberries
1 cup slivered almonds, toasted
1 cup feta cheese, crumbled
Directions:
Mix oil, vinegars, brown sugar, honey, Dijon and garlic in a cruet. Toss the lettuce, raspberries, almonds and feta in a large serving bowl and serve with the dressing on the side.
By Deeli from Richland, WA
May 6, 2010
3

found this helpful
Quick and easy ;-)
Ingredients:
2 cucumbers
1 tsp. minced garlic
1 tsp. Dijon mustard
1 tsp. honey
1 Tbsp. red wine vinegar
2 Tbsp. extra virgin olive oil
2 cucumbers, peeled and seeded
8 oz. feta flavor of your choice, crumbled
Salt and pepper to taste
Directions:
Place garlic, Dijon, honey, vinegar and oil in a cruet or lidded jar, shake and refrigerate.
Peel, seed and slice the cucumbers and place on salad plates. Evenly sprinkle with feta, season with salt and pepper, shake dressing, drizzle dressing over salad and serve.
By Deeli from Richland, WA
April 13, 2010
0

found this helpful
Ingredients:
6 oz. feta, plain or flavored, crumbled
2 cups coarsely chopped arugula
1 cup cherry tomatoes, halved
1/4 cup olive oil

2 tsp. minced garlic
1/2 tsp. pepper
1/2 tsp. salt
8 oz. mezze penne pasta
Directions:
Cook pasta al dente according to package directions.
Mix feta, arugula, cherry tomatoes, olive oil, garlic, salt and pepper in a large serving bowl.
Drain pasta, toss with the feta mixture and serve.
By Deeli from Richland, WA
Ingredients
1 head lettuce, torn into bite-size pieces
1 carrot, sliced thin
2 tomatoes, cut in pieces
1 cucumber, sliced
1/2 sweet onion, thinly sliced
1 small pkg. Feta cheese, crumbled
1 can black olives, drained
1/2 bottle Newman's Own salad dressing
1/2 bottle light olive oil
croutons
Directions
Put lettuce, carrots, tomatoes, cucumber and onion in a large salad bowl. Top with Feta cheese and black olives. Add croutons, salad dressing and olive oil; toss.
By Robin from Washington, IA
This makes a large salad for a potluck. If you want this for a dinner salad for a family, I would halve the ingredients.
Ingredients
1 package pasta (1 lb.), any kind - I like farfalle and penne for salads
2 cups basil for pesto + 1 cup, sliced into thin strips
1 cup shredded or grated parmesan
1/2 cup pine nuts + 1/4 cup for topping
1/2 cup olive oil
2 cloves minced garlic
Salt and Pepper
1 package (8 oz) crumbled feta
2 cups cherry tomatoes, halved
Directions
Cook pasta according to package directions. While this is cooking (or ahead of time), make pesto by placing basil, pine nuts, parmesan, garlic and olive oil in a food processor and mixing thoroughly (If using a blender, chop basil first and add slowly or the blender will get jammed up). Add salt and pepper to taste. The pesto should be mixed well and be a brilliant green color.
Brown 1/4 cup of pine nuts in a little olive oil with salt and pepper until golden. Drain pasta when done and rinse using cool water to stop cooking. Toss pesto and pasta together in large bowl, add pine nuts, basil strips, tomatoes and feta and toss. This salad is best if left to "set" for a couple of hours or even overnight. Before serving, add salt and pepper and more olive oil if the salad looks dry.
If you don't like feta, you could simply substitute shredded parmesan or your favorite cheese instead. Feel free to use bottled pesto as a timesaver or add grilled chicken for a hearty meal.
Jess from Portland, OR
This is an entree salad that is great for one of those hot summer evenings! The best part of this salad is that its so easy. Oh yeah and it tastes so wonderful at the end of a hot day! I always appreciate easy meals. This is kid friendly too! My 6 year old twins and toddler always ask for seconds!
Ingredients
1 1/2 - 2 pounds boiled chicken breast (skinless)
1 box bowtie pasta (I like to use whole wheat)
1 bag or 2 heads romaine lettuce, torn into bite sized pieces
1 container crumbled feta cheese (you can use less for a less "strong" flavor)
1 bottle Italian salad dressing. (I use a low or no fat version)
Directions
Basically, you need to boil up the chicken until it is cooked through. Boil up the noodles. Chop up the chicken. Now combine everything into a big bowl and toss to coat the salad with dressing. Let it chill for a while and Mangia!
By Crunchy Mama (Jen) from Maple Park, IL
Related Content