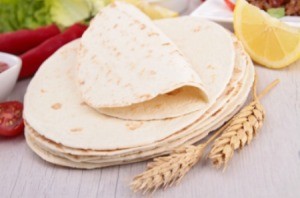 Sometimes you can get a good price on a large bag of tortillas, more than you can eat right away; freeze some for later. This is a guide about freezing tortillas.
Solutions
Share a solution for this guide today!
Questions
Here are questions related to Freezing Tortillas.
Tips for freezing tortillas, post your ideas.
By
---
Best Answers

By ThriftyFun04/29/2005
To freeze your left over tortillas just stack them with a sheet of waxed paper between each one and then put the stack into a Ziploc bag and store in the freezer for up to 2 months.

By Robin
---
Best Answers

By Harlean from Arkansas06/06/2004
It really is not necessary to freeze tortillas...corn or flour. Leave them in original bag or repackage in a zip lock bag, and store on a cupboard shelf. They will keep and stay fresh indefinitely. No drying out, cracking, or crumbling either. I have used flour tortillas that have been stored for as long as a year in this manner. I use Mission Brand Tortillas.

Harlean from Arkansas