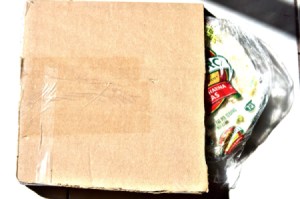 When I buy tortillas, I may not always use them right away, so I freeze them to keep them fresh and in one piece as the day I bought them.
I found that putting them in a baggie wasn't enough, as everything in the freezer gets pushed around a million times looking for things, and by the time I pull out a bag of torts, they'd have cracks in them, or, they'd have the ends broken off from all the other freezer foods smashing against them.
So, to fix all that, and keep them in perfect condition, I just make a little box out of cardboard, tape the one end, leaving the other end open, then put them into a freezer baggie, and then slide them into the box and then the freezer. I've also used "left over pizza boxes", which I've cut smaller, and those work real well too.