I posted a tortilla recipe a few years ago. Now I am back with an even better recipe. This is super easy, and only takes a few minutes to make the dough. After the dough rests, the resulting tortillas are soft and do not crack when folded. What I like most about this recipe over the old one I posted is that these can be stored in the fridge and don't dry out. Now, all I need is someone to teach me the trick of rolling out round tortillas!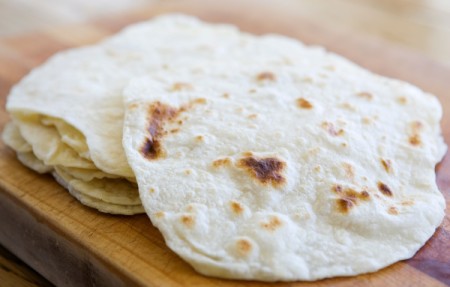 Read More...
How do I make homemade flour tortillas?
By Lynda from Tampa Bay Area, FL

Answers
September 8, 2009
0

found this helpful
Homemade Flour Tortillas
1 3/4 cups flour
3 tablespoons shortening or lard
1/4 teaspoon salt
1/2 teaspoon baking powder
1/2 cup warm water
With a pastry dough blender or back of fork, blend flour, baking power, salt and shortening, until it resembles coarse meal. When well combined, slowly add water until soft dough forms. Knead for 5 minutes.
Separate into 10 portions for small tortillas and 6 portions for large tortillas, and roll each one out approx. 1/8 inch thick. Place on a preheated skillet and brown on each side. Adjust size for burritos, tacos or other uses.
September 8, 2009
0

found this helpful
Flour Tortillas
6 cups flour
2 tsp. salt
3/4 cup shortening
2 to 2 1/4 cups water
Cut shortening into flour and salt. Add water 1/2 cup at a time, stirring with a fork until dough comes together. Knead dough until soft and smooth. You may need to add more water if dough is too dry or more flour if dough is too sticky. Knead dough for about 5 minutes. Cover and let rest for 30 minutes.
Pinch off walnut size piece of dough and roll into a circle. Do a few at time to stay ahead as tortillas are cooking. Place uncooked tortilla on a hot, ungreased griddle until edges appear dry and underside is starting to brown. Turn tortilla and continue cooking. Remove to plate covered with a towel to keep warm.
Makes 3 dozen tortillas. Keep unused tortillas in a sealable, plastic bag in the refrigerator. To reheat, place on hot griddle, wrap in foil and place in warm oven, or heat for 15 seconds in the microwave oven.
September 9, 2009
0

found this helpful
2 C all purpose flour
1/4 tsp. salt
1 Tbsp. shortening or lard
2 Tbsp. warm water 90-110 degree
Cut shortening or lard into flour until it has consistency of cornmeal. Add warm water a little at a time like you would for pie crust. until it forms a fairly sticky ball in bowl. Turn out onto floured surface, sprinkle flour on top and kneed until it is soft and springy to touch, about 20 times. Divide dough into about 2 to 3 inch balls.
Reflour surface lightly dust flour on dough pin and roll out to approximately 1/16-1-32 in thick. I use a round cake pan as a guide for cutting shape. Place in hot ungreased cast iron skillet for 45-60 seconds then flip and toast opposite side.
Fill with desired fillings and serve, or for a crispy shell fry in skillet till golden brown. Good Luck
Answer

this Question
Someone had a recipe for flour tortillas awhile back, it only had, I believe, 3 ingredients: flour, water, and - I don't remember. If anyone has this recipe, I sure would appreciate it.
Read More...