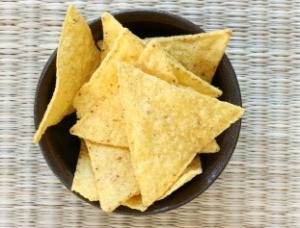 I love to deep fry my own corn and flour tortilla chips, but the healthier option is to bake them ;-) All you have to do is cut the tortillas into chip size wedges and bake in a single layer at 350 degrees F, turning once, on a baking sheet until golden brown. It depends on whether they are corn or flour and your oven, but it generally takes anywhere between 5 to 20 minutes. Once baked, allow to cool for about five minutes before serving.
By Deeli from Richland, WA
Tortilla chips are typically fried and laden with fat. Corn tortillas, on the other hand, have NO fat. Make your own chips by cutting the tortillas with kitchen shears into wedges or strips, scatter them on a shallow pan and bake at about 300 degrees F until crisp.
Read More...
How do you make tortillas chips?
By margaret

Answers
May 5, 2009
0

found this helpful
Take flour or corn tortillas and cut them into triangles with either scissors or a pizza cutter. Heat oil in a medium pot, and when very hot, drop tortillas into hot oil...fry until golden. Remove from oil and drain on paper towels or a paper bag. Season with salt/pepper, or seasonings of your choice.
May 7, 2009
0

found this helpful
A healthier way to do tortilla chips is to cut them in triangles either corn or flour tortillas and spray them with oil (I use extra virgin olive oil) on both sides and sprinkle them with salt or seasoned salt, and bake @ 350 until toasty brown. Hint: put them on a single layer on cookie sheet on a crinkled aluminum paper or crinkled parchment paper. the reason you crinkle the paper first is so that the tortilla chips are off of a flat surface and they brown on the bottom side at the same time. otherwise, you need to turn each one to brown the bottom. Happy eating (they're great)!
May 7, 2009
0

found this helpful
Cut tortillas in half then each half in thirds, put on parchment covered cookie sheet as is - no oil - in pre heated 350F oven for 15 min - no need to turn over, for variety use different tortillas multi-grain, tomato, etc.
May 10, 2009
0

found this helpful
Paula Deen says to use 1 inch peanut oil heated to 350 degrees. Then pre-cut tortilla into 6 pieces and fry for 60 seconds or less until lightly browned. Then place on paper toweling to soak up excess oil. They are fantastic!
May 12, 2009
0

found this helpful
I use canola oil because it's a very, very heart healthy oil to use when cooking/frying :-) When I make tortilla chips I ditch the salt because there's usually already plenty of (if not loads of) salt in the dip of choice ;-) Even many quacamole recipes include salt in one form or another.
Happy chip making cause they definitley are healthier and tastier than store bought ;-)
May 8, 2016
0

found this helpful
Brilliant recipe and taste. I really tastes such a solution and do it often. Theoretically, these chips can fry or bake - I always choose baked, I think they are then tastier and healthier.
Still, I found a different solution with poppy seeds, nuts and other additives www.open-youweb.com/.../ and can anyone advise what else can you say to them?
September 25, 2016
0

found this helpful
L would love all the meals to be sent tome if that's OK from yous l have some of my own meals that you would love it made from squash and other things to very yummy it's go very fast .
Answer

this Question