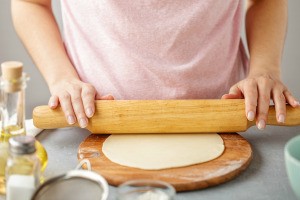 These are just as the title says - crispy and crunchy, and you can flavor them in many ways. The recipe specifies Parmesan cheese, which is very good, but you can use onion powder, Mrs. Dash, chili powder, cayenne, or whatever you like best. You can also add seasonings to the dry ingredients as you mix this up, but don't add the cheese into the dough.
Ingredients:
1 cup yellow cornmeal
1/2 cup flour
1/4 tsp. baking soda
1/2 tsp. salt
3 Tbsp. oil
1/3 cup milk
Parmesan cheese, to taste
Directions:
Preheat oven to 350 degrees F.
Mix dry ingredients. Mix oil and milk, and gradually stir into the dry ingredients. Form into a ball. Put on a lightly floured surface and knead for 2 minutes. You may need to keep dusting flour onto your work surface and on top of the dough, but don't get it too stiff. It needs to be workable.
The instructions say to break marble size pieces of dough off and roll them out individually. I find this to be too time consuming and tedious. I break it up into quarters, and roll one piece out, paper thin, and then cut it into Frito size pieces. The key is to roll it out as thin as you can without tearing it.
Sprinkle lightly with Parmesan or other dry, grated cheese. Place on a baking sheet sprayed lightly with baking spray. Bake for 8 - 10 minutes until golden brown.
Remove to a rack to cool.
Servings:
Depends on who's eating!
Cooking Time:
8 - 10 Minutes
Source: Sophie Leavitt's Penny Pincher's Cook Book
By Free2B from North Royalton, OH