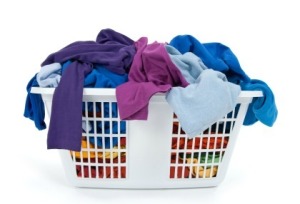 Dye can get onto clothing either in the wash or by transferring from other clothing such as jeans. This is a guide about getting dye out of clothing.
Solutions
Share a solution for this guide today!
Questions
Here are questions related to Getting Dye Out of Clothing.
I would like some suggestions for getting blue dye out of clothes.
By Chuck from NY
---
Most Recent Answer

By cheryl01/27/2010
I had same problem and i bought RIT laundry treatment color remove you can buy in any grocery store.I got mine at walmart in laundry isle. it says only for white clothes but i had a yellow tank top, a yellow shirt with green lettering on it and a seagull also white shirt with blue lettering and i washed clothes first then washed again with RIT on hottest water. I can not believe it worked great. I did have to do it twice. but it works great. and i am so glad they were new shirts and from hollister and aero. you might not have to do it twice but i had a few other items i had to get blue dye out of.RIT also has other products for whiten whites and stain removing never tried them but after tring this i will try there other products.
How do I prevent or remove dye that is running on my garments? I put like colors together on cold and have used every type of detergent and my clothes still come out with spots. They look like grease spills and I know they aren't. They even appear on the back of a tee shirt sometimes. Help.
By Barbara J
---
Most Recent Answer

By Louise B.07/23/2013
Colors bleeding onto garments stain the entire garment or they stain the area where they sit for a length of time such as if you leave things in the washer for some time before putting them into the dryer. I suspect that you have some other sort of thing going on; if they look like grease spots, I would think they might very well be grease spots. For that, I find that any good stain remover for grease, such as Shout, works; although the best thing I have found is an Orange peel cleaner. If the marks are a lighter color, it could be some type of acne medication or something of that nature that you are using on your skin. That kind of stuff will bleach out color and discolor necklines, and also it will look like fingerprints on colored garments, but will not show up until after the garment is laundered.
The dress was on the back of a truck and it rained and soak through the suitcase and my new dress got stained.

By Judy B. from Norfolk, VA
I need to know how to get like a mustard color tie dye stain out of a pink shirt, if there is a way.
By Callie L.
How do I get the blue dye out of the white ring of the neck and arms of a navy blue cheerleading shirt? I washed the top in with dark clothes and had a pair of jeans that faded onto the shirt. I then put it in the dryer. I forgot about it being in the wash and now the white is blue. I've used the Tide pen it took some out, I've used Clorox 2 no luck, and I've used Oxiclean stain remover. Anyone have any ideas?

By Llc
I have just washed my son's new school t-shirt which is yellow with my normal colours (none of which run) and for some reason when I took it out of the machine it had blue dye on it and now it looks a "dirty" yellow colour. Any tips on how to get it back to it's original colour would be appreciated.
By Ann-Marie A
---
Most Recent Answer

By designgirl17809/04/2013
Get Rit Dye color remover and follow the pkg directions. It should come out. Good luck.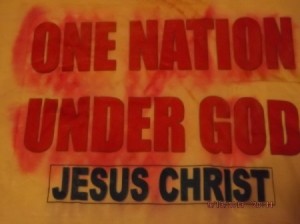 We made a red and blue transfer. We ironed it on a white t-shirt. It was worn all day and the next day, in the heat. Sweat caused the red ink from the transfer to bleed! How do I fix this? Clean it up so it can be worn again and not ruined?
By Mary C.
How can I remove blue jean dye from an orange colored shirt?
By Nancy from Wood River, IL
---
Most Recent Answer

By susan05/13/2010
The product you want is "Color Out" and it is sold in the area with fabric dyes. Works great.
I've got a black jacket with a white fur hood. When I've washed it the black dye made the white fur hood grey. Any ideas how I can get the hood back to its right colour?
By Clare from Manchester
---
Most Recent Answer

By Lois Kersti Brouillette11/24/2013
I know that there is a product now, that works in the washing machine. I know that we may be reversing what happened, but it is worth a try. Of course I do not have the name. I watched a commercial about it and I know it works. It looks like a fabric conditioner dryer sheet. I found it at the grocery store in the laundry soap isle. If you do not read a better idea, and find this product, you could try it by rewashing them. It is a great product for those wash loads that you need to have done faster, like the night before school. Hope you get help. Lois
Archives
Thrifty Fun has been around so long that many of our pages have been reset several times. Archives are older versions of the page and the feedback that was provided then.
I did a dark wash with one red shirt and some assorted light color clothes. For some reason the red ran on everything. Can the red dye be cleaned out of the clothes? Mindy from NY
---
RE: Getting Red Dye out of Clothes
Well I guess you found out the hard way not to put a red item in with lights. I'm assuming this red item had not been previously washed or is relatively new. After several washings, it probably won't happen anymore. I am not sure what to take the red out with but seems there are some products out there. Go look in the cleaning products aisle in Wal-Mart and also in the area where they sell fabric dye. Also what you could do is to hand wash the red item separately in the future. I think you can set the color by using salt in water.
Also, it's best to do darks separately from lights.
Go to www.ask.com and pose your question as you might get some better answers than what I was able to give. Good luck! (09/06/2006)
By Debbie52
RE: Getting Red Dye out of Clothes
Soak the clothing (minus the red shirt) in Oxiclean and hot water before rewashing. I've had good luck removing red dye doing this. Susan from ThriftyFun (09/06/2006)
By ThriftyFun
RE: Getting Red Dye out of Clothes
Once I washed an old, old orange shirt with some white socks and panties. I had washed the shirt dozens of times but apparently, it still had some dye to give. Guess what! I had orangey-peach socks and panties. It was not a solid color but orange and white tie-dye pattern. I tried everything to get it out with no luck. It eventually faded some but I still have some orangy tie-dye socks. It's a funny story and I had one of a kind underthings! (10/03/2006)
RE: Getting tie dye out of baje shorts
I don't know how to take out the die in my shorts they are my favorite shorts please give me some advice! asap (06/09/2007)
By victor123
RE: Getting Red Dye out of Clothes
I washed a white shirt and a light green shirt with a red shirt by accident. When I went to put the clothes in the dryer, the white and green shirts had red all over them. I tried washing the green shirt with Oxiclean and Shout but nothing happened. I tried the same thing with the white shirt and the red came out somewhat. I then put the white shirt outside in the sun to see if the sun could bleach it back to white but, it only took a little bit of the red out. What should I do now? (07/09/2007)
By ceoamiton
Some nice shirts were washed with an item that leaked red dye. The shirts have been kept moist by soaking in cool water, not dried, while we search for a solution. Any suggestions? Thanks. Holly from Richardson, TX
---
RE: Getting Red Dye Out of Clothes
I had the same problem a while back. I posted here and the advice that worked best for me was to soak my white shirts in lemon juice. I ran the shirts through wash cycle, then left them to soak overnight. Next morning I ran them through full wash/rinse cycle and they were white again. Hope this works for you. Good Luck (08/22/2007)
By Betty
RE: Getting Red Dye Out of Clothes
Rit Dye actually makes a product for this. It is only $2.49 for a bottle and it works great! (I know this because my husband "helped" by doing laundry) (10/16/2007)
By Tiffany Rohe
RE: Getting Red Dye Out of Clothes
My 13 year old was doing her laundry and thought "if I put every thing in at once, it won't take my so long." Well the school team jersey 1/2 polyester and 1/2 cotton blend, White with a thick purple stripe starting at the shoulder doing down to the bottom. gold and purple letters in the front and back. Is now pink, purple and gold due to being washed with a red sweatshirt. It was dried in the dryer and she looks to me on getting this out before the couch sees her. I have tried everything today and can not get it out. Is there a secret I do not know about? Can you please share. It has to be white again. (b)Editor's Note:(/b) Once it is dried, removing stains is harder. I've had the best results removing bleeding dyes with Oxiclean. Soak the garments in hot water with a good amount of it and let it soak for a while. Hope this helps. (10/26/2007)
By Kim
I have a new sweatshirt that I put in the laundry today and blue dye ran all over into it.

Cathy from Canada
---
RE: Getting Blue Dye Out of Clothes
Add bleach in the washing machine. It works best if there's color on white clothing! (04/08/2008)
By amanda
I've just accidentally washed new white tops (which contain slight splashes of color design) with a blue skirt. Now the main body of both white tops are a pale blue! What can I do? Any solutions on how to return the white to it's original brilliant white color?
Mary from Ireland
---
RE: Getting Blue Dye Out of Clothes
Bleach does work wonderful. I like to try it in the sink with the item of clothing, that way you have control over how much you are using. Very little is actually needed, about 1 Tablespoon for a sink full of water, letting the item soak for about twenty minutes. You don't have to worry about pre-printed items on the t-shirt, it should not lighten it. If this doesn't work, add more bleach to the water, add it to a container with water, and pour into sink away from clothing. Good luck! (08/07/2008)
RE: Getting Blue Dye Out of Clothes
Hi,
I've used Rit Color Remover before and it turns your whites back without using bleach. It can be found in the laundry aisle. The info below came from their website. Best of luck.
Fabric Treatments, don't throw away stained or dingy clothes - save them with RIT Fabric Treatments! RIT Color Remover removes or reduces fabric color before dyeing to a different or lighter color. Also safely removes most stains on whites that have accidentally been washed with colored items.
RIT Rust Remover removes yellow or tan discoloration caused by rusty water, rusty metal, and clay on white fabrics only.
RIT White-Wash whitens solid white fabrics, including hospital uniforms and non-bleachables such as lingerie.
RIT Whitener and Brightener brightens dull whites and colors without chlorine bleach.
(08/07/2008)
By JoAnnDeMom
RE: Getting Blue Dye Out of Clothes
I would use Oxi-clean. Then I would try something they did years ago, I would lay it flat out in the sunlight. I think my mother used a white sheet to lay them on. The sun will bleach out what the Oxi-clean doesn't get. (08/08/2008)
By SunshineRose
RE: Getting Blue Dye Out of Clothes
After washing, try putting it outside on the line in the sun. The sun sometimes whitens and bleaches. This may take a few washes and a few days in the sun. (08/08/2008)
By JOAN
RE: Getting Blue Dye Out of Clothes
Thanks to everyone who offered advice, I'll start with RIT Color Remover and see how it goes, fingers crossed! (08/10/2008)
By Mary from Ireland
RE: Getting Blue Dye Out of Clothes
Thank you so much. I would've thought hot water and bleach would've destroyed the clothes! My bf bought a new shirt and jeans from an expensive dress store and I threw it on top of a red table cloth I'd forgotten was in the wash machine. I almost died when it came out splattered with red as it was light blue. I tried everything for a week. This definitely worked, thanks a million! (01/01/2009)
By tiannalilly
How do I get blue dye out of white clothing?