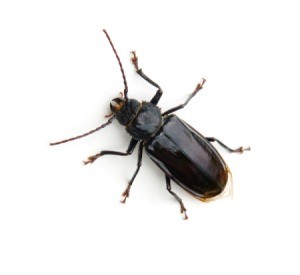 Finding the safest method to keep insects out of your home is best for pets and children. This guide is about getting rid of beetles in your house.
Ad
---
Questions
Here are questions related to Getting Rid of Beetles in Your House.
I hope somebody can help me. I'm getting little flea/beetle looking bugs that a tiny what looks like a shell (like a beetle) and wings. I've never seen them fly. Most of them seen to be around my hall and kitchen windows, on the draining board and on the units (not in cupboards yet). They also seem to be on the ceilings, plus some around the light in the living room.
I do have a cat and a dog so I know there not fleas (animal). Could anyone please help me? I don't know what they are or how to kill/treat them. Help me please.
By Den5973 from UK
Ad
---
---
Most Recent Answer

By JP McHale Pest Management Inc.08/04/2009
Beetles can enter your home many ways. One of the most common ways they can enter your home is though a window that is not screened. A lot of these pests are attracted to light, and will easily enter your home that way.

Screening windows in is part of integrated pest management (IPM).
How do you keep Chinese beetles out of the house?
Jerry from Dekalb, IL
Ad
---
---
Most Recent Answer

By (Guest Post)10/13/2008
Try putting either solar curtains (the silvery ones) or aluminum foil in the windows that get the most sun. That seems to comfuse them and they will leave.
Does anyone know an inexpensive way to get rid of powder post beetles? They have made a home in the wood on my porch railing.
By DE
How do I get rid of the small worm insects that turn into beetles? They are all over my house.
By Annie
Solutions: Getting Rid of Beetles in Your House
Do you have knowledge about this guide topic? Feel free to share a solution!