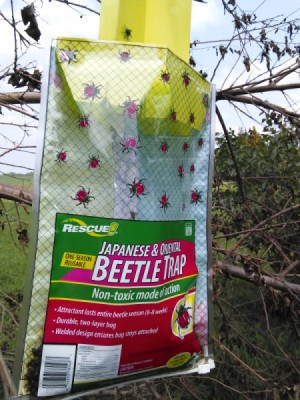 Many parts of the USA have been invaded by the Japanese beetle. While they don't normally kill a tree, they do put it under a lot of stress, prevent fruit trees from bearing fruit, and they make the trees appear ugly.
They eat the fleshy part of the tree leaf, the part that grows between the veins, which leaves the leaf looking like brown lace.
To spray all your trees, is very expensive, and the sprays often have to be reapplied after each rain. The estimate to spray our farm was over a thousand dollars. I talked to our local extension office, a professor at a local university, and to a bug specialist at a local hardware store. All told me the same thing, to get a trap and hang it away from the infected trees, so that the beetles leave the tree and go to the trap. The traps contain various chemicals, but the one I chose contains a hormone that attracts them, then a secondary chemical that kills them. I chose to hang mine on a damaged tree that we were already planning to cut down in a few weeks. It was located about 30 feet from the infected trees.
The traps attract the beetle, which goes inside and can't get out. Once it is full, you unzip the bottom and the dead beetles come out. Then zip it back up and it is ready to fill up again.
We have had great luck--I highly recommend this type of trap if you have this problem. It doesn't necessary have to be the brand that is pictured.