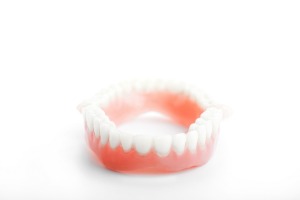 Part of the process of getting dentures often includes being fitted for temporary dentures to use until the permanent ones are ready. This is a guide about getting temporary dentures.
Ad
---
Questions
Here are questions related to Getting Temporary Dentures.
11 days ago I had all my upper and lower teeth pulled. Temporary dentures were put in immediately. My question is, should I be wearing them 24 hours a day minus taking them out cleaning, rinsing, etc. Or should I be taking and leaving them out at night?
By betsylbs [1]
AnswerWas this interesting? Yes No
Ad
---
---
Most Recent Answer
By Frugal Sunnie [11] 07/23/20150 people found this helpful
When my upper plate (temporary, like yours - I'm on the permanent one now and love it) went in immediately after the teeth were extracted, my dentist said to remove the plate that and every night (or whatever is the regular sleep period).

He said the chance of the plate slipping and choking me in my sleep outweighed any wound compression (to stop/control bleeding) benefits.

I was a little nervous about removing the plate that first night but it didn't hurt at all - the next morning there was a fair bit of swelling where the teeth had been pulled but the plate went in painlessly and by the end of the day I was surprised to find the extraction site swelling was completely gone.

If your experience has been different (continued pain and swelling, pain on removal/re-insertion), be sure to contact your dentist - he/she has a duty of care and you should never hesitate to ask for guidance concerning wearing and caring for your new dentures!
---
I had 15 teeth extracted last week. How long do I have to wait before I get a temporary denture? My gums are still very swollen and tender. I can't imagine having an impression done right now.
By Stephanie
AnswerWas this interesting? Yes No
Ad
---
---
Most Recent Answer
By Sandy [6] 08/19/20130 people found this helpful
I had my dentures made before my extractions and they were put in my mouth before I woke up. I understand that the gums shrink at a fast rate the first month, then continue to shrink over 6 months or so but at a slower pace. I would wait a few weeks for the tenderness to go away before you do impressions. My gums didn't stay sore for a long time, maybe 3 weeks to a month. You will have to go back several times for adjustments to your dentures to get a proper fit. Make sure those adjustments are included in the price of the dentures.
Solutions: Getting Temporary Dentures
Do you have knowledge about this guide topic? Feel free to share a solution!