Ham and Broccoli Pockets
These delicious ham and broccoli pockets are easy to make. They can easily be made with your favorite fillings. They are a great alternative to store bought Hot Pockets.
Approximate Time: 30 minutes
Yield: 12 pockets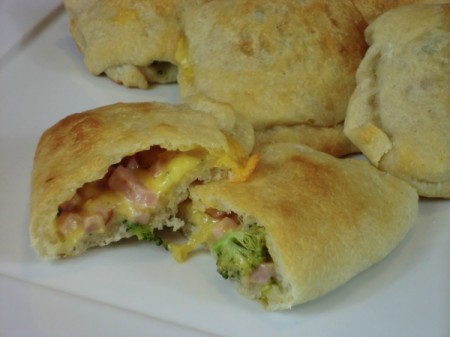 Supplies:
2 pkg. prepared pizza dough
1 1/4 cup cooked ham, chopped small
1 cup broccoli florets, chopped small
1 cup cheddar cheese, grated
2 Tbsp milk
2 Tbsp water
Steps:
Preheat oven to 400 degrees F. Chop ham steak into small cubes. Rinse broccoli florets and chop into small pieces. Grate cheddar cheese.
Combine all filling ingredients in large mixing bowl.
Open can of pizza dough and unroll it onto a lightly floured cutting board. Using a knife, cut it into 6 sections.
Place 1/3 cup filling mixture onto one side of each section of dough.
Using your fingers brush all edges of each section of dough with water. Then carefully fold the dough over the filling and press the edges shut.
Place the pockets onto a cookie sheet. Use your fingers to brush milk onto the top of each pocket.
Bake at 400 degrees F for 15-17 minutes, or until golden brown. Serve warm.
By lalala...
Feedback
Read feedback for this post below. Click here to post feedback.

By
09/26/2012
These look great, I wil have to figure out a way to make them without cheese. You would probably need some sort of sauce so they wouldn't be dry.

By
09/24/2012
Yum, they look delicious! I will have to try to make a vegetarian version too, maybe mushrooms instead of ham? :)
Post Feedback
Add your voice to the conversation.
Related Guides
Related Posts