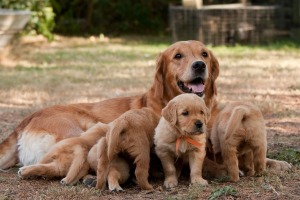 If your dog is expecting, you can help by being knowledgeable about the whelping or birthing process and being prepared to assist or get help as needed. This is a guide about helping your dog deliver puppies.
Ad
---
Questions
Here are questions related to Helping Your Dog Deliver Puppies.
My Pit Bull just gave birth to 9 puppies, but I am scared that she might smother them or suffocate them while she moves around. Should I move the puppies or let her take care of it herself?
By Lina from Phoenix, AZ
AnswerWas this interesting? Yes No
Ad
---
---
Best Answers
By Edna Raisor 35 02/25/20110 people found this helpful
We used a kiddie swimming pool for our Dalmatian puppies when they were born. It worked out well due to the sides being tall enough and plenty of room for sometimes up to 13 babies. I believe the mother instinct kicks in when the babies are born. Let mother nature take its course. She will take care of them. Its fun to watch them grow and develop their personalities. We had 4 litters and enjoyed every minute of it. Give the mom higher protein food to help with everyones nourishment.
---
By Sherri 10 552 02/28/20110 people found this helpful
Hello,
These posts are great answers to your questions. Please keep in mind that the mama will have to eat at least 4 times a day as the puppies will take all her nutrients. She will want a break from them so don't be surprised if she just gets up and leaves them alone. Please make sure she has enough food/water at her disposal 24/7. Watch the puppies to make sure she is not shoving one off to the side and not feeding it. Also, please call your Veterinarian as soon as the puppies are old enough to leave their mom (7-8 weeks old) and make her appointment to have her spay. Good luck.
---
By Cricket 205 896 03/03/20110 people found this helpful
I looked at the link with the box instructions and didn't like that at all. I have always used kiddie plastic swimming pools. I like them for several reasons. They are the perfect size (since they come in different sizes) and provide lots of space for the growing puppies to move around and play.

2-The upper edge of the sides is smooth and doesn't scratch Mama when she steps out, It also doesn't hurt the puppies who may be "hanging on" to a teat when she's trying to get out. (This sounds odd, but happens many times, and a rough wooden crate can hurt the tiny puppy, and can give him splinters).

3-And last but by far not least, it's extremely easy to clean.

Also, don't worry so much about the Mama smothering the puppies. Yes, keep an eye out and "rescue" ones that she may not even realize she's laying on. But for the most part, let nature take over and they'll be fine.

Don't "separate her" from her puppies. Not ever! When she needs a break from them she will come out of the whelping box. But she will do it when SHE is ready. If you try to separate her from them when she doesn't want to it will only upset her. And she may decide to react in a way that you surely don't want. I've seen otherwise very loving dogs turn and bite their owners because the owner was trying to separate her from her babies. When she's ready she'll leave them for a bit. Otherwise, leave her to take care of them herself.

Finally, one last thing I wanted to mention. Everyone says to make sure she has plenty of extra nutrition and water during this time. This is extremely important. However, do not put the food and water inside the whelping box! Put it next to or near the box, but not inside it. The puppies could get into the dishes and possibly drown or have their noses clogged by the food crumbs. If you keep the food and water next to or near the box then Mama can come out and eat/drink when she needs to without having to go far from her pups.

Also, please do take Mama in for spaying once the puppies are old enough to leave their mom.

Good luck with your new family!
---
How many weeks does it take for a yorkie to have puppies?

Traci from Fairburn, GA
AnswerWas this interesting? Yes No
Ad
---
---
Most Recent Answer
By Johnathon A. 1 04/03/20120 people found this helpful
My dog is having babies.
---
How long should it take for a litter to be born? I have a mini Aussie. The first pup came at 5.35 am. nothing since. She is 12 lbs over normal weight.
By Sandi from Kendrick, ID
AnswerWas this interesting? Yes No
---
Most Recent Answer
By janet meador 2 6 04/11/20100 people found this helpful
Sometimes there is a resting period after the 1st pup. It can be between 3 - 4 hours. Did the placenta come out after the 1st pup? What condition is the mother in? Is she caring for the pup in active labor? Call your vet. They should have no problems with you asking questions. Describe your situation and ask if there is anything else you should be doing or what you can be expecting. Best to you
During delivery does a placenta come out after each pup or only once? and how will I know if she's having trouble like the pup is backwords or stuck? how long do I wait before I know something is wrong?
By kweenAli
What exactly can I do to help my Pit Bull's delivery of her second litter?
By jbone
Solutions: Helping Your Dog Deliver Puppies
Do you have knowledge about this guide topic? Feel free to share a solution!