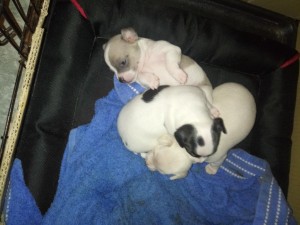 Their mother is a Chihuahua Pin mix named Bella and the father is a teacup (deer head) Chihuahua named Wifi. I took both from horrible abusive homes so I don't have papers. Wifi is 3 years old and came with me from Florida and the mother is from Indiana and around 2 years old now. I have the vet records and all for both. Pictures of them together are posted below along with pictures of all 3 puppies. I only need to get rid of two, the white one with greyish color spots and the all white one. We are keeping the black spotted one (runt) for my oldest daughter. My question is how much should I sell the puppies for and where, so can I make sure they go to good home. And how can I make sure they go to good home?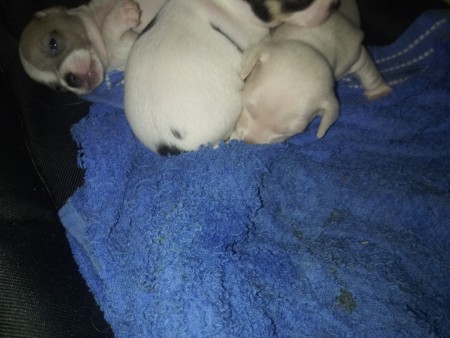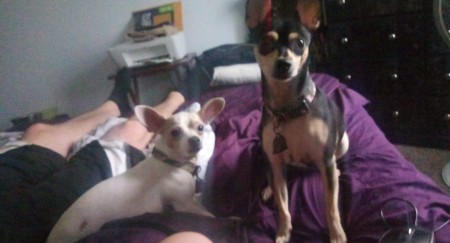 Answers

Pghgirl40
Bronze Feedback Medal for All Time! 196 Feedbacks
December 24, 2019
0

found this helpful
Best Answer
Every town is different for prices for puppies without papers. Where I am the shelters and private families charge $50 to $100 (the higher amounts are where the pups come fully vaccinated and spayed/neutered). Where you are it could be different.
The key is to "vet" each buyer so you are assured they are going to a good home. If you have not done this before, partner with your local shelter to get their list of questions and prices for your town.
If they won't share info, see if your town as a rescue (any breed) and they should be able to help you locate furever homes.
I suggest doing as complete a background check as your state permits on any prospective buyer. The shelter/rescue can give you (hopefully) your state's laws and procedures for doing this check--like what they have to sign before you run the check, etc.
Never, never, never, never, never, EVER offer FREE puppies. There are too many terrible people in the world who take "FREE" animals and put them in to unspeakable situations.
Prayers and all good wishes that each pup finds a good home
Post back with updates!

poehere
Bronze Post Medal for All Time! 105 Posts
December 25, 2019
0

found this helpful
Best Answer
The puppies are adorable and I am sure anyone who took one of them would give them an excellent home. I understand how you feel about finding a good home for the dog. My dog had puppies and I was so worried that they would not take care of them when I sold them. Here where I live to sell a dog like this is rather expensive and people pay a lot of money for them. I know in the states or other places the dog should be sold for a good price. If the dog is a female they sell for a higher price than a male will sell for.
I think that you could ask $100 for a female and $75 for a male. Now to find a good home or to list the dog you can try Craigslist in your area. You should know by the family who comes to look at the dog. I could tell when a person came to take one of my dogs if they would care for the dog or not. It is my experience that you can tell how the person is around the animal and if they will love the dog and take care of it or not.

December 25, 2019
1

found this helpful
Best Answer
Lets just get a gripe off my chest first. In this day and age, theres theres no excuse for unwanted and unplanned pregnancies and puppies. Get these dogs neutered people!!!. Shelters are brimming surrendered dogs who are either pregnant or have just had a litter of puppies. the shelters that are too full to hold them will euthenise the mother and sometimes even the puppies at birth. Fix your dogs!!! Ok...Im sure that you will use the money from the sale,of one of the puppies to fix mother. Wont you ? ...regarding the puppies that you have . Im sorry to say, you absolutely can not tell if the person coming to buy a pup is a kind and genuine dog loving person. Twenty years veterinary nursing and ten years dog rehoming has taught me one thing, the Devil comes in all disguises. Just like bad people can do good things, good people can just as easily do bad things. Firstly as you are responsible for their existence, you have a responsibility to make sure they have good homes and to do that you must sell to people who live only as far as you are prepared to travel to do home checks. yes ..home checks. A genuine buyer doesnt mind a delay of a few hours while you go see where they will be living. Anyone who refuses isnt worth a second thought, genuine buyers wont mind at all and it gives them peace of mind that you arent dishonest backyard breeders too.
Secondly ..you charge exactly half of whatever the going price for a chihuahua pup with papers would cost and certainly no less than 150 dollars. charge the same price for a boy or girl. You dont want these dogs bred from, so dont get into the realms of breeding guides and prices. Standard price for boys and girls, home check beforehand, and a follow up a week later and leave the proverbial door open for future checks. Thirdly, puppies will only go to homes with NO CHILDREN!!! puppies are fragile and get injured by over excited or just downright horrible kids. kids can be evil little bleepers and Ive seen first hand how they torment , provoke and antagonise dogs as soon as their parents are out of sight. Dint send one of your babies to a home to receive accidental broken legs or intentional injuries..or worse. make these three conditions non negotiable, be firm but fair and insist the puppies will only be sold on those conditions. Dont be fooled by the out of state kind faced single lady, older gentleman, cute couple, etc etc... people who buy to use for dog fighting or breeding rarely turn up to buy the puppies themselves. They pay acceptable looking people to do that for them. Good luck.

December 25, 2019
0

found this helpful
Best Answer
Sounds like a lot of good advice but how far can you go when asking someone to provide information about providing a good home for the pups.
If you have a PetSmart in your city this might be a good place to ask questions as they generally have pet adoptions on certain days of the month.
They have people fill out an 'information' sheet and after they review it then is when they decide whether they will approve the adoption.
This process is usually done through the local pet shelters so it is all legal and very informative.
Try to pick up one of their forms (maybe just tell them you are thinking about adoption) and see if you can use something like that.
Do some research on local venue like Craigslist, Nextdoor, Facebook Marketplace to see what others are charging for similar puppies.
I agree about placing these small pups in homes without children but try to make sure the family has sufficient funds to pay for the pups seeing a vet, especially the first year.
Every city is different and some areas are into 'big' dogs or even pit bulls and there may not be a big market for the smaller breed or it may be the other way around. If there are a lot of apartments then small dogs may be in demand.
Be very careful when bringing someone into your home as there are a lot of horror stories about things like this. If you decide to meet away from your home then you should have the parents with you are some very good pictures.

Ana
Bronze Post Medal for All Time! 140 Posts
December 24, 2019
0

found this helpful
First ask trusted family and friends,this could be a situation where because you know them,you would be like a guardian angel watching over them. Also $50 to $100 is a fair price!

Judy
Gold Post Medal for All Time! 677 Posts
December 25, 2019
0

found this helpful
These are not purebred dogs so I would say $50. If you have a neighborhood Facebook group you could put it on there. You will be contacted by neighbors.
Answer

this Question