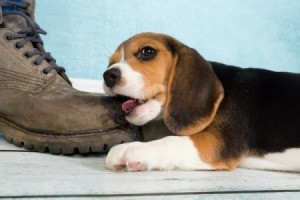 I have learned the hard way how to protect my house and its contents from the sharp puppy teeth. While our children can be reasoned with, puppies only understand that they need to chew. This may be difficult for some but it was what saved my household's shoes, clothes and walls.
My Border Collie took to chewing shoes, the corners of the walls, taking quilts, clothes, and sheets off the outside clothes line, and generally making a nuisance of herself. It was my husband who came up with this bright idea after seeing our dog's reaction to spicy leftover food.
On the walls, where she was chewing we applied splashes of Tabasco and chili, on the clothes line we stuffed stockings with rags that had been soaked in Tabasco sauce and chili powder.
On all of our shoes we applied a thin spray of the same solution, the stronger the better. It only smelled for a little while and the results were that we had shoes that lasted more than 5 minutes after we got them home from the store.
She was most unimpressed and only came back a second time to try it again. The walls were the worst as she used to love chewing them. Something about the ingredients in plaster are tasty for dogs apparently.
Amazingly, almost overnight the problem with the items disappearing from the clothes stopped. We only had to put another stocking on the line for her to put her tail between her legs and disappear into her kennel. It really works, unless of course you have a chili loving dog. If that's the case you're in real trouble.
Cheers!
By Bev
Read More

Comments

I have a 7 month old puppy who likes to chew holes in the carpet and eat the carpet. She will not stop. We have done everything that we know of and nothing works. Please help.
Marylynn from MN
Answers

Robyn Fed
Silver Post Medal for All Time! 398 Posts
March 10, 2009
0

found this helpful
Crate training is a must for this. Look up crate training on the internet. It is the only way to keep puppy's out of trouble without constantly yelling at them. When they come out, watch them like a hawk, little at a time, and make sure any experience with chewing is met with a canful of coins shaking making a loud noise and a firm no.
Let me know how it goes! Racer

March 10, 2009
0

found this helpful
I had a puppy who would chew everything in sight, then a friend suggested it might be because the dog was bored or teething and recommended I gave it old cardboard boxes to chew for its boredom and an old metal frying pan to soothe its gums. Both worked and my dog never chewed anything it shouldn't again.

Dena Roberts
Bronze Feedback Medal for All Time! 102 Feedbacks
March 10, 2009
0

found this helpful
My vet told me that the reason pets chew on carpets, lick the glue off envelopes, and eat plastic bags, etc. is that they are all made from petroleum products & pets like the taste. Apparently it is like candy to them. He said that to get them to stop chewing the carpet, you have to make it taste bad, without making it harmful or smelly.
He told me to try putting cedar chips under the carpet (between the under pad and the carpet), it worked for me.

Janette
Bronze Tip Medal for All Time! 86 Tips
March 10, 2009
0

found this helpful
I trained my chihuahua from her bad chewing using a little cage. As soon as she was doing something wrong I scolded her and put her in her cage for a while. I also used this method potty training her. I only let her out to eat and go potty, then right back in she would go. Using this method doesnt take them long to learn. ~Janette~

March 10, 2009
0

found this helpful
Our guy Ralphie actually chewed a hole in a wall. Ok.. the wall was thin and under the snack bar, but still.
He also began chewing EVERYTHING in sight.
We started letting him have paper plates, small boxes, and lots of toys... particularly one called a Kong. These things are great! They come in all kinds of sizes and have a hole through them that you fill with peanut butter, or one of the many flavoured fillings they sell.
We also would tell him "No" firmly but not mean.. and say "get a toy" then give him a toy instead. Mere days later, he'd stopped chewing on anything that wasn't meant for him to chew.

March 10, 2009
0

found this helpful
We have three dogs, one mastiff and two mid-sized (65 pounds each.) All three had the habit of chewing the carpet until we invested $2 or $3 for a small, densely-woven rope toy. We try to keep three on hand, but they still argue over one and always try to sneak out to the yard with them, lol! We also use the "voice" when we catch anyone chomping the carpet - or anything else they shouldn't.
One last thing: our Princess, 18 months old now, knows she has to go into the "dog room" whenever both hubby and I go anywhere. She still begs not to go most times, but Mama's firm and she's learning she can't win with me. It keeps her from shredding our stuff out of pique. To make a long story short, pick any solution or combination that works for you. Best to you!

March 10, 2009
0

found this helpful
Above all, get that puppy tired out. Wear him out with so much exercise, he will not have any vices and will be a happy healthy doggie. Half of the things they do are just because they are cooped up!

March 10, 2009
0

found this helpful
Caging a problem will only frustrate the dog more and worsen the problem. You need to provide enough exercise, training time, playtime and affection to tire the dog out. Tired dogs are happy and they sleep. Bored, frustrated dogs are destructive pests.
Walk as fast as you can comfortably go if you aren't in shape enough to jog. Do the runs in the morning and evening after their meals so they'll also go potty (which you should scoop) along the way and be empty for the night when they will sleep like beautiful babes.
Combine training on your long jaunts and you will ensure the dog will obey your commands under any circumstances. It's a win-win.
Dogs also need ample toys to chew. Again, you have to be interactive here. You can use a Kong type toy to distract the dog a little but they're arent a substitute for playing with you.
Dog parks are great for relaxing AFTER you have exercised your dog thoroughly. Good luck.
Read More

Answers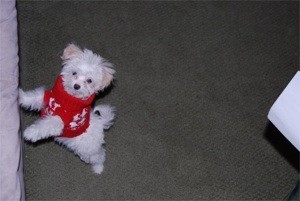 I have a new Bichon/Shih Tzu puppy names Mieko. He is the cutest thing ever. I have puppy proofed my house, but some times somethings will fall on the floor and I have been taking things away from him when he finds them. Now when he finds something he knows is not something that is he is suppose to have, he runs from me. When I finally catch him. I have started to tell him to drop it. And I try to claim it as the pack leader.
He being a only a 4 months old pup thinks I am playing. So I finally have to take it away. But I have tested him a few times by putting it on the floor and making a snapping sound or other sound and tapping him to stay away from it, at the same time giving him one of his own toys. He is so one track minded that he will continue to go for what is not his and then pee if he cannot have it. Even if I have just taken him out to pee.
How do I fix this or reprimand him with out getting upset. I tend to put him in his crate, but I know I am not to use his crate as punishment. I need a new way to help him and me with this situation. Any suggestions? Maybe I am expecting too much of him. But this could turn out to be a very bad trait for him in his future.
Rita from Colorado
Answers

(Guest)
Gold Post Medal for All Time! 846 Posts
January 8, 2009
0

found this helpful
It's only my opinion but it sounds to me like you're being too aggressive with the little guy and especially since you mentions he pees. That means he's scared. He's not peeing because he knows he shouldn't have it but because he knows you're upset and that makes him frightened and upset. Give him some okay things to chew on and praise him for chewing on them and if he chews on something that's not okay just gently say no, no and slowly take it away and put it where he can't get to it.
Don't forget you are much, much larger than that small dog so playing pack leader isn't necessary when it comes to puppies doing what puppies do which is chew and is something they all will outgrow doing. And I hope the only time you are putting him in his crate is for car travel or for very short periods of time when you aren't home for potty training reasons.
By Biblequest (Guest Post)
January 8, 2009
0

found this helpful
We took dog training classes and it was suggested for dogs who were "counter surfing" to set a mousetrap and put it next to the things you don't want them to take and the sound of it is startling and causes them to shy away from the obstacle. Also, they taught to carry a water gun and whenever the dog does something you don't want them to, squirt them repeatedly until the unwanted behavior subsides. We use a spray bottle marked "water" and squirt the dog when she is, for example, taking ornaments off the tree. It didn't take more than 2 times for her to stop going for the tree. I hope this helps.
By imaqt1962 (Guest Post)
January 9, 2009
0

found this helpful
These are slos called teddy bear puppies and are adorable we saw 2 in Florida. We gave our dogs rawhide chews regularly and plenty of puppy toys.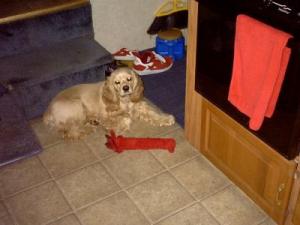 By Jazzylazzy (Guest Post)
January 9, 2009
0

found this helpful
When my puppy gets something that she shouldn't have but she doesn't know that, I say in the sweetest tone, "Oh, what did you find? Bring it to me." I then go over and in a more firm tone say, "Drop It." Sometimes it is hard for a puppy to drop something because their teeth are small and depending on the object they can't. When that happens, I gently remove the item, praise them for giving it up and always hand them a toy that they are allowed to chew on.
Chewing is how they lose their baby teeth. This is a natural behavior that can be dealt with in a positive way. Please get some dog training books and read the suggestions. Puppy Preschool by John Ross and Barbara McKinney is excellent. The crate should never be used as punishment. Puppies will outgrow some of the behavior you are describing. Be patient in the process. If you shower him with praise, he will want to please you. If he feels afraid of you, he will become more sneaky and defiant. I would stop trying to test him at this point because it is confusing for him.
When you tell him he can't have something and then you put it near you he thinks he can have it. Just calmly put it out of sight. I have a 7 month old puppy so I can understand your frustration. She is doing very well now thanks to me following the guidance in the book. Best of luck to you and your adorable little fellow.

Janice C.
Silver Feedback Medal for All Time! 418 Feedbacks
January 10, 2009
0

found this helpful
He's adorable. I can see he could easily be spoiled because he's so cute. I'd give him a chewie toy to play with, the kind you put kibble in and the dog will keep busy for hours getting the kibble out. It will keep him from being bored, which is a main reason for dogs getting into trouble in the house.
Answer

this Question
A part German Shepherd puppy (about 1 year old, he is pretty big) has shown up and decided he lives with us. The only problem is that he is chewing up everything! I can't stay home and watch him 24/7. We live in the country, so he is free to roam. So far his biggest "meals" have been the wicker bench he sleeps on on my front porch, the rugs, and my flowers. I would like to keep him around, but not at the expense of my things. Now he is trying to chew the screen off my patio door. Help!
By Debbie F
Read More

Answers