About 2 months ago I had, I guess you can say, rescued an American Pit Bull Terrier. He has had no human contact, and he's never been shown any love. The most human contact he has gotten was when he was beaten by his previous owner.
I've been trying to show him nothing but love. At first when I would pet him he would be so scared he would pee all over himself. Just talking about it makes me wanna cry. His whole life, or 9 months, he had been locked away in a pen with other dogs and never shown any love or anything. That's how he thinks it is supposed to be. He still won't come to me unless I have his leash on him, it still scares him for me to pet him. I know that it takes time, but any suggestions are very welcome and greatly appreciated. So if you have any ideas please let me know.

By Amber from Boswell, OK
Answers:
Helping an Abused Dog
UGH! That makes me angry to hear that. I'll bet he was going to be used in a fight ring! Anyway, try contacting a pit-bull rescue and I would hope they would have some advice for you. Don't stop showing him love and affection! He will surprise you one day! I was told to "never give up" with a horse I own, I haven't and he has turned out awesome! He was also abused. (09/14/2010)

By horseygal
Helping an Abused Dog
Oh my. Poor Fella.
If he will cooperate, try feeding him from your hands. Don't put food in his dish until after you have fed him most of it from your hands. Speak softly to him as you're feeding him, and if he'll allow it, stroke him face, the way his mother would be doing (licking his face and washing him) if she were nursing him. When you speak to him, always tell him what a good boy he is. Dogs and cats understand your tone of voice better than they do what you're saying.
Sounds like he's been hurt badly enough that it's going to take a good while to reverse the damage.
I wish you and the dog the best of luck, Amber. It's very good of you to care and to work with him. Don't give up. It's going to take a while.
Songwriter (09/15/2010)
By Songwritter
Helping an Abused Dog
I would love to give the previous owner a beating. It is so horrible when people abuse animals. I would talk to your vet. that is the person who can best advise you in your area. Also bless you for being such a loving pet parent. I think that if you are patient and keep showing the love, evidently he will come around. He may always be a nervous dog though. Time and lots of quiet love will conquer, I bet! Good luck to the both of you. Sending a big hug to you both. (09/15/2010)

By virginiag
Helping an Abused Dog
Amber, No real advice except to keep loving the dog and don't give up. Whatever was done to that puppy should now be done to the previous owner! Mainly wanted to wish you good luck. Banty (09/15/2010)

By banty
Helping an Abused Dog
Amber,
Several years ago, we fostered a dog for the Humane Society that had been found living on a construction site. A HS volunteer happened to be driving by the site and saw workmen hitting the 6 month old dog with bricks and 2x4s. When we brought her home, she was terrified of everyone and everything. We put her in a crate but left the door open when we were home. The crate gave her the security of having a place where she could be alone, but th freedom to come out when she wanted. For six days she sat and stared at the solid wall of the crate and only came out when we took her outside on a leash. I made a point of never reaching for her over-handed. I always held my hand palm-up,and rubbed under her neck so she could see my hand. I talked quietly to her and moved slowly around her.
After 6 days of sitting in her crate, she began to come out, first lying in front of the crate and then moving farther away. It took two months for her to come to me because she wanted to do it, and wanted to interact with me. Before that time, I could pet her, but I had to go to her. We adopted Tessa after fostering for three months and are now fast friends. My older dog has taught her how to be a dog; she was so isolated on the site and alone, she had no idea how to be a dog! We did have some problems with her doing "emotional" chewing, but once we put the decorative pillows away, that improved. Good luck! By the way, Tessa is the beautiful golden retriever / chow mix in the attached photo. Debra from Charlotte, NC (09/16/2010)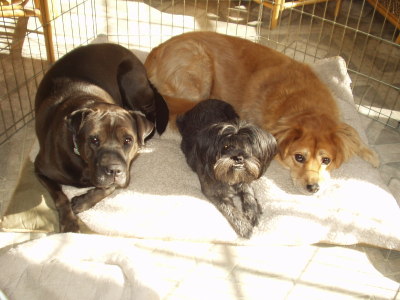 Helping an Abused Dog
6 months ago, I adopted a half pit, too. In the beginning I was obsessed, but I found that when I just ignored her, I found her coming up to me. You want her to just see that she is with humans who aren't hurting her, and ignore her after feeding her her dinner, etc, etc. If she comes up to you, congratulate her by giving her a treat, then turn back to whatever you're doing. If she starts getting more reproachful, give her a little pat, and if she wants more after an hour, give her more attention and more treats. Slowly, she'll adjust to this new situation, that humans aren't always in it to get her. Good luck!
Attached is a picture of my dog, right now there is another person in the house, so she is a bit scared, but checking him out.
Zora (10/16/2010)