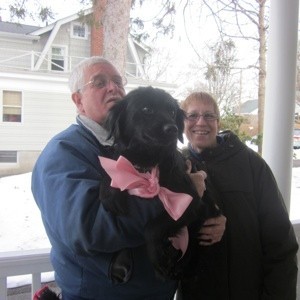 This is our a 2 yr old Lab/mix. She will only eat in her crate laying down. How do I get her to eat standing up and outside of her crate? Right now she is not eating or drinking water. She is an abused dog from Georgia.
By ria from East Hartford, Ct
Answers

vicki hood
Bronze Feedback Medal for All Time! 102 Feedbacks
February 22, 2011
1

found this helpful
Best Answer
What is this not eating or drinking? Can you hand feed? Offer water? Your new baby is terrified and it will just take some time for her to trust. When she finds she is a family member, not crated or tied or locked up or ignored or beaten she will be the best, most faithful, loving dog. Treats from your hand, praise for potty outside, easy on the scolding should she have an accident inside, peacefulness, warmth, love, touching, good food, build good immune system, borax in the carpets for fleas, no vaccines(see vaclib.org and you will never vaccinate anything), food grade diatomacious earth for intestinal worms, all the good stuff like love and kisses and she will return ten fold good things for the family.

February 22, 2011
1

found this helpful
Best Answer
If she's only eating/drinking in her crate, maybe that's because she feels safe there. I don't have any experience with this (although you're going to get a lot of it in the archives below), but I'd suggest to continue feeding her in her crate for now, but maybe leave a bowl of food & water in a quiet place not real close to people so that she has that option if she wants to try it. Also, maybe while she's in her crate, put a small treat or couple of pieces of dry dog food on the floor just outside the crate until she gets curious & decides to try it,then continue to do this & over a few days move the treat farther & farther away from her crate until she will come out & eat it.
Right now I think you should just continue to feed her where she feels most secure & give her a calm & loving environment while you try to get her to try the food you leave outside her crate. Poor baby, she's a pretty thing. I hope she comes around & realizes she's left her abuse behind & will only get love from now on!

xintexas
Silver Feedback Medal for All Time! 278 Feedbacks
February 22, 2011
0

found this helpful
Best Answer
I agree with lyonpridej. I think her advice is right on. Also put treats several times a day in the bowl outside the crate so she will get use to eating out of that bowl.
She will come around slowly. Give her lots of time and you will see patience works

Sherri
Bronze Feedback Medal for All Time! 180 Feedbacks
February 22, 2011
0

found this helpful
Best Answer
Aww. she is adorable! Your fur-baby needs to learn to trust you. She was probably only fed in a crate that is why she eats there. Please leave the door open for her and put her food/water outside the crate nearest the opening so she can reach it. Give her lots of loves and speak softly to her to re-assure her. Good luck.
Answer

this Question

I am currently babysitting a dog that was formally abused by a man. I am a woman and it took her a couple days to get used to me and now after three months she has total trust in me. She continues to growl at my husband and run away from him. I totally understand the dog's situation and know it takes time and patience. Any thoughts to help her accept my husband more?
By Beth P
Answers
December 2, 2011
0

found this helpful
Best Answer
It will probably just take time. I'm dealing with a stray kitty that is so afraid of humans. I finally have him where he won't slap at me when I put down his food bowl, but we're a long way from his letting me touch him.
Maybe if your husband spoke in really low tones, didn't try to touch him...get cuddly on the couch with a blanket and some doggie treats?

December 2, 2011
0

found this helpful
Best Answer
I agree it will take some time. When we first got our Emily she didn't like men either, she was scared to death of my husband. it took a good year and even though she is definitely my dog she loves to play with my husband. And if she gets "mad" at me she goes and sits by him.
She has learned to trust and love him - we have now had her 3 years. I will never understand how people derive pleasure from making animals fear them. It breaks my heart when an animal flinches from my extended hand. Lots of love and kindness slowly fades away the abuses they have endured.
Good luck and God bless you for your kindness towards her.

December 2, 2011
0

found this helpful
Best Answer
Time & much patience. He just needs to remain calm & unthreatening. Maybe even carry treats in his pocket to entice... gently!
Answer

this Question

We just rescued a 2 year old miniature Poodle. She seems to be defensive. The previous owners never brushed her hair. She had two years worth of matted hair. The veterinarian had to sedate her so that they could clean her up and shave her. For example: if my husband is holding her she will growl and try to bite me. If I am holding her she will growl and try to bite my husband. But other than that she's pretty well-mannered, she's not food aggressive, she's got good manners, she is pretty trained. She's two years old and we just got her on February 25, 2019.
Anyone have any advice? Please we are desperate.
Answers

Judy
Gold Post Medal for All Time! 677 Posts
February 26, 2019
0

found this helpful
Best Answer
She has had trauma in her past. You will have to be gentle with her. No loud voices or sneaking up from behind. In time she should trust you more, although she may always exhibit traces of the behavior she learned during her formative years.

February 26, 2019
0

found this helpful
Best Answer
I would suggest letting her have some space and not picking her up for a while. When you feed her, don't talk or praise, just put the food down, and take it up after about 20 minutes.
If you take her out, do so in a calm almost bored manner. If she jumps up and wants to sit with you, act bored. If she acts like she wants to be petted, then do so-but once she acts up, get up and walk away from her.
Keep bits of hot dog pieces in the fridge and when she is good, you can give her one in a bored manner.
Let us know how it goes if you do this for a week. She probably needs a safe place to hide, like an open kennel.
Blessings,
Robyn
Answer

this Question
Kali, my Springer Spaniel, had been abused by her former owner when I brought her home at 9 months. She is afraid of men and will avoid them, but when they turn away she will run up and bite them.
Read More...
I have adopted a 10 month old dog from a lost dogs home. When I am feeding him, if I try and touch him, he growls, etc. Tonight when I fed him, he bit me. Any training tips for this out there? I just want him to know that he will always get his dinner, and that there is no need for him to guard it.
Read More...