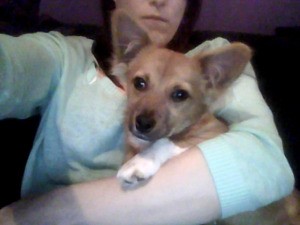 I brought my dog Lady from a breeder, she is a Chihuahua, but I think she is a mix breed, what does anyone think about this? I have spoken to them and they said to me she is and if I'm not happy then I'm to take matters further.
By Kirsty
Answers
December 31, 2012
0

found this helpful
Best Answer
If you paid a Registered Licenced Breeder you should have been given that animals Pedigree papers irrespective if she was to be shown or pet. The breeder has to have a Prefix that's registered with your States Canine Control Council and all Puppies must be Litter Registered.
You never said how you found this one ask the person who sold you the Puppy for their Kennel Prefix then check them out with the Control Council. "Please" Do not return the Pup to this person to be sold to some-one else "or worse" And don't be intimidated by threats from this person they will not harm you because they are aware they have not been honest with you.
I sincerely hope this helps you with this problem but make sure you "research" people selling animals. I have Bred/Shown/Trialed/ German Shepherds/ all my life. Good luck please keep us all informed.
Answer

this Question

...
October 21, 2011
0

found this helpful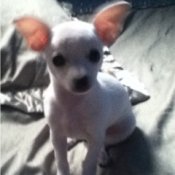 She was given to me and I just wanted to know if she was pure bred?
By Chris
Answers
October 25, 2011
0

found this helpful
Best Answer
You would have to do a DNA test to know for sure. It shouldn't matter though. Since you don't know her lineage, breeding is a bad, bad idea.
Thousands and thousands of animals are euthanized each year due to overpopulation and they all started out as "cute puppies". Please keep this in mind and just enjoy your little cutie as a pet.
October 25, 2011
0

found this helpful
Best Answer
I have had Chihuahuas for many years and your new baby certainly looks like a pure bred Chi to me! I just love her ears! I currently have 3 Chis and only one has the bat ears like that, not all of them do. But when they do, they do they are gorgeous!
As others have said, please don't breed her. Two of the 3 that I have now were unwanted rescues before I adopted them. It makes my want to cry when I think about all the ones who were not rescued and were abused, starved and euthanized at some shelter.
Having said that, congratulations on your beautiful new baby! May you have many long and happy years together!
Answer

this Question

...
I'm looking to breed my female Chihuahua with a purebred male Chihuahua, but I just want to know if she's purebred or a Min-Pin? Her ears are the only thing that look weird to me.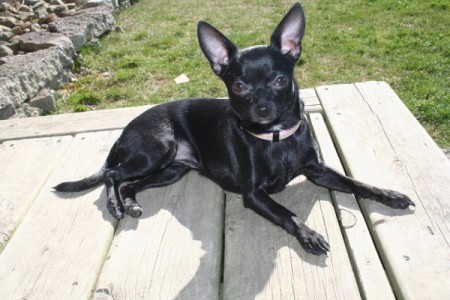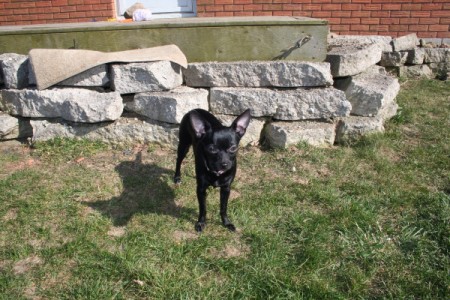 Answers
April 29, 2016
0

found this helpful
I googled "chihuahua min pin" and quite a few dogs look like yours but I can't say for sure if she is a mix.
May 23, 2016
0

found this helpful
Her 'weird' ears are darling!
She appears to be an 'Apple-Head' Chill on that side of her pedigree.,..through a lifetime of rescuing & other dog related ' jobs', looking at her nose, ears, eye shape & the tapering of her slender legs, I would make an educated guess that she could very easily be half Rat Terrier.
Its also possible that she may be part Boston Terrier but heavily favors the Çhi. I suggest this due more to her eye shape which is very unique. I'd still have to put my money on the Rat Terrier mix, though. Either way she's a DOLL!!
June 9, 2016
0

found this helpful
She is a purebred deer head Chihuahua.
June 10, 2016
0

found this helpful
There is no way of knowing for sure without getting a pure genetic profile. If you are planning on breeding her at all, you at least need to rule out genetic disorders that can be passed on in the gene pool. The "father" needs to be tested as well. Just because a dog is purebred doesn't mean these genes are not present. They often are present, and reputable breeders don't breed dogs that have them. Here's more information.
http://knockout althtesting.html
Also keep in mind that chihuahuas have large heads. This means puppies sometimes cannot be birthed naturally and an emergency caesarean may be necessary.
June 18, 2016
2

found this helpful
There is absolutely no way to know. That's like you asking me to look at you and tell you exactly what your heritage is, dating back centuries. I could only guess. For dogs? Even the DNA test is not 100% concrete, and doesn't "count" officially. What you'd be doing is backyard breeding. Look it up. To find a guaranteed purebred male chihuahua, he'd have to have AKC papers from a breeder. You'd have to pay his owners a fee to rent him as a stud, and also make an arrangement with the puppies. Pick of the litter, percent profit, whatever is agreeable to them. However, they're not going to waste their time with your dog, because as beautiful as she is, she doesn't have papers. That would give them a bad reputation as backyard breeders, and there's a much smaller profit there. The reason people pay more for purebred dogs is because they are dog show winners, have traceable genetics showing no health and genetic problems, and can be shown themselves. People who just want a cute family pet will rescue. Buying your puppies is no different than going to the pound and adopting something that looks like a chihuahua. Which can be done for as low as $50. Yes, people who don't know better may pay more on Craigslist or at a petstore because they don't know better, but you don't know they're going to treat your puppies right or be kind to them, or if they're going to backyard breed them themselves. Before you do this, I'd suggest you look into exactly how many chihuahuas and chihuahua puppies are out there homeless. Check out Free the chi. The chihuahua is the 2nd most overbred dog. There are hundreds of chihuahuas, many puppies, at animal controls all over the country, many on death row because people are backyard breeding and there's too many. There are costs involved as well. Food, vet care, shots, deworming. Get educated on the topic , and see if it's still something you want to do. It's possible you'll end up with 6 adult chihuahuas.
March 15, 2017
0

found this helpful
min pin
September 3, 2017
0

found this helpful
She looks like chihuahua min pin to me. I have a chihuahua min pin and he looks a lot like yours. She is adorable.
September 24, 2017
0

found this helpful
Your puppy looks exactly as my pb deer chihuahua.
Read More Answers
Answers
August 1, 2017
0

found this helpful
Only a DNA test will tell. But it looks like she might have some beagle in her--they ears especially.
August 1, 2017
0

found this helpful
The only way to find out the breed of your dog is through a blood test or DNA test. Your vet can perform the test or you can purchase the test online. Embark is an excellent DNA test that you can buy online. If you are interested in reading about different DNA test reviews you can find the information here:
August 2, 2017
0

found this helpful
Her muscular body and coloring don't look purebred to me. However, a DNA test will show the bloodlines.
August 2, 2017
0

found this helpful
Were you told she was a pure bred when you got her? Did they introduce you to her parents? Did you pay the cost a pure bred chihuahua? All of questions should give you an indication as to whether she is pure bred as her looks can change very much over just a few weeks (and most all puppies are adorable when young and may "favor" a certain breed but looks can change quickly).
You should be taking her to the vet for her first year health check up and very necessary shots/vaccinations (rabies shots are the law in most states) and this would be a good time for you to ask your vet what they think about her breed and you can also ask them about the cost of a DNA test.
Here is a link to information on what your puppy needs her first year.
http://www.akc. -complete-guide/
DNA test kits are available from many pet stores, on line and from your vet. The cost is usually $60 - 200 dollars.
Here is a link to an example of a test kit but these kits are available from many sources.
Answer

this Question

...
When my baby's father bought me this puppy the guy said it was a full bred Chihuahua, but idk. Can anyone tell?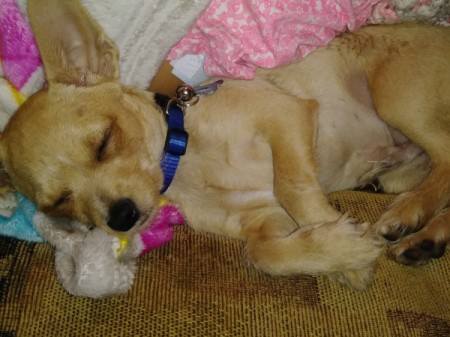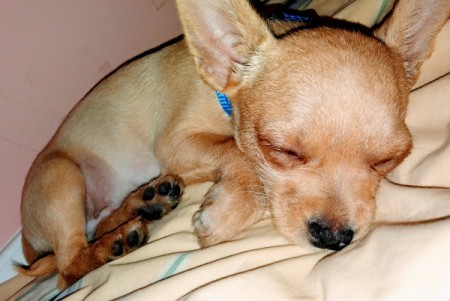 Answers
July 13, 2017
1

found this helpful
It looks purebred. A
DNA test is the only way to prove it if the dog did not come with papers.
July 14, 2017
0

found this helpful
SO CUTE!! Looks full :)
July 15, 2017
0

found this helpful
Sure looks like a pure bred chihuahua but we can only guess by just seeing photos. If you want to know for sure you will have to get a DNA test and the cost of these usually runs $65 - 200 dollars. DNA test kits can be bought at most large pet stores, on-line and at your vet. Be sure to get a kit that has a large number of breeds to check from.
Here is an example from on-line services.
http://www.wisd isdom-panel-4-0/
Read More Answers