Four days ago I adopted a rescued dog and he has not warmed up to me or my son at all. My son is 3 years old. He follows my wife around but cowers down from any physical contact. He will not let you pet him, play with him, or do anything with him for that fact. He is about 2 years old, and we were wondering if maybe he was a victim of abuse? Any suggestions on fixing the problem?
Paul from Toney, AL
Answers:
Rescued Dog Has Not Warmed Up
Just by reading your post, it sure sounds like the poor dog was abused by the previous owner. I believe within time that the dog will warm up and respond to your family. The dog is just being cautious and he's quite not sure of his new surroundings.
Marge from NY (09/21/2007)

By Marjorie
Rescued Dog Has Not Warmed Up
My husband and I also adopted a rescued dog a year ago. She had been abused so we knew it would take her a while to warm up to us.
My advice to you is be patient. It took our dog, Nellie (an English Foxhound) MONTHS to make up to us. We never pushed her or forced her to be with us or play. We left her do things at her own pace. We gave Nellie her own "space" by putting her doggie bed in a secluded corner of our bedroom. she knew that it was her corner and no one bothered her in there. Little by little she started coming out of her shell and today, we have a happy, very loving, very well mannered 4-legged fur-baby who we wouldn't trade for the whole world.
Best of luck! (09/22/2007)

By Denise Owens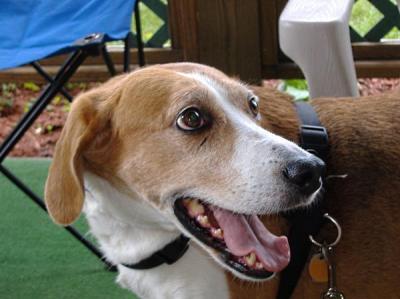 Rescued Dog Has Not Warmed Up
Lot's of patience and love should do the trick, and using food for positive reinforcement always helps. (09/22/2007)

By Natalie
Rescued Dog Has Not Warmed Up
Don't force yourselves on him also watch that your son doesn't startle or grab at him, he may nip in fear, I agree with the other person about a quiet spot for him however a crate might be a better choice also you could cover it with a blanket to add extra privacy. Also always be positive, speak to him every time you are near him ensuring him that he is wanted and loved. I got a puppy mill pup and she was not socialized at all she was comfortable with me but shied away from my husband and children even though they are older (11 & 14) she has been with us for about 3 weeks and she is getting a lot better. If you are committed to keeping him hang in there with enough positive reenforcement he should come around. Good luck and keep us posted on his progress. (09/22/2007)

By michaela
Rescued Dog Has Not Warmed Up
We found a dog on a hiking trip to the Great Smoky Mountains. It was about 4o yrs ago. It was during the hippie era when teens were wearing boots. She was terrified of those boots! I felt she had been kicked. She warmed up to us but for a long time she hid from all who wore the boots. We had to lay down the law about taking off the boots in the house. We named her Smoky for the mountains where she had been dumped and she made a wonderful neighborhood pet. A very popular doggy. (09/22/2007)

By Marty Dick
Rescued Dog Has Not Warmed Up
I love animals, and as others have stated, give the pup time to warm up to you. It will take time and realize too that this little dog may not be the social butterfly you had hoped for. He may always be shy but hang in there and accept him as a part of the family. You will be rewarded in ways you cannot imagine! (09/22/2007)

By cookiepom
Rescued Dog Has Not Warmed Up
I agree with the others, it will just take some time. The dog obviously feels safe with your wife, because you are family to your wife, he will adopt you also in time. It may have been a man or a child (or both) that abused him. Our dog Maggie (about 1-2 years and a rescue with unknown background) was very shy for a few months then gradually became a happy dog. Keep us posted on how he is doing.
Susan from ThriftyFun (09/22/2007)

By Lewissan
Rescued Dog Has Not Warmed Up
If there's a treat that the dog finds highly desirable such as pig ears, dry food with bacon grease on it, a piece of liver, whatever...you should be the one to start giving him treats just because while talking to him in a calm and soothing voice. If he will not approach you even when you are holding a really great treat, then put it down on the floor and leave the room. You may also want to squat down or kneel while holding the treat. Don't try to pet him, just praise him while giving him the treat. Do this repeatedly and he will begin to associate you with the best treats and in time will realize you're also a nice, loving person! Good luck! Found dogs or rescued dogs are the most loving in the long run! (09/22/2007)

By Guest
Rescued Dog Has Not Warmed Up
We have 3 rescues and each has their own personality. Two of ours were seriously abused. It just takes some serious love and devotion and a lot of patience to deal with rescued dogs. You never know what they have lived through to get to your house. Love and praise and good treats and just some basic kindness go a long way when it comes to rescues. A lot of organizations will not adopt out a dog to a house that has a child under 6. Be careful with your child and make sure that the dog and child are good to each other. If the dog follows your wife around, then he is starting to bond with her and may have been abused by a man. I would be real conscious of my movements as far as my feet go and I would not raise my arm above the level of my heart around the dog. Kicking and hitting are hard things for dogs to forget. On our first rescue dog, we were told that it takes about 6 months for a dog to settle in to a new environment and to figure out the structure of the house and what goes on and the dynamics of the family. Four days is not very much time at all. Give him a chance and shower him with lots of good things like praise and love and he should come around. The thing about rescued dogs is that they know and appreciate what a good home is because they know what it is not to have it. You will never find a more faithful companion than a dog that knows how good he has it and rescues appreciate the good things in life in a way that you wouldn't believe. You might consider doing some research on crate training. When dogs feel that they have a "safe" place to be such as their crate, they have a refuge when they feel threatened or stressed. It works well at night and with house training also. A favorite toy or snuggly blanket in there works wonders. Good luck to you and don't give up on your dog! (09/24/2007)

Rescued Dog Has Not Warmed Up
The place you got him from should have given you info about the dog - hoping they got some. Watch the dog and see how it responds to noise and sudden movements etc. Observing the dog will tell you what you need to do. Don't give up or worry only 4 days after getting the dog. Try talking quietly to the dog and have your son talk to him softly as you never know what the poor dog has been through. Usually dogs are curious - once they feel safe - so they will approach you when they are ready. Good luck as the poor thing needs you on their side! (09/24/2007)

By LJSmith5
Rescued Dog Has Not Warmed Up
#1 - I want to thank you for rescuing a homeless pet. I work with shelters & it saddens me when people feel they must get a pet from a breeder when there are millions of adoptable, homeless pets in shelters ready to be put down. #2 - Give the dog time. It certainly sounds like this dog was abused & dogs are "pack" animals so he is trying to figure out where he stands in this new "pack" (i.e., your family). All of the pets I have adopted were adults with unknown histories. I can tell almost all of my pets were abused & with time, patience & a stable, loving home, they became the best pets a person could ask for. They follow me around the house (both my cats & dogs) because they know they are safe with me. #3 - Most animal shelters/humane societies have animal behaviorists on staff who can give you free advice. They want to make sure you have a successful adoption. #4 - I'm sure you already know this, but until you get to know the dog better, I would keep a watchful eye of the dog with your child, especially if you think your child might get physical with the dog (run up & grab him, pull his fur, etc.).
I'm sure a year down the road, you'll look back & be grateful you didn't give up on this dog. Good luck! (09/26/2007)

By Victoria
Rescued Dog Has Not Warmed Up
Talk to him! Talking helps him get use to Your voice. It may take several days or even weeks. My last rescue dog was this way. I didn't try to pet him right away. After a few days sit near him and talk to him. If he moves, fine. But eventually he won't - then comes the petting ! (10/05/2007)

By Turtlechell
Rescued Dog Has Not Warmed Up
I agree with others who say be patient. We took in a dog with no collar or tags that had been running through rush hour traffic but couldn't get near her for several months, even with food; we had to put the food down and get away. She is still shy but so sweet, everyone wants her. We took her to Petsmart today to get her fitted for a halter. We thought she would try to get away with the leash as she had before but she was so good, even with the automatic door. She 'shopped' after getting her harness. (11/06/2007)

By Pat