August 12, 2009
9

found this helpful
There are times we need cash for various purchases but don't want to make a trip to the bank or pay charges at a cash machine. I don't like carrying cash every day but want it hidden in a safe spot in my home. I came up with a few good hiding places so the cash isn't all in one spot:
Inner pocket of a shirt or jacket never worn but can't bring self to get rid off (come on, we all have at least one of those). ;-)
Between pages of a book no one will likely pick up to read.
Inside a non-matched sock placed randomly under the matched socks.
In the toe of a pair of shoes rarely worn.
Between the padding and cover of the ironing board.
Between the picture and cardboard backing of a favorite framed photo.
Hope you all share your ideas and, of course, you really should tell someone you trust of your hiding places 'just in case'. ;-)
By Deeli from Richland, WA
August 14, 2009
1

found this helpful
Top Comment
Some great ideas, but after seeing a relative lose quite a few bucks from her various cash stash places, due to a house fire, I picked up the smallest fireproof locking cash box I could find.
We have a lot of books, with some of them sitting double on the shelving; the cashbox is hidden on a back row, with books piled under, in front and on the sides of it.
It's a little work to get to the money, but it also helps me to stay "hands off!" whenever tempted to dip into it, and it's more secure from fire or water disaster.
August 12, 2009
0

found this helpful
Top Comment
This reminds me of my rather eccentric sister keeping her stash in a "non see through" container in the freezer. She called it her cold cash fund
August 12, 2009
0

found this helpful
Top Comment
Just be careful - a lot of those places (shirt not worn, shoes not worn, book no one likely to read, etc) sound like great candidates for the Goodwill box during a de-cluttering bash. It would be so easy to donate/throw the items away without checking to see if there is $ in them. I keep some cash on the bottom of the basket where I keep under my undies and some in a board game.
August 17, 2009
0

found this helpful
Top Comment
This all sounds great but the older couple we bought our house from about 2 years ago forgot many of their hiding places. In the first six months we found a few $50 bills tucked under the drawer liners in the kitchen, under some rugs left in the laundry room, and in the baking soda box left in the refrigerator, but the biggest find was $600 dollars between the carpet and the pad in the bedroom.
When I called the previous owner to let her know we had found such a large sum of money she simply could not remember what that money was for and who may have put it there. She proposed we keep it because at the time we had a baby on the way. And didn't we all learn a lesson from the story out of the east coast this summer when the daughter tried to do a good thing for her mother and buy her a new mattress but little did she know there was 1 million dollars stuffed in the old mattress!
August 13, 2009
1

found this helpful
Some of these are good hiding places. I especially like the idea of hiding it in the ironing board, but I would never hide money in a book. I once bought a box of books at an auction and found $850.00 between the pages. Needless to say that's a hiding place I'll never forget.
August 13, 2009
1

found this helpful
Thanks for the new ideas for hiding places. I once found more than $200 in a box of bandaids. The money had been there so long, I had forgotten I hid it there!
August 13, 2009
1

found this helpful
I hide mine in an empty mayonnaise jar that I painted the inside a cream color. I'm careful to not damage the outside label. I have another extra jar in the pantry too, can't tell the difference between them.
January 26, 2016
1

found this helpful
My aunt hid cash in her freezer, wrapped in foil and labelled with a food label, like hamburger patty
August 12, 2009
0

found this helpful
I hide mine in with my feminine products. Most people won't go near those!
August 13, 2009
0

found this helpful
Great ideas. Thanks. Can also put in the freezer, hidden in the back.
August 14, 2009
0

found this helpful
I love these ideas. I keep mine in the bottom of a wastebasket under the bag and again under another bag that I keep in the bottom to replace the bag I'm using. I like the ironing board cover idea the best.
August 17, 2009
0

found this helpful
I like the freezer idea too!
August 23, 2009
0

found this helpful
I keep some of my extra money in a empty box of contraceptive pills. No one would guess.
Read More Comments
Recently I saw where someone had posted a request looking for ideas for hiding valuables around the house. The responses she got back made me decide I needed to post my own response in a whole separate post.
Everyone of the responses that she got back were good ones, until you sat down and gave it a little thought. For one thing, every one of them were places I have seen in the news before where thieves have looked and found valuables in homes. For another thing, and to me even worse, what if the house burns down or is flooded out? Every one of the places that were posted such as inside books (one woman had several thousands of dollars in them!), in canning or other jars, in the hamper, and fake wall sockets, among others. Can you imagine what would have happened to any of these homes if there had been a fire? Every bit of their well-hidden valuables and cash would have been totally lost!
I have a better solution. I keep several fire and water safe boxes in my home. One is a large one for larger size valuables, although I make sure I don't have many of those. In the others, I keep copies of important papers, photos (along with any pertinent info on the backs) of all my valuables. This includes TVs, DVD players, and anything else like that around the house. It also has current (replaced once a year) photos of all members of the family including pets and all pertinent info about each of us. In another box, I keep cash (I put at least $10 a week in it), valuable jewelry, and anything else.
I do try to put these boxes (not all in one place) in different places around the house that, maybe a thief would find if he had time, but he'd have to do some searching. But even if he did find them he wouldn't be able to get into them. And (OMG) if we had a serious fire or flood, my stuff would still be safe.
As for keys to the boxes. Each one came with 2 keys. The first set of keys I sent to a well-trusted family member (in my case my in-laws). That way if for some unknown reason, I can't get to the ones I have at home, I can call them to send them to me. The second set of keys, I take all the keys except one (usually the one with the cash and jewelry in it) and put them inside one of the other boxes.
I came up with an ingenious way to hide the last key. Maybe a thief could find it, but he'd have to really search, plus he'd be seen by my neighbors. I used to keep it on my key ring, but what if someone breaks in and takes my purse along with the boxes? So I put the key into a plastic bag, then put this bag into a small hard plastic container. I wrap a long plastic wire tie around the container and have the end of it poking out of the ground near a plant. By putting the wire tie on it all I have to do is pull on it and my container comes up easily. I planted these in my garden in the front of the house. This way if some stranger is digging in my garden my neighbors will see. If I should ever hire someone to come and do gardening, I would dig them up and keep them inside till that person is done.
Inside the house I keep a piggy bank and that's where I put my $10 a week. Then whenever I go out to do any gardening I get the key, then go in and add the contents of my piggy bank to the box and re-bury the key.
This way, if we do have a fire or are broken into, the most I've lost is maybe $30-50 at most.
This sounds like a lot of trouble, but it's actually not. It's very easy to keep up with.
By Cricket from NC
October 14, 2011
0

found this helpful
Thank you for some good ideas. My sister used to keep a decoy wallet with a small amount of money in the kitchen. The idea was that thieves would take that and run away. My great aunt kept a handbag in her house. It rattled because it was full of buttons, she thought that a thief might snatch that and leave her real valuables alone.
October 14, 2011
0

found this helpful
It's not free, but in my honest opinion - the safest place is a Safe Deposit Box at a bank. These are available in a variety of sizes for usually a very nominal annual fee. Your items are safe from burglars and from fires / floods. However, the suggestions in this post are also quite clever too.
October 14, 2011
0

found this helpful
You know the only real safe place to keep your valuables is in a safe deposit box. Other than that, no place is truly safe from everything. I worry about fires, but I also have to worry about tornadoes. I'm always trying to figure where in my house would be safest to put things during tornado season.
I've never tried the wall outlet thing.I think it's interesting, but I can just imagine forgetting about it & moving, or something happening to me & nobody knows where things are hidden. They'll tear the house down looking! lol! If I'm going out of town, I will hide things in the bottom of my kid's laundry hamper (not my own), wrapped in a towel under dirty underwear & socks. I have a couple of other places I can hide smaller things, that I'm about 99% sure nobody would ever find,but I don't broadcast that to people because I don't want it to become commonplace to look places like that. Of course, if there was a fire, it would likely burn.
I have a couple of fire-proof lock boxes that I don't use anymore because that's one of the 1st things a thief would take & they're too big to really hide them. I lost the key once & the locksmith told me that I could always drill the lock, shoot it out or use a crowbar. Thankfully I found the key! Of course if you have them hidden is odd place, they'd probably miss them & take things more obvious & out in the open.
What gets me is the people who go to so much trouble to hide their valuables, but yet they will hang all of their keys on a hook by the door, where anyone coming inside (including friends, kid's friends, service people,etc) can get them & have access to vehicles, sheds, your home, etc. ! Or leave the door unlocked when they leave the house! Isn't it sad, I remember when we never had to worry about leaving our doors unlocked or hiding our things!
I do like your idea of how you hide your key outside! I've been trying to figure out how to hide a house key for my kids to find it, because they invariably forget theirs on the 1 day I'm not home before they are! I may have to try that one!
October 14, 2011
0

found this helpful
Crooks have be known to take those boxes and then get someone to open them. The only safe way to have valuable items at home is to have a safe and have it bolted to the floor. It is sad to have to say that but it is true!
August 27, 2013
0

found this helpful
Great suggestions! Now I know where NOT to store my valuables since all these suggestions are now out there in cyberspace for any crooks to see! I agree, the best place is in a bank in a safe deposit box.
By the way, long ago when real people still made keys at the hardware stores, a friend of mine made a couple of extra keys for his fireproof box, even though they are not supposed to be duplicated. It costs about $25 to get another one from the manufacturer.
September 16, 2013
0

found this helpful
I am one of the people who sent in the "hide in plain site" suggestions. I stand by them. While I agree that the safest place for all the things you mentioned are safes and deposit boxes, this is Thriftyfun.com no spendmoneyyoudon'thave.com
You got 4 thumbs down and I will no doubt get one too, but that's ok. I hide my things in my kitchen cupboard, but the chance that someone will know it's me they are breaking into and go right to that spot are off the charts astronomical.
So, I will continue to be safe and smart and thrifty. And, I hope, lucky.
Poor But Pround
September 16, 2013
0

found this helpful
I agree with "poor but proud", not because of her (or his) objection to spending money on safe boxes, but simply because it is not any better protection against thieves than those suggestions made in the other posts. If a thief has enough time to search in strange places for valuables (bottom of hamper, freezer, wall outlets etc.) then they would also have enough time to unbolt a safe box from the floor and simply take the whole thing with them to where they can quietly drill the lock out.
There are some really serious boxes that weigh so much that it would make moving them difficult, but most boxes are not even designed to be bolted down. They might provide fire protection, but if you are worried about thieves you might as well wrap them in gift wrap and add a bow.
Probably the best protection is to rent a safe deposit box at a bank for important documents, and include in it a list and photos with descriptions of all the valuables you keep at home. That way if the house is burglarized you have complete descriptions, serial numbers, etc. of what was lost and you can use this for police and insurance reports.
It really is sad that we have to worry about such things.
A good hiding place for your valuables or money is to spray the inside of a mayonnaise jar white and store in the refrigerator or pantry with your valuables inside. No thief has ever stolen mayonnaise unless they were very hungry.
By Randa from San Marcos TX
By guest (Guest Post)
January 4, 2007
0

found this helpful
THE PEOPLE WHO BROKE INTO MY DAUGHTERS APARTMENT ASLO WENT THROUGH HER FRIDGE FIXING THEMSELVES A MEAL.
By guest (Guest Post)
January 4, 2007
0

found this helpful
I do that, but I don't put it in the frig...I store the jar in my pantry with all my other "extras"
January 4, 2007
0

found this helpful
Maybe better hidden in the fridge in a box of baking soda....
just a thought
January 4, 2007
0

found this helpful
I used an empty box that originally had cereal in it........disgusting (to others, not to me) bran buds to be exact! It worked for me.
A friend has a stinker of a grandson (in his 20's) who steals some of her prescription meds each visit. I told her to keep them in her all- bran cereal box and he hasn't found them since!
She's too nice! I'd arrange for lodging for him in the county hotel (jail) if it happened to me!
By guest (Guest Post)
January 5, 2007
0

found this helpful
how about in the bathroom...using a nice basket to hold bathroom tissue store valueables under the tissure
in the kitchen...under the kitchen garbage can (with plastic bag) hide the valuables under that plastic bag.
January 8, 2007
0

found this helpful
My neighbor used to hide money under the bathroom sink...way in the back...in a Tampax box! Clever!
January 23, 2012
0

found this helpful
This actually is NOT a good idea. Always hide inside of something that one will open, just in case something happens to you. A woman passed over. She had hidden her diamond ring inside a makeup cream jar. It was dumped upon clearing out her bathroom.
It just so happens that the trash bag broke and while picking up the trash, noticed a rattle inside the little makeup jar. so hide items inside something that upon your demise, people would be likely to look inside of or open. Old food and makeup or the likes more than likely will just be randomly tossed.
Read More Comments
A few weeks ago while I was with my husband at the dentist, our back door was kicked in and cash and items were stolen. Like many, I am sure, I had jewelry in jewelry boxes and cash in my china closet. It was easy for me to access, and obviously known to the people that came into my home. I have talked to other victims and china closets, dresser drawers, and jewelry boxes are what is looked into first. Many sentimental pieces of jewelry of my Mom's and mine were taken, not all were expensive, but priceless.
It is not that I never thought my home would be invaded, I just never thought! I am hope you will not make cash or priceless jewelry easy to find in your home and save yourself from this grief.
I live in farm country, not fancy at all, but with the downturn of the economy and the drug problems everywhere, no one is exempt from robberies, so said the police.
By tjc from Pgh., PA
July 29, 2011
0

found this helpful
When went on vacation, I stored my jewelry box at the bottom of the hamper under dirty clothes.
July 29, 2011
0

found this helpful
I'm so sorry this happened to you. We were broken into a few months ago and I had also carelessly left some "real" jewelelry in my jewelry box. The items I don't really wear were stored in other places and were not found, though probably if they had spent much time, they would have gotten those as well. It's a challenge to find convenient places to keep things you wear often. I honestly haven't found a good solution, other than to scatter things in several locations hoping that if this happens again, they won't find everything.
Sadly, my appraisals were out of date (gold prices have gone through the roof) so even though I had insurance, I didn't get enough mone to replace everything. And a couple items were sentimental, so there is no replacing those ever. Even if you didn't pay much for the things you have, take to time to determine their current replacement value and make sure your insurance is adequate.
July 29, 2011
0

found this helpful
There are no safe places anymore to hide things, but my philosophy is why make it easy for them?
http://www.goog 2449l1.13.3l17l0
This is what I got when I googled "alternate places to hide things". Some of it is in regards to narcotics, so you can skip over those.
I hide things in places most wouldn't look. Dog food cans, hollowed out books, some "fake" wall sockets, and such. Here is another good google search under "fake safes"
http://www.bric hidden-safe.html
I will suggest that while these products are inexpensive, we thrifty funners can do most ourselves. Just don't do like a generouse lady did a couple of years ago, and donate a can of soup to the food bank to find out it was full of her mom's jewelry. A wonderfully honest person got it back to her, but why take a chance.
I have covered a pringles can with contact paper and stuck a small bouguet of dollar tree flowers on top and sat it on a shelf. No one is going to think of that and yet it's the second thing I would grab when I was fleeing a fire.
This will give most of you some ideas so I will send one of the best ideas from the "fake safes" website.
I hope this helps!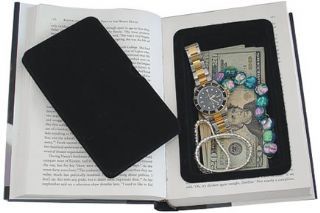 July 31, 2011
0

found this helpful
I've found a couple of places to put things that I know nobody would ever think to look, but I would like to add this word of caution. If you are going to do this, make sure at least one person in your family knows you do this & where your hiding place is. I'm sure everyone's heard similar horror stories, but several years ago my mom's friend lost her mother suddenly & unexpectedly. The woman was a 'collector' (packrat) & it was so overwhelming for her daughter to figure out what to do with everything that they ended up taking several pickup loads of stuff to the dump & several bags of stuff to the thrift store. Then, by accident when someone thumbed through a book, they discovered that "mom" had stashed $10,$20,$50 & $100 bills all over the house for years! In books, collector's tins, pockets of clothing in her closet, vases, record albums,old calendars,etc.,etc.
Wow! Talk about absolutely sick to her stomach, after their discovery they found a few hundred dollars tucked here & there in what was left, but the daughter had already unknowingly thrown or given away who knows how many hundreds or thousands of dollars!!
That was an eye opener to me, because from the time I was a teenager with my 1st job, whenever I had an extra $20 bill here & there, I would stick it in a random book on my bookshelf with the idea that I would forget where it was,so would not be inclined to look for it (I had 100+ books), but if I was really in need of it (which I was a couple of times) I would take the time to go through every book until I found it. Sometimes I'd stick money in the pockets of sweater or jackets in my closet. I don't normally do this anymore (don't have the extra money in any case, lol!) but I've let my husband & daughter know that if anything happens to me, they'd better check everything of mine before they get rid of it, just in case!
October 5, 2011
0

found this helpful
I have a empty salad dressing jar I use. I painted the inside of the jar the same color as the dressing would look. Let it dry completely then stored my items in it, then set it in the pantry along with other like groceries.
October 5, 2011
0

found this helpful
My mother had a saying that she used whenever we were trying to find hiding places. "If you can think of a place, so can a thief. And he's got a lot more experience finding things!"
May 28, 2013
0

found this helpful
My aunt stashed cash wrapped in foil in the freezer. Gives a new meaning to "cold cash".
Any ideas on where I can hide jewelry so it would be difficult for a thief to find, but still convenient for me to get to on a daily basis? I used to keep things in my bathroom medicine cabinet in empty makeup and face cream containers, but when we had a break-in, those items were taken.
By CD
October 5, 2011
0

found this helpful
Either the theif knew you kept your jewelry there or they were looking for drugs. I don't know how many people live in your house but the bathroom is a bad place to put anything you don't want taken. Some peole snoop and take things. I can tell you where NOT to keep it, in places where other people look. The refrigerator or freezer is out. The medicine cabinet is out. If your jewelry is valuable and you can't trust your family members just put it in a safety deposit box because they are gonna' get it if they know you have it.
October 5, 2011
0

found this helpful
Hollow out an uninteresting hardcover book and place it randomly on a bookshelf or other inconspicuous place like under another book on your nightstand.
http://www.ehow hollow-book.html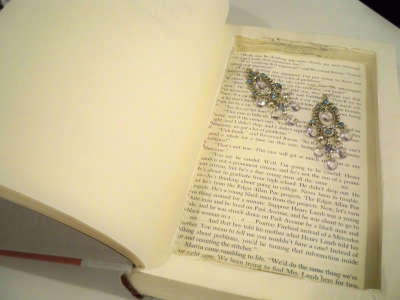 October 5, 2011
0

found this helpful
I like food containers. No one is going to steal pringles or soup cans. Here is another cool idea for you to make out of things you have in your house.
http://www.goog amp;q=fake+safes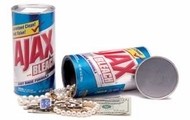 October 5, 2011
0

found this helpful
I have put things in the bottom of my hamper. Nobody wants to rifle through dirty clothes.
Or put an empty paint can on a shelf and use that.
October 6, 2011
0

found this helpful
It's become so popular to hide things in containers like food cans & fake books(you can even buy them now), that's one of the 1st places thieves look now, just like those fake rock to hide your keys that are so popular now. They also go through bottles in your medicine cabinet & on the sink because a lot of women hide things there (& in the freezer).
I've hidden things in the laundry hamper also, put regular dirty stuff on it, then topped it off with my teenage boys dirty socks & underwear!LOL!
I've seen it suggested (if you're really serious) to cut a hole in your wall & install an unwired outlet plate, air vent, etc., over it. Put a narrow ledge over the inside of the door in your closet(people don't normally look up & back when going through your closet).
Try to think of places in your home that you don't think are common places to hide things. I have some hidey-holes around my house that I know would never be found & even have favorite places in hotel rooms to stash things & I'm pretty positive they wouldn't be found. But I'm not going to publicly announce it ;D
Just remember though, if you stash stuff & something happens to you, your family needs to know where to look. And God forbid you move away & remember too late that you hid something & forgot to retrieve it!
October 7, 2011
0

found this helpful
What Lyonpridej posted reminded me of something. My grandmother, God rest her soul, died quite suddenly. Afterwards my mom was going through her things and only by chance happened to find some heirloom jewellery that Grandma had taped to the underside of her dresser drawer! The dresser was due to be given to Goodwill and if Mom hadn't found it they would have been lost forever. If you do hide valuables around the house make sure someone knows where you keep them, for you just never know.
I bought a safe some years ago and keep things in there. I know where they are, and if we should ever have a fire or a flood they're protected too.
Read More Answers