July 29, 2011
0

found this helpful
When went on vacation, I stored my jewelry box at the bottom of the hamper under dirty clothes.
July 29, 2011
0

found this helpful
I'm so sorry this happened to you. We were broken into a few months ago and I had also carelessly left some "real" jewelelry in my jewelry box. The items I don't really wear were stored in other places and were not found, though probably if they had spent much time, they would have gotten those as well. It's a challenge to find convenient places to keep things you wear often. I honestly haven't found a good solution, other than to scatter things in several locations hoping that if this happens again, they won't find everything.
Sadly, my appraisals were out of date (gold prices have gone through the roof) so even though I had insurance, I didn't get enough mone to replace everything. And a couple items were sentimental, so there is no replacing those ever. Even if you didn't pay much for the things you have, take to time to determine their current replacement value and make sure your insurance is adequate.
July 29, 2011
0

found this helpful
There are no safe places anymore to hide things, but my philosophy is why make it easy for them?
http://www.goog 2449l1.13.3l17l0
This is what I got when I googled "alternate places to hide things". Some of it is in regards to narcotics, so you can skip over those.
I hide things in places most wouldn't look. Dog food cans, hollowed out books, some "fake" wall sockets, and such. Here is another good google search under "fake safes"
http://www.bric hidden-safe.html
I will suggest that while these products are inexpensive, we thrifty funners can do most ourselves. Just don't do like a generouse lady did a couple of years ago, and donate a can of soup to the food bank to find out it was full of her mom's jewelry. A wonderfully honest person got it back to her, but why take a chance.
I have covered a pringles can with contact paper and stuck a small bouguet of dollar tree flowers on top and sat it on a shelf. No one is going to think of that and yet it's the second thing I would grab when I was fleeing a fire.
This will give most of you some ideas so I will send one of the best ideas from the "fake safes" website.
I hope this helps!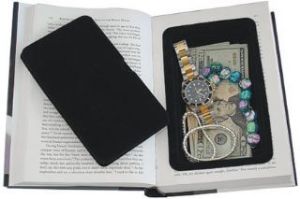 July 31, 2011
0

found this helpful
I've found a couple of places to put things that I know nobody would ever think to look, but I would like to add this word of caution. If you are going to do this, make sure at least one person in your family knows you do this & where your hiding place is. I'm sure everyone's heard similar horror stories, but several years ago my mom's friend lost her mother suddenly & unexpectedly. The woman was a 'collector' (packrat) & it was so overwhelming for her daughter to figure out what to do with everything that they ended up taking several pickup loads of stuff to the dump & several bags of stuff to the thrift store. Then, by accident when someone thumbed through a book, they discovered that "mom" had stashed $10,$20,$50 & $100 bills all over the house for years! In books, collector's tins, pockets of clothing in her closet, vases, record albums,old calendars,etc.,etc.
Wow! Talk about absolutely sick to her stomach, after their discovery they found a few hundred dollars tucked here & there in what was left, but the daughter had already unknowingly thrown or given away who knows how many hundreds or thousands of dollars!!
That was an eye opener to me, because from the time I was a teenager with my 1st job, whenever I had an extra $20 bill here & there, I would stick it in a random book on my bookshelf with the idea that I would forget where it was,so would not be inclined to look for it (I had 100+ books), but if I was really in need of it (which I was a couple of times) I would take the time to go through every book until I found it. Sometimes I'd stick money in the pockets of sweater or jackets in my closet. I don't normally do this anymore (don't have the extra money in any case, lol!) but I've let my husband & daughter know that if anything happens to me, they'd better check everything of mine before they get rid of it, just in case!
October 5, 2011
0

found this helpful
I have a empty salad dressing jar I use. I painted the inside of the jar the same color as the dressing would look. Let it dry completely then stored my items in it, then set it in the pantry along with other like groceries.
October 5, 2011
0

found this helpful
My mother had a saying that she used whenever we were trying to find hiding places. "If you can think of a place, so can a thief. And he's got a lot more experience finding things!"
May 28, 2013
0

found this helpful
My aunt stashed cash wrapped in foil in the freezer. Gives a new meaning to "cold cash".