This tip might, if not save your life, at least make it a lot more agreeable! It happens to all of us at some point - we spill a bit of hot water on ourselves, we touch the stove too soon, or we interact with high temperature tools or irons.
I know that at least once every couple of months I find a way to burn my fingers, and it was always a problem. Cold water and ice never seemed to do it, expensive creams never quite did the trick, and even the mildest burn would sting for an entire day.
Then one day I read in my local paper's People's Pharmacy column, about a bloke who cured their burn with a bit of soy sauce. Just douse it in soy sauce and watch it heal! Never one to scoff at anything before trying it, I soon found an opportunity to do so and it worked! It was pretty miraculous. Right away the sting stopped, and no scar was left behind.
I had occasion to remember this today when I was using a wood burning pen tool, and missed. It was a small though pretty severe third degree burn, the sort where you can smell your own cooking flesh (sorry! but true) and a hole the shape of the tool end was left. So I tried the soy sauce. Nothing else but that. I got a little dish of it and let my abused member soak in it for a bit. It still stung, for a good 15 minutes - but then it miraculously stopped hurting! The hole literally sewed itself up, the finger stopped hurting, and all that's left so far is a small white line where the burn was. I can even type with absolutely no problems!
I have used soy sauce with large water spill burns, fairly severe stove burns, pretty much any sort of burn I have encountered. I have been blessed to never have been in a really bad accident. In severe cases, I, of course, would seek medical help (and advise everyone to do the same) but for these small to moderate circumstances, soy sauce is the thing.
Source:www.peoplespharmacy.com
By ahorrasi from Marshall, NC
July 12, 2012
0

found this helpful
A very well meaning tip but I am not so sure that I would want to risk using something that is made from the fermentation process because it could potentially create a serious bacterial infection. Also, the Peoples Pharmacy is actually a couple who sell books and they are not the ones giving the advice but rather sharing bloggers comments who share ideas they've heard through the grapevine and the couple simply replies thanks for the info without any medical research to back it up.
Read More Comments
Egg white, applied instantly to a second degree burn, provides instant pain relief and creates an antimicrobial "second skin" that aids in healing.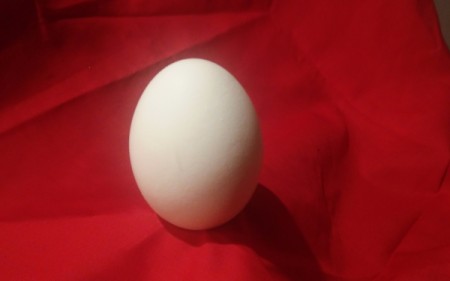 December 15, 2016
0

found this helpful
One of the characteristics of a second degree burn is blistering.The epidermis can be burned away, exposing the dermis. My belief is that nothing that isn't sterile should come in contact with these exposed areas.
Unpasteurized eggs often harbor salmonella. Studies have shown salmonella can enter the body transdermally.
(PubMed.gov
Development of a transdermal Salmonella challenge model in calves.)
Skin with second degree burns would not have the normal protection against transdermal invasion.
The best thing to do when you have a minor burn is to soak it for a long time in cool water, because the skin under the burn continues to burn until you cool it down enough to stop the burning. All of this other messing around with salves and honey and butter, etc. leaves your burn open to infection and can make things worse. A medical professional of my acquaintance said, "We just have to take all of that off before we can treat the burn."
Soak the burn until it no longer hurts when you take it out of the water. If you soak it for long enough you won't get a blister or a scar.
Source: For more information about treating minor burns, check out: http://firstaid.webmd.com/tc/burns-home-treatment
By Veronica from Lowell, MA
August 10, 2016
0

found this helpful
That's not a very good idea.
It only makes it worse.
January 5, 2010
0

found this helpful
If you burn yourself while cooking, as soon as possible, put honey on the burn. Just rub enough to cover the area that was burned (cover like a salve). It will immediately remove the hot sensation. I learned that valuable lesson after burning myself on my pressure canner.

By Latkinson562 from Minen, NV
Answers:
Honey for Minor Burns
Bad idea! Use cold or ice water! If the burn happens to be worse than originally thought, the honey will do more harm than good. Honey is sticky and will be difficult to remove. Cold water will numb the pain and leave no residue to remove. If pain persists a doctor should be consulted.
(08/11/2009)

By a4a42316
Honey for Minor Burns
The idea worked for me. It was a MINOR burn and did immediately take the pain away. I also only left it on for about 5 minutes and it DID wash off easily. (08/11/2009)

By latkinson562
Honey for Minor Burns
DO NOT PUT ANYTHING ON A BURN BUT COOL WATER! I am a Fire and Life Safety Educator, and anything like a salve will only hold the heat in the skin tissue, causing deeper burns. The cool water helps draw the heat up and out. Ice water can actually damage the skin tissue. See a doctor if you are unsure about the deepness of the burn. (08/12/2009)

By weave1022
Honey for Minor Burns
Honey is a great idea for healing burns. I was burned badly picking up a pan that came out of a 400 degree oven. I immediately cooled my hand in cold water, i had a lot of pain and burning feeling. Then i dried and applied honey, the pain subsided immediately. I covered my hand with rubber glove. Slept with it all night, in the morning no pain and almost no evidence of the burn at all. Many scientific studies have been done to prove this works. I am a certified pac and have dealt with wound care for years. (01/02/2010)

By CERTPAC