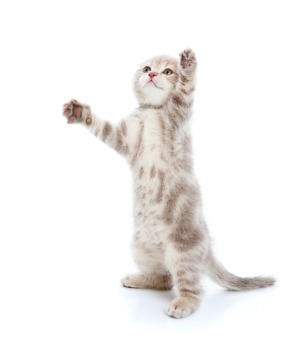 There are a number of inexpensive ways to make toys that your cat can enjoy. This guide is about homemade cat toys.
Ad
---
Solutions: Homemade Cat Toys
Read and rate the best solutions below by giving them a "thumbs up".
If you are looking for a quick and easy cat toy to make, give these a try:
Be sure to take the pom pom away if yarn strands start to come loose. Then just make them another one. :)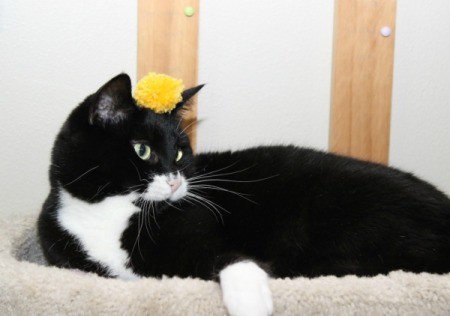 Directions: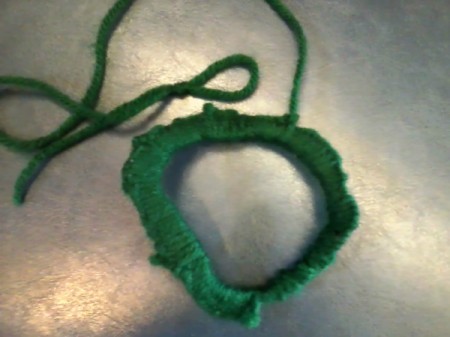 I make lots of cat toys to hang on walls where I can see them play. I won't let them have string toys by themselves, as they can eat the string.
These are the pictures of the latest ones I have made.
The laser lights may be fun for you, but they frustrate your cat's need to catch something. These toys make it feel as if they can chase something that is moving and grab at it and bite at it.
Cats need to have toys to chase and play with. One of my favorites is a rolled up ball of paper.
The one with yarn is a six pack plastic circle cut out and I take the yarn and tie it onto the circle. I then take the yarn, and make a loop around one finger, bring the yarn under the circle and through the circle and then the other end goes through the loop I made. it is hard to describe but easy to do.
The other is lids from milk containers, and a little plastic tub lid. I put the little milk lids in a scoop that comes out of a Slimfast like tub, and put the lid of the milk into it. Then I take scissors and poke two holes into the milk lid. I then put double yarn through the plastic lid and tie a knot with the yarn. There are two holes in the plastic lid. Then I put the yarn through the two holes in the milk lids and tie a knot there and then on and on.
I like the way these look, and I am going to make a big huge mobile of lids before long, just to hang up.
The third is toilet paper rolls cut into strips and then tied together to make a rattly thing. You have to interact with the cat to get her to play since they are hung on the wall.
My cats seem to love this and come to my "wall" at least once a day to play.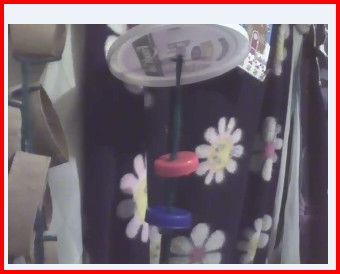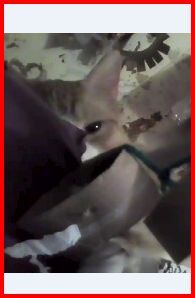 By Robyn [366]
I saw my foster kittens were entranced by an empty Juicy Juice box that had a hole cut in the box and both ends taped shut and covered with paper, to where it made a box that looked just like a tissue box. A ping pong ball got stuck in it while it was on the table. They spent lots of happy moments batting this around, it was so cute.
I also use a plastic large waste container that will hold 30 or more gallons trash bags and use it for storage and invert the top and put something soft for them to lay on and look out the windows. They like it a lot, I also use it for storage of things around the house and will make a cover to fit over it and turn it into a table. The table idea I got from a person who told me to use these as storage and put a wooden topper on it, then a pretty tablecloth, for storage. I loved the idea. The cats have adopted these plastic trash cans to lay on, they love it.
By Robyn Fed from Hampton TN
Our cats shred the store bought toys we have given them. So we decided to try out making a thriftier version. I use the old mismatched socks we end up with on the folding table. I put approximately 1/4 cup of dried catnip into an old sock and then knot the top (nylon socks work best). This provides hours of fun out of something that would have ended up being a dust cloth. And when they shred it? Oh well! It was practically free.
By Angi from Spokane, WA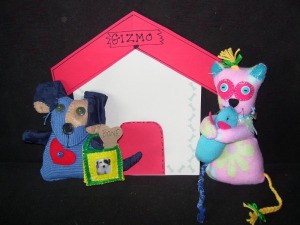 Give your furry friends a Christmas present by sewing these cute animals. The patterns are very simple and inexpensive to make. This is also a great way to use up those scraps! The kitty holds a catnip mouse that you just slip under his paws. I found catnip in the pet section at Dollar Tree. The dog carries a felt tote that holds a bone. Make this one using durable material and your pet will be entertained with a new toy also.
Approximate Time: 1-2 hrs.
Supplies:
scraps of material
felt
catnip
stuffing
ribbon and yarn
infant sock
photo of pet, optional
Instructions:
Cat:
I made the tail for my cat by braiding yarn and used a few extra pieces for the hair tuft at top.
Cut out the two body pieces and arms using the pattern.
Sew on all facial features to one body piece.
Sew arms together, leaving ends open. Stuff lightly.
Sew body pieces together, inserting top hair and arms as you go.
Make a long tail by braiding yarn or string together and insert into body at one of the bottom side seams.
Tie a ribbon around the neck. Bring arms together to the front and tack paws together with a few stitches.
Mouse:
The mouse only requires about a teaspoon of catnip so one package will make many. You can also add some to the cat, if desired.
Cut across sock about an inch above the heel. Stuff the toe area firmly. Put a teaspoon of catnip in the sock and continue stuffing until full.
Make a running stitch around opening. Insert long tail and pull opening closed. Stitch closed.
Sew beads or felt circles on for eyes pulling to slightly indent them.
Use thread and knot for whiskers.
Place mouse in arms of cat.
Dog:
I made my dog from a heavy placemat purchased at a dollar store. You can get two dogs from one placemat.

Cut out all pattern pieces. Sew body together, leaving a small opening for stuffing. Stuff firmly and sew opening closed.
Sew facial features on one face piece.
Sew ears together. Pin ears to head and sew head parts together, leaving a small opening at neck. Ears are not stuffed.
Stuff head lightly and sew opening closed. Place head on body and stitch in back of head to secure to body.
Sew paws, leaving end open. Stuff lightly and turn raw edge in.
Sew to body. Do the same for tail.
Sew on felt heart to tummy, if desired.
Tote:
Cut two- 2 1/4" squares from felt. Cut one frame from felt slightly smaller. Cut out center of this square for opening in frame.
Print photo of pet to fit this opening. Glue to frame, then attach by sewing frame to one square.
Sew squares together, leaving top open.
Cut small strip from felt for handle. Sew ends to each side of tote.
Place bone in tote and hang from dog's arm.
By Mary from Palm Coast, FL
Both my cats love to play with a fishing pole toy for cats called Da Bird. It costs around $7, and consists if two feathers that twirl when you pull it. They can destroy Da Bird in about a minute. Refill feathers are available to clip onto the fishing pole for around $5. I purchased a few "refills" before I decided we really couldn't afford Da Bird.
So I picked up a packet of similar feathers at Walmart for $1 and glued them together like Da Bird using Elmer's glue. When they were dry I tucked them into the little red plastic tip in the toy with a dab of glue, after I pulled the mangled feathers out.
The next day we were back in business. Be careful what glue you use. Some glues don't allow you to pull the mangled feathers out (ie. Gorilla glue) for replacement. Six months of fun for $1 is my idea of a good cat toy.
By lizzyanny from Seattle, WA
This is the time of year to stock up on jingle bells to make cat toys for the animal shelters. Attach a bell on each end of a pipe cleaner then wrap it around a pencil to make a spring. Pull it off the pencil and make a bagful to take to the shelter! Great for a kid's craft and teaches them to give back.
By Sharon from Chesapeake, VA
When I sew with stretch-knits, I save the fabric scraps and longer selvage strips for making cat toys. I bundle the smaller pieces together, then tie the end of the longest piece around the bundle of scraps. You end up with stretchy scraps on a stretchy string. Because it's stretches, it makes a bouncing cat toy.

I hung a long one (you could use elastic) to a hook in my ceiling. I swing this back and forth at the right height for my cat to jump up and grab it. He loves this toy, and he gets lots of exercise from jumping! I like this cat toy because I get to see his fluffy little tummy when he jumps! You don't have to hang it from the ceiling, you can just bounce it up and down in front of them at any height. If you don't sew with knits, you can take 3 to 4 feet of elastic and tie this around any type of fabric scraps.

By Cyinda from Seattle
I have "Forced Air Heat" with registers on the floor. These registers only get a bit warm, not hot. So I tied a 8 - 10 inch piece of "Eyelash Yarn" (like Lion Brand "Fun Fur") onto a register in my kitchen that sits totally horizontal on the floor and my cat is having the time of his life!

The piece of eyelash yarn goes back and forth, to and fro when the heat is turned on. He can't get enough of it! It has to be eyelash yarn or something equally "airy light", so it will be light enough to blow around when the heat is on. Make sure the yarn is no longer than 13 inches or it will be too heavy to blow around.

By Cyinda from near Seattle
This is a craft to make for a kitten or a playful older cat. I took the plastic strips off of frozen juice cans, put them together so that all the round loops faced the same way and wrapped an elastic band around the base of the loops. (it kind of looks like an octopus). I used 10 strips, then I hung it from the door knob with a string. The kitten thinks it is the best thing to chew on, bat at, and just generally play with, can't beat this for being frugal!

By Cinnamon from Williams Lake
Rip up the Sunday paper and put the strip