Since the thick cloth Wet Wipes are expensive and not good for a septic system, I always keep a small spray bottle with some water in it within a spare toilet roll next to my toilet. You could even add one tiny drop off liquid soap and/or essential oil if desired. Just spritz the tissue you are going to use and wipe!
It's great for an extra clean wipe up from the young to non so young!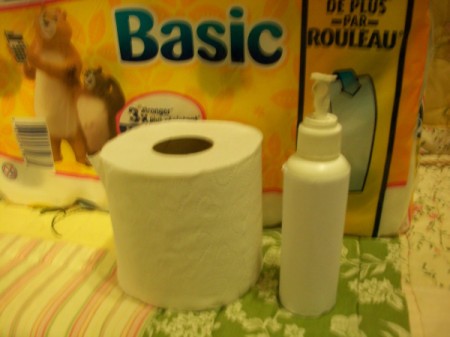 November 16, 2015
0

found this helpful
Lol, lifekinds! Love the alliteration!
A friend who I shop for always had me buying disposable wipes for him, so I started using them myself. Recently, I read that the chemicals in them aren't so good for humans or for aquatic life (after the wipes make their journey through the sewer system), and the wipes themselves don't break down as readily as toilet paper. So, I stopped using wipes, and went back to my old practice of just reaching into the sink (cheek by jowl with the toilet - pun intended - in my tiny bathroom) and moistening a pad of t.p. with a few drops of water. It always worked before, so I regret even trying the wipes, although I only used about 3 packages of them all together. While using them up, I stopped flushing them and put them in an empty cat litter bag that had a ziptop, then threw the whole thing out after the wipes were used up.
Read More Comments
How do you make flushable toilet wipes? They are becoming so expensive in the stores and I just cannot keep buying them so I want to make them. Anyone have good ideas on how to do this?
By Sue from IN
June 4, 2010
0

found this helpful
Best Answer
I have never made flushable wipes; but in a pinch, I have simply applied a bit of baby lotion to a few layers of toilet tissue, and used that with good results. We don't use flushable wipes; we buy inexpensive baby wipes and throw them away after use. I also know there are recipes around for baby wipes. They do a great job, and are much less expensive, just don't flush them.
June 4, 2010
0

found this helpful
Best Answer
Just a FYI for those that use "flushable" wipes and actually flush them down the toilet. Do not do it! We used to flush ours but after having to get a plumber to come and snake our main drain all the way to the main sewer line we have stopped. The plumber told us this is the cause of so many clogs because they do not break up like they claim, they just stay in a big clump. We now keep a small covered waste can next to the toilet to put the used ones in and toss them in the trash. Save yourself on a plumbing bill by not flushing these down the toilet.
June 4, 2010
0

found this helpful
Best Answer
I agree about never flushing any kind of wipe as they are not good for the sewer pipes. Google "Homemade baby wipes" and you will find lots of ideas and recipes. Also, to conserve wipes, you don't have to use them for the entire "procedure". Start the cleanup with regular toilet paper, then finish up with a moist wipe. No need to use 4-5 wipes at each diaper change. Try to keep it to 1-2.
June 4, 2010
0

found this helpful
Best Answer
Another idea for you: you could take paper towels, fold them into squares, wet them and put them into a zip lock sandwich baggies (to keep moist for a long time while they are in the bathroom). But of course, I wouldn't suggest flushing them either.
June 4, 2010
0

found this helpful
Don't make them, but I get mine from the dollar store (Dollar Tree). I use the refills & put them into containers I already have. Look in the baby section. They are very affordable!
June 4, 2010
0

found this helpful
I use baby wipes and throw them in the trash (not in the toilet). Works great and is inexpensive! :)
November 7, 2015
0

found this helpful
I have been using the same method, but use witch hazel to wet the toilet paper. It witch hazel helps if you have an itch in that area for whatever reason.