Teachers are special and it's nice to show them they are appreciated by giving them a little gift for Christmas. Here is a cute and inexpensive project that any teacher would enjoy.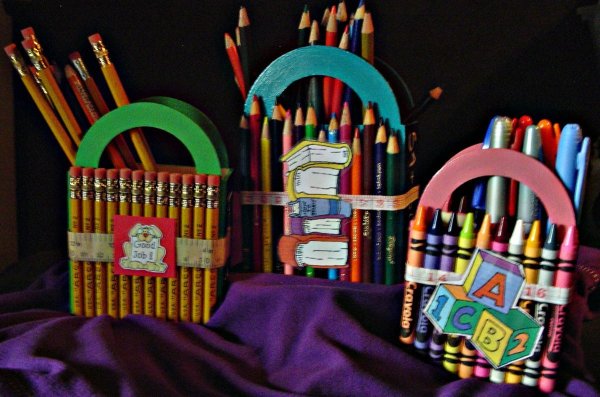 Approximate Time:
Supplies:
wood nesting baskets
pencils, crayons or colored pencils - your choice
trims - your choice
glue
paint
craft knife
Instructions:
I used little wood nesting baskets. They come 3 to a set and can be purchased in any craft store. Each one is slightly smaller and they fit inside of each other. You could also use a small heavy cardboard box or an empty can.
Paint the entire box in your choice of color. I painted the sides of mine black and then used white to make pictures, numbers, and such so they resemble chalkboards.
Once paint was dry, I then varnished the box. I made all three baskets and used a different writing implement for each. The crayons fit on the smallest basket so there was no cutting involved, but the pencils and colored pencils had to be sized.
If needing to cut pencils, measure length needed and using craft knife, score completely around pencil. Hold both ends close to scoring line and snap to break. Use sandpaper or emory board and rub off any rough edges.
Lay pencils or crayons on box to determine how many you will need. When ready, glue each onto box. I use E6000 glue. It dries clear and adheres fast. It's a great glue for crafting.
I had some measuring tapes already on hand and cut pieces from these to wrap around box.
There are many good sites on the internet that offer free printing for school related pictures. I printed out some and covered them in clear contact paper and glued them to the boxes. Another idea would be to print out letter boxes and spell the teacher's name.
Put a package of pencils in the box, then wrap with clear cellophane and tie the top with a red bow.
Here are some other designs I used.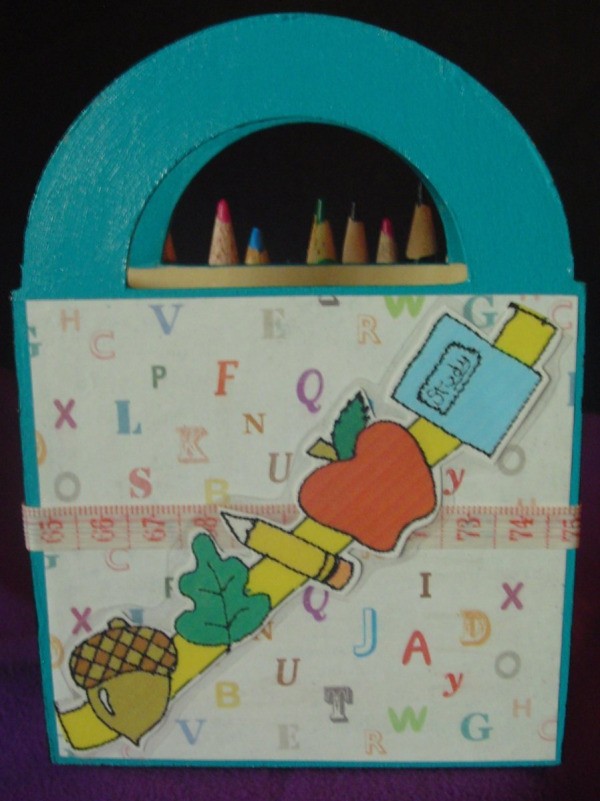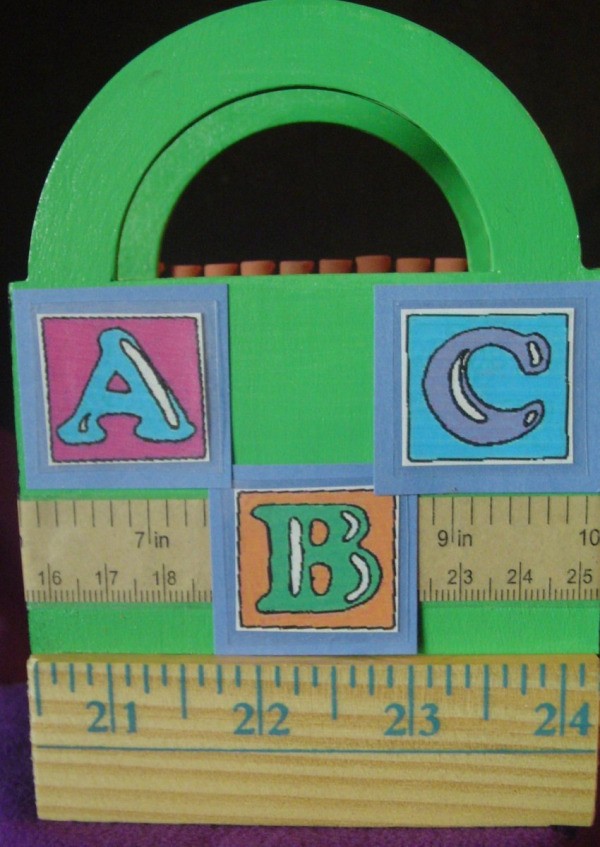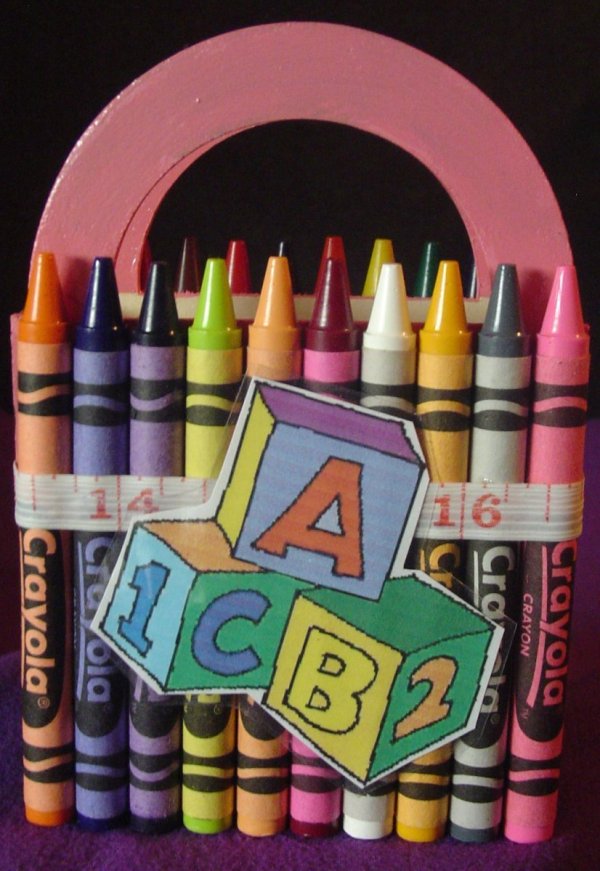 By Mary from Palm Coast, FL
The new school year has started! Surprise your favorite teacher with this flower pot, made from an empty tin can. Decorate it according to the instructions given below, using red as the main color, or change the color to suit your teacher's mood.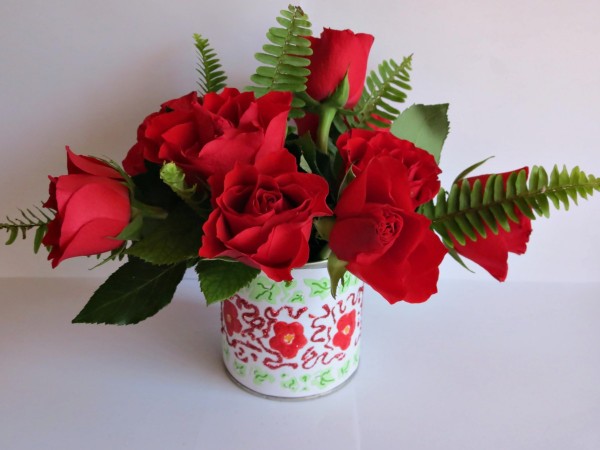 If you are looking for some small gift for a teacher's Christmas, this may be just the thing. Your child can help make this. Be sure to supervise, though, since it involves gluing with a glue gun.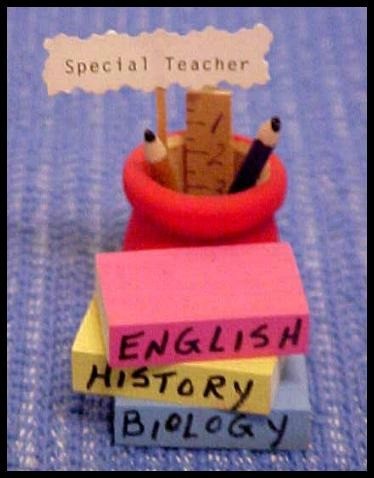 Read More...
I need some homemade gift ideas for my son's pre-school teachers for Christmas. These have to be homemade and not store bought.

Amy from Evansdale
November 28, 2007
0

found this helpful
I taught preschool for 8 years before having my own kiddos- anything you give will make them feel special- I had a year where I received a single gift that was the name of the student, Thank You, and the year written on a cheap glass ornament. It goes on my tree every single year:). Gifts in a jar are great and just a card and homemade treats are welcome too!!
November 28, 2007
0

found this helpful
Paste a picture on flat side of a bar of face soap
Dip the picture side in melted parafin, about 1/4 inch deep in pie tin. The parafin will protect the picture, and makes the soap last much longer, as you only take soap off one side when using it.
You could probably find some Christmas pictures on old Christmas cards if you want to stick with a Christmas theme, or use flowers or animal pictures, whatever you like.
By guest (Guest Post)
Flag
November 29, 2007
0

found this helpful
Last year I made my grandaughters pre-school teacher a wreath made from a circle hoop and glued crayons all around it. after word I added the year and a few school embelishments. Took at most an hour to make. It must have been well liked because the younger sister now has that same teacher and it is still hanging inn the classroom.
By guest (Guest Post)
Flag
December 5, 2007
0

found this helpful
Trace handprints on green and red construction paper. 5-8 will make a wreath when put pinky finger to thumb in a circle. Put 2 red hands wrist to wrist for a "bow"
December 13, 2009
0

found this helpful
As a teacher, the homemade gifts are priceless to me. Years later I look back & remember great times. Many of my ornaments are from my students. You can buy a box of 12 clear ornaments, get paint & stencils if you want. Paint them really pretty, add names, year. And not only is it one gift, but can make about a doz. Since that is how many are in box. I also wrap them with cheap, but pretty paper from $ tree, or use white paper & tie a ribbon on top to close around it. Believe me. All these are always loved!
This is a great idea for making a very special gift for your child's teacher. Take a plain glass plate, pictures of her students and a class group photo. Place the kids pictures on the back of the plate around the rim and "Gesso" them on. Put the class photo in the middle of the plate and "Gesso" it to the plate. Give the whole plate another good "Gesso-ing" and smooth out any bubbles carefully. Then watch that teacher smile from ear to ear when your child hands her this one of a kind gift! :)

By Laura from Lakeland
A 'cute' gift for any kindergarden teacher can be made easily by taking the plastic arm off an old doll and inserting a wooden dowel (1/2 to 3/4 inch round, to fit). You have created a unique (and adorable) pointer stick for use in the classroom.
By oSandi from Sherwood Park, Alberta