Parents and children love to make gifts for their teachers to show their appreciation. This is a guide about homemade gift ideas for teachers.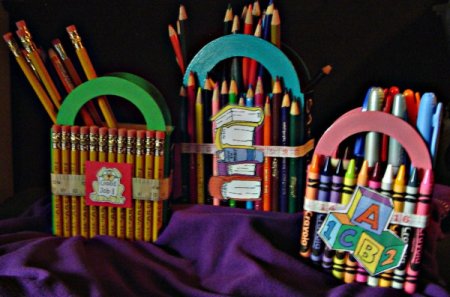 Teachers are special and it's nice to show them they are appreciated by giving them a little gift for Christmas. Here is a cute and inexpensive project that any teacher would enjoy.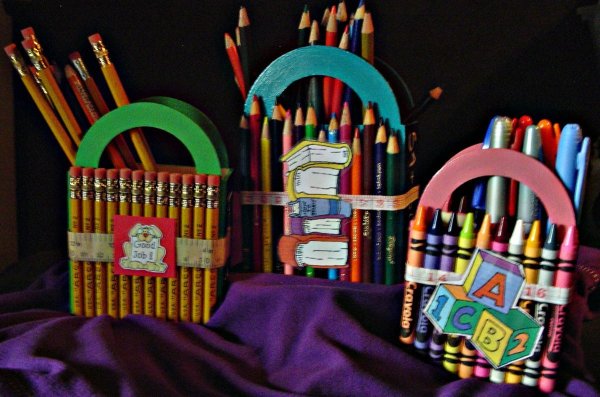 Approximate Time:
Supplies:
wood nesting baskets
pencils, crayons or colored pencils - your choice
trims - your choice
glue
paint
craft knife
Instructions:
I used little wood nesting baskets. They come 3 to a set and can be purchased in any craft store. Each one is slightly smaller and they fit inside of each other. You could also use a small heavy cardboard box or an empty can.
Paint the entire box in your choice of color. I painted the sides of mine black and then used white to make pictures, numbers, and such so they resemble chalkboards.
Once paint was dry, I then varnished the box. I made all three baskets and used a different writing implement for each. The crayons fit on the smallest basket so there was no cutting involved, but the pencils and colored pencils had to be sized.
If needing to cut pencils, measure length needed and using craft knife, score completely around pencil. Hold both ends close to scoring line and snap to break. Use sandpaper or emory board and rub off any rough edges.
Lay pencils or crayons on box to determine how many you will need. When ready, glue each onto box. I use E6000 glue. It dries clear and adheres fast. It's a great glue for crafting.
I had some measuring tapes already on hand and cut pieces from these to wrap around box.
There are many good sites on the internet that offer free printing for school related pictures. I printed out some and covered them in clear contact paper and glued them to the boxes. Another idea would be to print out letter boxes and spell the teacher's name.
Put a package of pencils in the box, then wrap with clear cellophane and tie the top with a red bow.
Here are some other designs I used.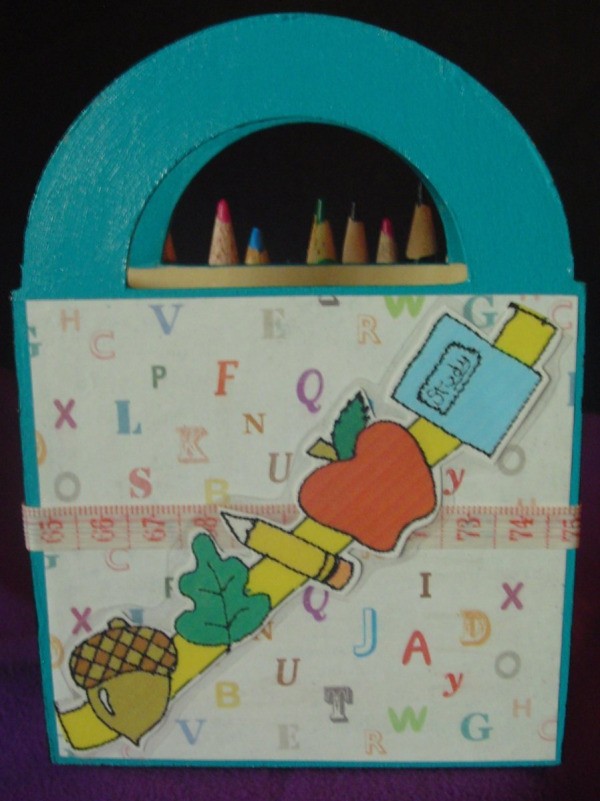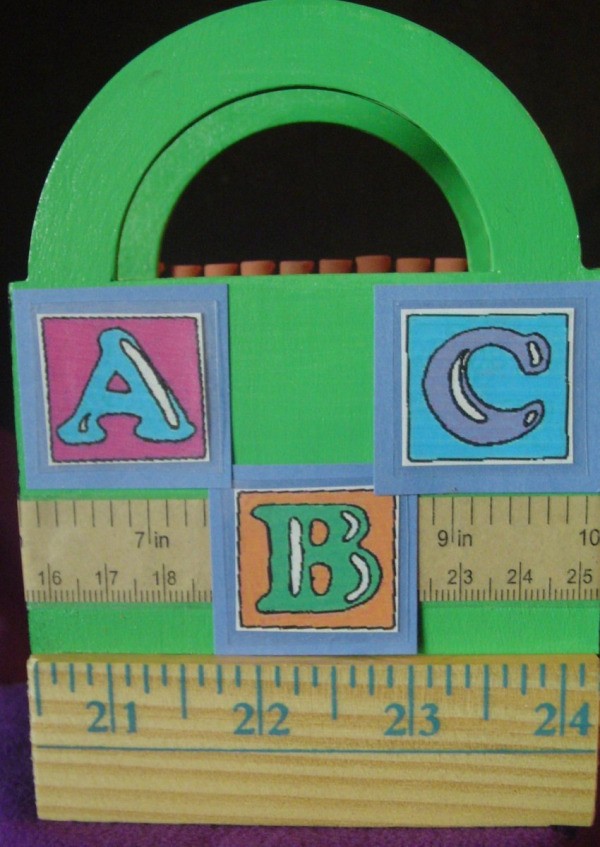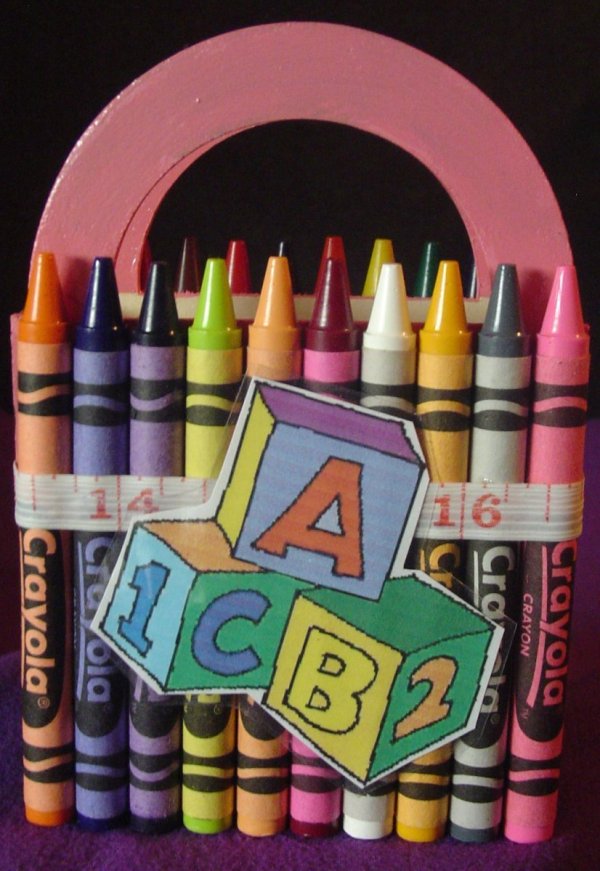 By Mary from Palm Coast, FL
By Benetta 221 118
The new school year has started! Surprise your favorite teacher with this flower pot, made from an empty tin can. Decorate it according to the instructions given below, using red as the main color, or change the color to suit your teacher's mood. This pretty flower pot will sure make your teacher feels special. Fill it with a few red roses, or add some paper flowers to finish it off.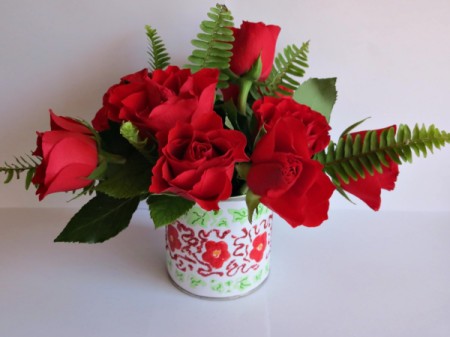 Approximate Time: 20 minutes
Yield: one gift
Supplies:
empty tin can
one ordinary sheet of printer paper
Jablo mini ivy leaves border stamp, B030 (see http://www.jabtex.co.za/stockists.html for international stockists)
flower sponge roller
acrylic paint in the following two colors: true red and lime green
red glitter
Royal Coat Dimensional Magic
Revlon Flex Flexi Natural Hold Hairspray
dark green and orange colored felt-tip pens
two paint brushes
pencil
ruler
ordinary scissors
clear drying craft glue (such as Bostik Clear)
red roses and fern leaves
Steps:
Wash and clean the tin can and allow to dry thoroughly.
Measure the size of the tin ~ this step should be done by an adult:
Measure the distance between the upper and lower lips of the can. Also measure the can's circumference. Draw a strip matching the can's size on the printer paper.
Now use the Jablo border stamp. Use one paint brush to apply an even layer of the lime green paint onto the border stamp. Be careful not to apply too much or too little paint to the stamp, as you will end up with an uneven effect.
Press the image onto the top side of the strip and then, carefully lift the stamp so as not to smudge the stamped border.
Repeat steps 3 and 4 with the Jablo border stamp until the top and bottom sides of the strip of paper has a border pattern.
Use the second paint brush and the true red paint. Apply paint to the flowers on the sponge roller. Roll the flowers over the middle of the strip of paper. Do not lift the roller before you reach the end of the strip of paper.
Allow to dry thoroughly and then cut out the strip.
Use the Royal Coat Dimensional Magic to draw squiggles between the flowers. Dust with red glitter while the Dimensional Magic is still wet and shake off excess glitter. Allow to dry thoroughly.
Use the felt tip pens to add detail to the leaves and flowers.
Spray one coat of hairspray over the strip to protect the paper.
Add glue to the tin can and glue the strip in place. Add the roses and fern leaves and voila! You are ready to make your teacher happy!
By Harlean 142 427
If you are looking for some small gift for a teacher's Christmas, this may be just the thing. Your child can help make this. Be sure to supervise, though, since it involves gluing with a glue gun.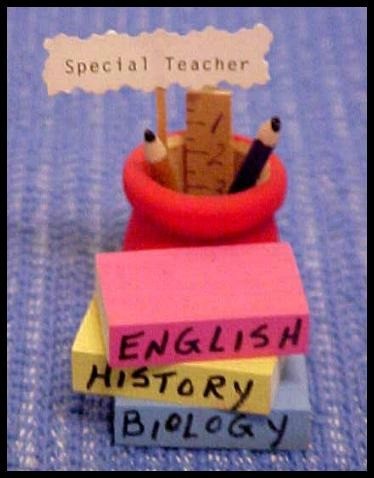 Approximate Time: about an hour
Supplies:
1 1/2 inch wooden candle cup
1 1/2 inch piece from a Popsicle stick
3 golf tees, any color
wood scraps 1 1/2 X 1 X 1/2 for books
toothpick and cardstock for sign
white acrylic paint for base coating
acrylic paints in your choice of colors
black Sharpie pen
hot glue gun
Instructions:
Sand wood scraps for the books.
If you prefer, you can buy small books in the woodcraft section at the craft store.
Base coat on all surfaces with white acrylic paint.
You can use my photo as a guide in painting the pieces or choose your own colors.
Paint one side and one edge for book cover and write titles with a Sharpie.
Stack them randomly to your liking and hot glue them together. Set aside.
Paint the candle cup and set aside.
Sharpen the end of the golf tee, and cut off the top to make the pencils.
Paint them as you like and paint the point white and add a dot of black for the lead.
Mark the piece of Popsicle stick to represent a ruler.
Make the "Special Teacher" sign on card stock and glue to a toothpick. You could put the teacher's name on the sign.
Drizzle a little hot glue in the inside bottom of the candle cup and position the sign, the ruler, and a couple pencils inside as shown.
Glue the stack of books to the side of the cup.

By Harlean from Arkansas from Hot Springs, AR
Teacher's play such an important role in a child's life and what they do is priceless. With the holidays coming up, here is a sweet gift that you and your child can make together to give to the teacher. It will become a treasured memory. This would also make a great gift for adults or a special occasion.
Approximate Time:
Supplies:
empty canister from tall fireplace matches
pretty paper
paper ribbon
trims of your choice
photo of child
handprint of child
clear contact paper- optional
computer and printer- optional
double sided tape
Instructions:
A canister from fireplace matches is ideal for this project but another container, such as from Pringles potato chips would work fine also.
You can choose to use a computer and printer for the poem page or you can write the poem out and attach a photo and the handprint to the paper. If using a computer, scan in a copy of the child's handprint and insert it, along with the child's photo on the paper with the poem.
If doing it by hand, write out the poem. Cut a photo of the child and adhere to same page. Use an ink pad that is safe for kids or brush on a thin coat of non toxic paint on the hand. Have child press hand down on paper. Push gently to make a good print. Wash ink or paint off hand.
I chose to cover the poem page with clear Con-Tact paper so it will last a long time. This step is optional.
To make the canister, choose the paper you would like to decorate it with. There are many sites on the internet that offer free printable design papers. You can find school themed papers also.
Lay canister on paper and mark width and length needed. Cut paper.
Put strips of double sided tape on back of paper. Take your time and adhere paper to canister.
Do the same with coordinating paper ribbon and trim as desired.
If adding an embellishment, you can poke a hole in the canister and thread ribbon through. Tie object to the ribbon and allow to hang.
The canister in this project has a see through window on the top. You could cover with seaside paper and put in items collected from a beach or vacation. Use nostalgic papers and decorate canister for an anniversary. Write a nice note and attach a gift certificate for a nice dinner out for the special couple. The possibilities are endless!
I apologize for the picture of my finished poem. It refuses to come through clearly, but I wanted to include it anyway so you can see where I put my photo and handprint.
I wrote the poem. Please feel free to use it. Just insert your child's name and name of teacher where needed:
I am just a little tyke
There's lots of things I like
Playing in the park on swings
Riding my new shiny bike
I can kick a ball and jump a rope
Video games are neat
Disney is a real fun place
And so are ice cream treats
My favorite thing in the whole wide world
Is being with Mom and Dad
They always treat me like a king
Although I'm a little lad
But when I can't be with Mom and Dad
Only one place will do
Where I feel safe and loved
Always at Miss CC's school
She let's us do some real fun stuff
We learn and play games too
She gives us hugs and we sing some songs
She's really very cool
Merry Christmas Dear Miss CC
I want to thank you for all you do
I may be little but I have a big big heart
So I'm sending "CJ" love to you!
By Mary from Palm Coast, FL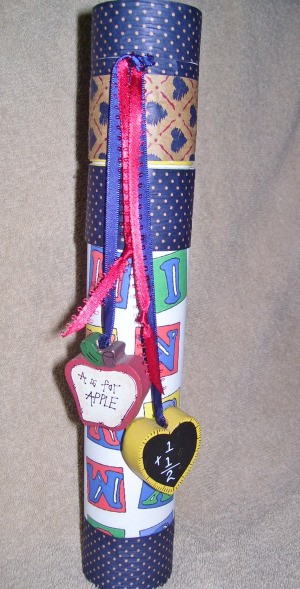 I need some homemade gift ideas for my son's pre-school teachers for Christmas. These have to be homemade and not store bought.

Amy from Evansdale
---
Most Recent Answer
December 13, 2009
As a teacher, the homemade gifts are priceless to me. Years later I look back & remember great times. Many of my ornaments are from my students. You can buy a box of 12 clear ornaments, get paint & stencils if you want. Paint them really pretty, add names, year. And not only is it one gift, but can make about a doz. Since that is how many are in box. I also wrap them with cheap, but pretty paper from $ tree, or use white paper & tie a ribbon on top to close around it. Believe me. All these are always loved!
---
Many years ago, I put together welcome containers for the teachers on the first day school. I put in a tea bag, instant coffee, pack of sugar, candies and little notes of encouragement. At that time, we were able to add single dose packs of Tylenol (for those extra stressful days). Now you can't add those, of course.
This was a PTA sponsored treat but we were able to get things free or cheaply. Maybe gift cards could be added. Depending on the container size, a lot of things can be put in there for the teachers. This idea doesn't have to be used just for teachers. People you work with can use a pick me up gift also.
This is a great idea for making a very special gift for your child's teacher. Take a plain glass plate, pictures of her students and a class group photo. Place the kids pictures on the back of the plate around the rim and "Gesso" them on. Put the class photo in the middle of the plate and "Gesso" it to the plate. Give the whole plate another good "Gesso-ing" and smooth out any bubbles carefully. Then watch that teacher smile from ear to ear when your child hands her this one of a kind gift! :)

By Laura from Lakeland
A 'cute' gift for any kindergarden teacher can be made easily by taking the plastic arm off an old doll and inserting a wooden dowel (1/2 to 3/4 inch round, to fit). You have created a unique (and adorable) pointer stick for use in the classroom.
By oSandi from Sherwood Park, Alberta