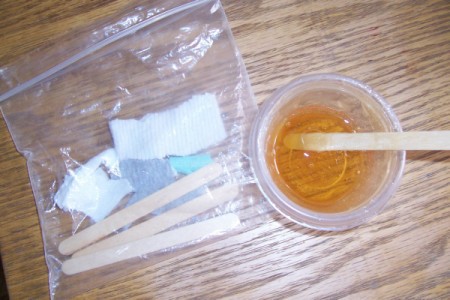 Supplies:
2 fl oz corn syrup (maple flavor is fine)
Popsicle sticks
material from an old t-shirt, cut into brow size strips
small plastic food container with lid (a Glad 4 oz. size works well)
A headband is useful to keep your hair out of the way.
Steps:
Put the syrup in a plastic container and heat 10-13 seconds in the microwave.
Stir with a stick and test temperature on the back of your hand. If it's too hot, stir until it cools off.
Use stick to apply to the brow area where you want the hair removed and place material there, rubbing in the direction of the hair growth
Hold skin taut and quickly pull against the hair growth direction. Wipe area with a cool wash cloth and go to the next brow.
Use as you would any hot wax on eye brows, lip area, leg or wherever you choose. Do not use more than twice on the same area per session to avoid soreness.
The trick to less pain is holding the skin taut! 2 oz. will last a year if you only use it on brows.
P. S. This can also be used to exfoliate your face by just evenly applying it and then wiping it off with a damp cloth. Picks up all those dead skin cells.
April 10, 2013
0

found this helpful
I can't wait to try this!
I was wondering if anyone out there had their made their own depilatory wax? I was stunned by the prices on very small tubs of wax in the shops and had heard of people making their own.

Cathy from Townsville, Australia
June 25, 2007
0

found this helpful
do u have to use cornstarch? or is that ok?
Related Content
(article continues below)
July 6, 2007
0

found this helpful
Hi, I'm a girl who has a little problem with facial hair. I just want to make my own home made wax without having to buy an expensive wax that won't help. I would rather make a honey wax that doesn't require many ingredients and that takes the hair away for more than a week.
July 25, 2007
0

found this helpful
I don't see enough temperature warnings here. I have burned myself twice and it is quite easy to do. I recommend a metal thermometer and do not heat the mixture more than 140 degrees AT THE MOST and it will work quite well at 120 degrees.
Editor's Note: Good point sistersusan! Be careful with hot wax and make sure it isn't too hot before applying.
August 29, 2007
0

found this helpful
Do you have to use lemon juice can you use lime juice instead?
September 28, 2007
0

found this helpful
I'd like to do my bikini area...but...and I'm sorry you have to read this. When I was pregnant my stretch marks went past the hairline. They are very big and deep...should I not even bother? I don't know if you can wax over stretch marks.
December 8, 2007
0

found this helpful
Hi, I was just browsing and I came across this post, funny you ladies talking about making your own wax, I actually started making wax 30 years ago, as there was nothing good out there that did the job, so I just used my stuff. Then eventually friends where interested in it and loved it, and has grown from there. It's made from all natural ingredients and it lasts forever. If you guys are interested in knowing more or want to try some just drop me an e-mail at golden.wax AT hotmail.com. I hope I can help in some way. Merry Xmas.
December 21, 2007
0

found this helpful
Do you have to use lemon? Cause I wanna wax but I'm allergic to citric acid.
January 2, 2008
0

found this helpful
I've tried the karo syrup and honey on my facial hair, but when I pull the strip off (in the opposite direction of the hair growth, I might add) the hair is still there... am I doing something wrong? Oh, and another question if anyone can answer it. If I wax facial hair above the lip, will it grow back darker?
April 6, 2008
0

found this helpful
Hi Ladies,
Do you think there is still a market for homemade wax or waxes in general. I mean all I see in the market is laser treatments, easy to use hair removal creams, etc.
Any thoughts would be appreciated.
smoothlegs!
April 8, 2008
0

found this helpful
I strongly recommend professional waxes. They can come as low as six dollars, and it will be even every time. I wouldn't risk making your own.
Read More Answers