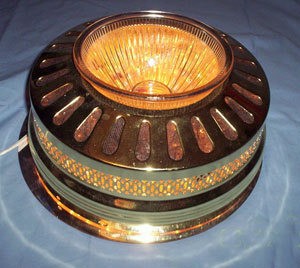 I made my own oil diffuser/warmer. I recycled all of the items I used. This is really cool. Here is a list of the items used.
Materials:
an old glass light shade
an old shot glass
a child's round plastic mirror that I was about to throw out
a rope light leftover from Christmas
a part leftover from a discarded ceiling fan
a few drops of orange essential oil - my favorite scent ;)
optional: a couple of pieces of a new sponge
Directions
You would put these items together, very simple. Then put however many drops of essential or fragrance oils to suit your scent in the shot glass, and plug in the rope light and enjoy it for hours while the rope light gently heats the oil. Be careful not to go to sleep with the light plugged in.
By Igmommy from Sweetwater, TN
August 21, 2007
0

found this helpful
This is absolutely beautiful and very creative.
August 21, 2007
2

found this helpful
Sorry guys, I meant to add this, if you plan to use the sponge peices, what you want to do it drop a couple of drops of fragrance oil or essential oil on the sponge peices, then you would want to put the peices directly in between the rope light after you roll it up so when you turn it on, it warms right up, however, if you do this, you will want to clean the rope light before using it again unless you are using the same scent of oil, otherwise, you get mixed scents. It really only takes about 3 or 4 drops of oils if you are using the shot glass for scent warming. a great scent is 2 drops clove essential oil, 3 drops orange essential oil....smells wonderful. A few great places to find items to make this diffuser/warmer is on freecycle, a salvage store such as Goodwill, family members, www.craigslist.com and your local convenience center.
August 24, 2007
1

found this helpful
Thanks guys for all the kind comments, I meant to add you can use this for aromatherapy as I have included a picture of Rex using ours with her favorite scent as she needed aromatherapy treatment because she wasn't feeling well... lol...
August 24, 2007
1

found this helpful
The picture of Rex using the diffuser/warmer/lamp for aromatherapy purposes. I am joking about Rex using the diffuser for aromatherapy. I have NO idea as to whether oils are safe for iguanas. She just really liked the warmth of the diffuser, under my supervision.
August 24, 2007
0

found this helpful
I just love this. It looks nice. I'm thinking of making a few for Christmas gifts. Thank you for this great idea. I made one for our camper, after I saw your post. It gives a great glow, and keeps the camper smelling nice.
By guest (Guest Post)
August 24, 2007
0

found this helpful
Wow, this is really beautiful. I would have never saw that in those random things. You are very creative! I would pay money for this!
September 1, 2007
0

found this helpful
Very nice. i can't wait to try my hand at this.
By guest (Guest Post)
September 12, 2007
0

found this helpful
Great idea! Looks classy too...
January 3, 2008
0

found this helpful
Beautiful oil diffuser. I would love to share this idea with my crafting community. I will send you the web address so you can look it over before you give me permission. jogebczyk AT yahoo.com Again great idea. Please share this with us. JoAnn
January 7, 2010
0

found this helpful
Wowie, good job!
Read More Comments