This laundry soap is easy to make and free of that long list of chemicals you will find in your average container of store bought soap. It works well too!
Total Time: 15 minutes
Yield: About 4 cups
Source: Modified from a recipe in the book "Making It".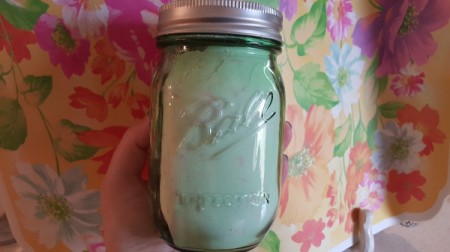 Supplies:
1 cup borax
1 cup washing soda
1 cup baking soda
1 cup grated laundry soap such as Zote or Fels Naptha
cheese grater
empty storage containers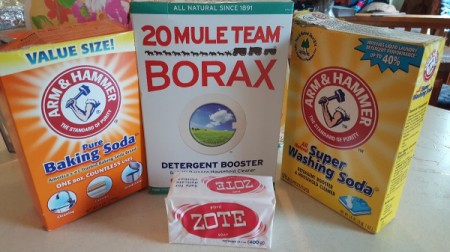 Steps:
Grate your bar soap. It's actually really fun to do this. My kids kept calling it "pink cheese", lol. :)

Store the remaining soap in a Ziploc. Be sure to label it properly so everyone knows it's "not" food.

Add all of your ingredients to a large bowl.

Mix well.

Store in an airtight container. I picked these cute Mason jars up for only 99 cents!

Use 2 tablespoons per load of laundry.
June 3, 2015
1

found this helpful
Top Comment
I have been making homemade laundry soap for years and I have an HE machine. I first made the liquid soap, but now I make the powdered and prefer that. My clothes are clean and fresh. I love that I can wash a whole year of clothes for about $10.
I use my food processor to shred the Zote soap and mix the dry ingredients. It only takes about 5 minutes to mix up a batch.
December 10, 2016
1

found this helpful
Top Comment
I use the same recipe for washing powders and it works wonders on my clothes and I only used two tablespoons per large load. I make a double batch of it and I stored in a 5-gallon bucket and I keep a container above my washing machine with a measuring spoon; I always noted on my calendar when I made the washing so I won't know how long this mixture last me doing laundry. It normally lasts me close to six months. I spend approximately $40 on the ingredients that make up this detergent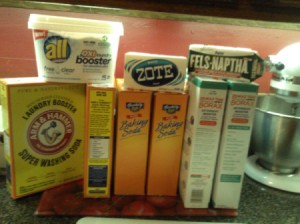 June 1, 2015
1

found this helpful
You are after my own heart Melissa! I too make homemade housecleaning products! Check out my liquid soap entry coming soon!
:D
June 7, 2015
1

found this helpful
My laundry soap recipe is to stir and dissolve in hot water: 1/4 cup of Borax, 1/18 cup washing soda, 2 good squirts of Dawn dish detergent and add 1 gallon of warm water. I use an old laundry detergent bottle Washing soda is a strong strain remover which I no longer need now my children are grown; so I use just 1/8 cup instead of 1/4 cup. I use the detergent bottle measuring cup: 1/2 for light wore clothes and full measure for towels, jeans, etc.
June 7, 2015
1

found this helpful
Using a food processor is a great idea for shredding the soap.
June 8, 2015
1

found this helpful
jjsabath, yes, this will work in the washers too. Good question! :)
June 8, 2015
1

found this helpful
jjsabath, I meant to say this will work in the "he" high efficiency washers too. oops...lol...my mistake :)
June 1, 2015
0

found this helpful
Thank you for sharing. Does this work in HE washers?
June 8, 2015
0

found this helpful
Thank you Donna, isn't it fun making those things? :)
it helps! I used a cheese grater for a couple of years, then my husband got a food processor at a rummage sale. Works great!
I love making my own laundry soap
What bars of soap can I use to make laundry powder?
October 16, 2013
1

found this helpful
3 cups Borax (such as 20 Mule Team)
3 cups Arm and Hammer Super Washing Soda
1 Bar Zote Laundry Soap, Grated
July 5, 2014
1

found this helpful
I used a 3 gal bucket and put in one box of preshredded zote one box of arm and hammer washing soda and 3/4 a box of borax makes 6months - a year if detergent if using 1-2 tablespoons on each load. Spent $10.
October 12, 2013
0

found this helpful
I use Castille soap but there are those who use Felsnaptha, too. If I were to guess, I would say any soap works, according to your preferences. C:
this is the exact recipe I use. next time I am going to double the recipe and have more
August 19, 2010
2

found this helpful
I'm looking for a laundry detergent recipe.
By Bugluvver from St. Paul, MN
August 20, 2010
1

found this helpful
You can Google a recipe. I have been told the recipe containing felsnaptha is the better one.
3 cups Borax (such as 20 Mule Team)
3 cups Arm and Hammer Super Washing Soda
1 Bar Zote Laundry Soap, Grated
mix all together. I use about 2 Tbsp. per laod