I have been so very desperate, for the last 5 plus years. I have had black bugs all over the floor and I would get bitten. I read one of your letters and a woman said she used hydrogen peroxide in a spray bottle. I too, have spent thousands of dollars and nothing worked. I keep a pretty clean house, so I'm baffled.
As of Friday I had a broken screen. I have some type of white, biting bug and I'm going crazy. Black bugs are bad enough, but these white floating, whatever they are, are truly eating me alive. In the past I've contacted pest control, tried do it yourself solutions, but nothing works. Not even the hydrogen peroxide in the spray bottle helps. Please help me.

June 20, 2016
1

found this helpful
I used to have annoying little black bugs which I found were breading in the kitchen sink hole.
I have wiped all surfaces of the house and sprayed lemongrass essential oil all over the house and they have magically gone.
February 26, 2017
1

found this helpful
I have these too annoying black bugs that fly all around my apartment all over all my clothes , sneakers , in my hair everywhere you can think of and doctors think I'm nuts. These bugs have ruined my life for over a year I have marks all over my body, can you please tell me where I can buy that lemon grass stuff you were talking about please I have been trying everything under the sun and nothing has helped so please any help would be great. I really appreciate it .
September 14, 2013
0

found this helpful
I have tons of these little, biting, flying insects that have infested my home so much that I hate coming back to my house. I don't know whether they are gnats or midges or what but, they are biting and annoying me so badly. They even like to fly in your ear, up your nose, in your eyes, and in your clothing while on you. I think I have brought them in from my job because that is where the biting started. I work at a manufacturing plant around a lot of oil, solvents, etc. They like to fly around anything that is dirty or filthy. Can someone please help on a suggestion on how to kill and get rid of them?
By exhausted
September 16, 2013
0

found this helpful
Best Answer
I have never seen flies or gnats that were ever interested in oil or solvents. They like decaying matter, garbage, and such stuff. If your home is so infested, I think it is time for you to resort to tried and true chemical warfare. Buy some Raid. If the infestation is as horrible as you say, this is not the time to try essential oils and apple cider vinegar. Buy something that works to kill flying insects.
I have started to notice bite marks on me that are itchy. Then I started noticing more so I looked on my bed to see if I saw any bed bugs, but nothing. So I thought maybe fleas, but I also don't see anything. One day I found a bug on me that was really tiny and red. When I squished it, it had an unpleasant odor. Every time I feel a pinch and I pass my hand over where I felt it I smell the odor. Then it gets itchy followed by a little lump that looks like a mosquito bite.
So what kind of bug could it be?
By Patricia from Brooklyn, NY
September 4, 2010
0

found this helpful
Go to the doctors, or the pharmacy for some advice. I don't know what it is but it doesn't sound very nice and may give you a nasty illness. Use Tea Tree oil on the bites that helps everything!
Take care
September 8, 2010
0

found this helpful
If the attached photo is of any stage of the bug you saw then this link will give you advice of how to get rid of them:
http://www.medi bugs/article.htm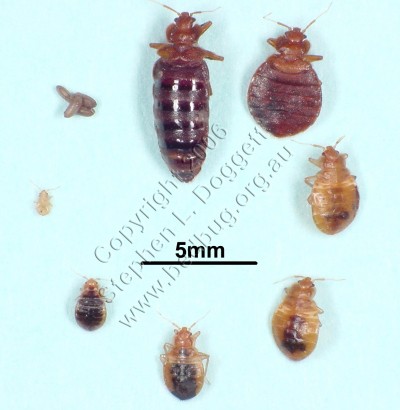 September 8, 2010
0

found this helpful
I've heard bed bugs are a huge problem in NY right now, sounds like you have 'em. Sorry.
September 8, 2010
0

found this helpful
Are you seeing these bugs inside, or outside? Tiny red bugs sound like chiggers to me, we have them really bad here in Oklahoma. They get on you outside. Their bite doesn't usually itch right away, but when it kicks in, it's miserable!
I love leaving my windows up at night but hate the little green biting bugs that come through my screens when the lights are on. It's especially bad when I try and read at night. There use to be a spray for screens I would buy but I can't find it any more. Any ideas what I could do?

Thanks,
Sandy from Mountain View, AR
By guest (Guest Post)
July 20, 2008
0

found this helpful
I hate those little things! They hurt! I wonder what they are?