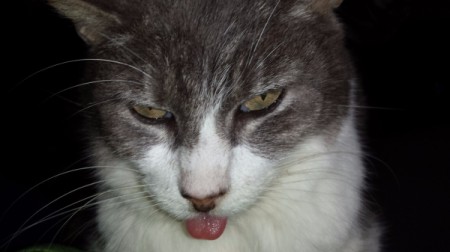 Your Pet's Age
11 years old
Your Pet's Breed
Shorthair with Tabby Coloration
How and when did you get your pet?
Here is a picture of Horace. She (yes it's a girl, with a boy's name) went to the Rainbow Bridge recently so I wanted to share her memory.
Horace was born in March 2006, along with her 3 brothers, Blaise, Jack, and Socky. I had moved to a new house in October and we found a beautiful bobtail tortie cat in the backyard. She kept getting fatter and fatter and we thought because she had been starving as a stray and we were feeding her well! One night around 11pm I heard meowing and discovered the mama cat in an empty box with a kitten and pushing another out! I kept Horace and Blaise and adopted the others out to family.

What does your pet like to do for fun?
Horace always was a climber and jumper, as in able to leap to about 4 feet in the air to my bird feeder! I love birds, but I could not keep her from swatting them off the feeder! I did manage to see her in action several times and saved the birds before she killed them. She also loved to climb up curtains and sit on the top, or climb up the shower curtain when I was in there. She was quite the acrobat, with very good balance in high/narrow spaces!
Do you have anything else to share about your pet?
Unfortunately in 2016 she started losing weight although she was eating a lot. By this time, at age 10, a lot of her teeth were missing and she drooled a lot too! I always wiped her face like she was a baby. The vet thought she had mouth cancer at one time, but tests were negative. Then he said it was allergies. Before I could return her to the vet, she took a turn for the worse. I was holding her on my lap one night watching TV and she took her last breath in my arms. Horace was a very sweet, mischievous, and pretty girl and will always be remembered!

Add your voice! Click below to comment. ThriftyFun is powered by your wisdom!
Add your voice! Click below to comment. ThriftyFun is powered by your wisdom!