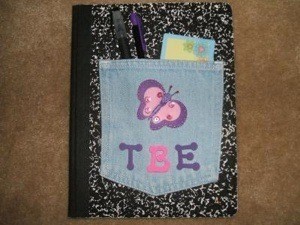 Almost all the parts of a pair of jeans can be used in recycled crafts. This is a guide about jean pocket crafts.
Ad
---
Solutions: Jean Pocket Crafts
Read and rate the best solutions below by giving them a "thumbs up".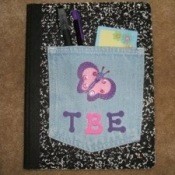 Create a pocket on a notebook to hold pens, pencils, notepads, etc. Kids will enjoy personalizing the pockets. A great way to recycle old jeans/pants pockets too!
Approximate Time: About 20 minutes
Supplies:
old pair of jeans or pants
scissors
notebook
craft glue or hot glue gun and glue sticks
appliques, buttons, foam shapes, etc.
Instructions:
Cut the back pocket from a pair of old jeans or pants.
Decorate the pocket as desired by gluing on appliques, foam letters, etc.
Using hot glue gun, run a bead of glue along sides and bottom of pocket, leaving only the top open.
Press pocket into place on notebook.
Fill with supplies such as pens, pencils, erasers, notepads, etc.
By Rachel's Mom from Wilkesboro, NC
This craft is easy and very versatile. Cut 1/2 inch around a blue jean pocket with a pinking shears. Attach a ribbon or shoelace to each top side of the pocket for a hanger. Fill with a pen, pad of paper and some markers. These are great for the car and hanging near the phone. Enjoy!
By Tedebear from San Jose CA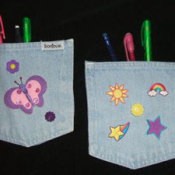 In just a few easy steps, your child can turn an old pair of jeans or shorts into a couple of pen and pencil holders that mount easily in a school locker.
Approximate Time: About 30 minutes
Supplies:
old pair of jeans or shorts
scissors
fabric paint
iron on patches
buttons
craft glue
magnetic tape
Instructions:
Begin by having your child cut each back pocket from the jeans. (Make sure she gets the material it's attached to as well and not just the pocket.) She should cut closely around the three sewn edges of the pocket.
Now she can start decorating by attaching any iron-on patches according to the package directions, using fabric paint, buttons, etc.
Let the paint dry.
With the pocket face down, cut the magnetic tape into one-inch strips and affix a magnet to each corner of the pocket (add a dab of tacky glue for an even stronger hold, if needed), and it's ready for hanging in a school locker.
By Mom of 1 from Wilkesboro, NC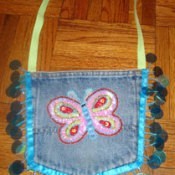 This is a purse I made for my 7 year old daughter and her friend. I used an old pocket from my husband's old jeans. Carefully cut right along the edge of the pocket. You can use "Fray-Check" on the sides to keep it from raveling later. I purchased the decorative items for about $3 from my local craft store. My daughter gave one of the purses to her friend for a birthday gift. The purse isn't big, but some cute ideas for putting inside of it include: a gift card, small notebook and pen, lip gloss, small candies, etc. I picked up quite a few things at the dollar store. The girls love their purses.
With growing boys, I have had my share of well-used blue jeans. Here are a few things I did to get one more use out of them:

I cut the pocket out (still attached to the jeans) and used a hole punch to put two holes in the top, then put yarn through the holes and hung in the kitchen for a bread tie holder. I also used it to hold recipe cards, thread, and those small objects that just seem to accumulate in the junk drawer and often poke you in the finger!

I have also attached magnets on the back with super glue and used on the fridge for a note pad and pen. I cut the legs off and duct taped the bottom together and used the bag to tote garden tools around.

By Renee from Slatedale, PA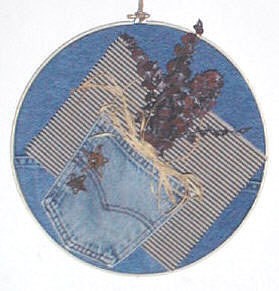 Turn your old torn jeans into a wreath. Make sure to cut the pockets out, they really can add to a wreath.

By Karen from Tinley Park, IL
This idea came from a previous post.
I thought I'd give it a try.
Supplies:
hot glue gun
lace
ribbon
pear balls
wooden heart
acrylic paint
Directions:
A lot of fun. First, paint your heart. I painted the wood heart to match with acrylic paint. While it dries you, can cut out your pocket.
I used a hot glue gun to attach the lace, ribbon, and pearl balls.
Leave enough space around the pocket, the width of ribbon you choose to use. Then cut ribbon to place at top first. Follow the entire pocket to seal the frayed edges.
You can design it however it may suit you. Then I applied the lace center. I had a string of pearl balls I cut them off, one by one dropping a dot of hot glue and placed them around pocket on outer jean and then in between each circle on lace. Simple. I'm sure you can spice it up a bit with buttons, color and fabric writing. Fun craft!
I wished I had used a "not" so "used" pocket! I think it would have looked nicer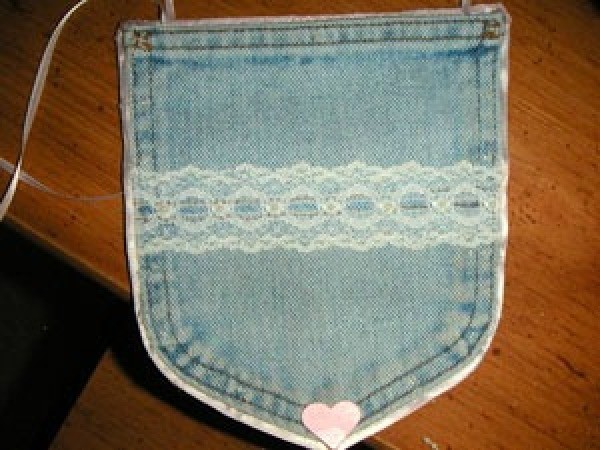 By Jennifer CA
Give a "thumbs up" to the solution that worked the best! Do you have a better solution? Click here to share it!