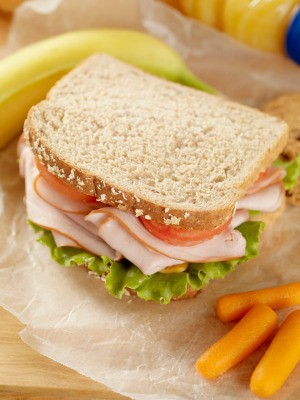 One major problem with preparing sandwiches ahead of time is that they may become soggy. This is a guide about keeping sandwiches from getting soggy.
Ad
---
Solutions: Keeping Sandwiches From Getting Soggy
Read and rate the best solutions below by giving them a "thumbs up".
My son loves Bologna and Cheese sandwiches with Mayo, but I've always hated knowing that by lunch he was eating a soggy sandwich. SO, I started putting the mayonnaise on between the bologna and cheese so that the bread doesn't get soggy. It's worked wonders and he doesn't complain.

By Jessica from Richmond, KY
Give a "thumbs up" to the solution that worked the best! Do you have a better solution? Click here to share it!
Questions
Here are questions related to Keeping Sandwiches From Getting Soggy.
When preparing a turkey sandwich for lunch what could I store the mayo and tomatoes in? If I put the mayo and tomatoes on the sandwich in the a.m. it is usually soggy and wet by lunch time. Any suggestions?

Onesummer
Ad
---
---
Most Recent Answer

By Chayil [5]12/31/2008
1. Separate containers for bread/meat/cheese and veggies/tuna. Use small re-usable containers rather than plastic wrap or baggies, since the wraps and baggies will almost certainly go directly into a landfill.

2. Pick up a big box of condiment packets at Sam's Club, Costco, Big Lots, or other bulk discount store. They come in ketchup, mustard, mayonnaise, and sometimes pickle relish. Each box will last several months.

3. Leave off the tomatoes because they do cause sogginess, but include lettuce, and also a little pickle, maybe.

4. Make a "dry" sandwich of bread, meat or cheese, lettuce, and side-packets of condiments (see #2). Then include a separate container with a bit of cucumber-tomato salad (no lettuce -- that adds bulk, but not a lot of nutrients) or fruit salad. Don't forget a fork! Sam's Club has a pack of 36 forks for something like $7 or $8, ditto with spoons, and about $13 for 36butter knives. If your child has her own utensils, she's less likely to forget and leave them somewhere, especially if there's a convenient place in her lunch box to put them.

5. If the kid just loves tomatoes and other soggy sandwich ingredients, make toast the night before (or make a whole loaf of toast on Sunday) by laying the bread in the oven on the lowest setting for an hour. It will dry out a LOT and become very crispy. That way, when you put the tomato slice on in the morning, the bread will be soft but not horribly soggy by lunch time.
I pack sandwiches in lunch bag (insulated) and include an ice pack. The bread gets soggy, how can this be prevented?
By Sabra
Ad
---
---
Most Recent Answer

By Carol Swanson [17]06/06/2012
The only time I had a similar problem was when the ice pack itself was leaking. Ice packs are filled with chemicals that might not be good to have around food. I threw mine away and bought another for only $1. These smaller ice packs are available just about everywhere and are worth the money. I have two, one for in the insulated lunch bag and the other for in the freezer to use the next day. Recycling at its best!