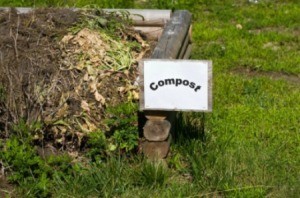 Lasagna gardening, an organic approach, relies on layers and is heavy on mulching to create rich soil. This is a guide about lasagna gardening tips.
Ad
---
Solutions: Lasagna Gardening Tips
Read and rate the best solutions below by giving them a "thumbs up".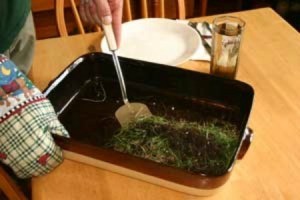 Lasagna gardening isn't about growing lasagna, and it isn't about growing the great vegetables and herbs found in lasagna recipes. Instead, lasagna gardening is a timesaving organic gardening method developed by gardener and writer, Patricia Lanza, which requires no digging, no tilling and no sod removal. Too good to be true? Read on.
A Garden of Layers
Lasagna Gardening is a nontraditional organic gardening method that relies on a layering method called "sheet composting." The name "Lasagna," comes from the way garden beds are created from layers, the same way you layer ingredients when making a pan of lasagna. Watering and weeding are reduced through the heavy layers of mulch and by planting crops close together. The lasagna layering method quickly builds soils that are incredibly rich in nutrients, resulting in higher than average garden productivity. The method also works great for container gardening.
What Makes It Different
Thick layers of organic mulch are the main ingredients of every lasagna garden. Chopped leaves, grass clippings, straw, hay, sawdust, wood ash, compost, animal manure, newspaper, etc., are just some of the materials that might made up the layers of a lasagna garden. Individual materials will vary in each individual's garden according to what is available locally.
How Do You Make a Lasagna Garden?
To make a lasagna garden you stake out your garden site and begin building up the beds layer by layer. The first layer involves laying down something heavy over sod, like thick pads of newspaper or flattened cardboard boxes, to kill the existing grass. The next layer should consist of 2-3 inches of a water absorbent material like coir, or peat moss. I recommend coir because of the growing environmental damage caused by extracting peat from bogs. Next, a 4-8 inch layer of organic material, such as compost, is spread over the coir layer. Another layer of coir, or a peat alternative would be added on top of that, and then yet another layer of organic material, like grass clippings on top of the coir, and on and on until the beds reach 18-24 inches high. Finally, the tops of the piles may be sprinkled lightly with bone meal and wood ash for added phosphorus and potassium.
"Baking" the Beds
At this point, some gardeners elect to "cook" their lasagna gardens (give the layers of mulch time to breakdown). This reduces the height of the beds and produces high-quality workable soil more quickly. Cooking the beds is optional, but certainly not necessary. One of the greatest advantages to the lasagna gardening method is that you can layer your beds and plant your crops all in the same day.
Planting a Lasagna Garden
When you're planting a lasagna garden, no digging is required. For transplants, simply pull back the layers of mulch, drop in the plant and pull some mulching materials back over the roots. Sowing seeds is easy, too. Sprinkle a little finished compost over the area you want to plant, sow the seed, and cover it with a little more of the finished compost. Press down on the bed to secure the seeds and water thoroughly. It's that easy!
Because it uses no power tools, heavy equipment or expensive commercial additives, lasagna gardening is an easy way for people with space, age or physical limitations to maintain garden productivity. For more information on this easy, stress-free method of organic gardening, read Patricia Lanza's book, Lasagna Gardening, available at Lasagna Gardening
By Ellen Brown
Give a "thumbs up" to the solution that worked the best! Do you have a better solution? Click here to share it!
Questions
Here are questions related to Lasagna Gardening Tips.
I'm trying to grow a lasagna garden on a new farm with untilled soil and cannot seem to find enough material to layer with. Any suggestions? What would be a suitable replacement for the recommended peat moss? We don't have any available this season.
Thanks so much for any ideas!
Hardiness Zone: 6a
By SLL from MO
Ad
---
---
Most Recent Answer

By Robyn Fed [394]07/10/2010
This sounds like a great idea and I am going to do this!
I have done lasagne gardening for years. I have had mixed success. The first year is always great, but future years no so. What are you supposed to do with your garden each additional year? I have tried adding straw, manure, and peat moss. I tried just adding compost. It just seems to be getting so compact. Please help! Thank you.
By Linda C
Archives
Thrifty Fun has been around so long that many of our pages have been reset several times. Archives are older versions of the page and the feedback that was provided then.
By Pat Lanza

"Pat Lanza is a genius! It's a pleasure to find a garden writer like Pat who speaks from experience and who shares practical information in clear, understandable language. Her no-till, no-dig method will save many aching backs, and the tips and time-savers she sprinkles throughout Lasagna Gardening are sure to please gardeners of all skill levels."--Walter Chandoha, garden photographer and author of The Literary Gardener
---
RE: Lasagna Gardening : A New Layering System for Bountiful Gardens: No Digging, No Tilling, No Weeding, No Kidding!
I belong to AmericasBookShelf.com and saw this book in there,thanks for the info. (05/10/2006)
By BudMurray
***
*** My yard was quite boring and I have never had a green thumb. I was unsure what to do other than hire someone to do it for me. Then one day I saw a book at Cracker Barrel on building a Lasagna Garden. I read the book and then I decided to give it a try.
I have had the best time and discovered that I really enjoy this. I made up my own structure for the garden by layering peat moss, potting soil, and mulch. I then placed my plants. Imagine my surprise when it all came back this year. Everything I plant just thrives in the fertile layers. This has been a most rewarding experience.
By garay from Springhill, Tennessee
***
*** I have come up with a shortcut method to create my "lasagna gardens." Most of us know that a lasagna garden is created using newspaper, organic matter/loam/topsoil, then wood mulch. This is what I do, to save time, money, and back!
Outline my new garden on the newly mowed grass with white left over spray paint or string.
Edge deeply along this line.
Remove edging pieces and place within new garden area, upside down, so that the grass side is down. Create raised areas for additional interest with this part.
Layer whole area with 5 layers of newspaper.
Cover whole area with 5-7 inches of wood mulch.
Notice, I have cut out the loam/top soil stage!
This area will be ready to plant by the end of the next summer (about 9/10 months).
I have done this for the last 4 autumns. Any fall bargain plants or shrubs I want to plant immediately in this new area, I have previously dug a large hole for and lined the sides with newspapers, covering any grass. I then place the plant, backfill the hole, adding triple mix or well rotted manure. Then I top mulch with wood chips.
Last fall I also laid a long brick path right on top of the newspaper.
There are a couple of reasons this method works so well for me.
I ask my neighborhood corner variety store to save the thick weekend papers for me - the ones left over that they would normally throw in their recycle dumpster. (I don't use shiny paper/ads.) I collect them promptly and they don't seem to mind as I am also a customer there. This way I don't have to save weeks and weeks of my own papers.
Our municipality regularly trims roadside trees and bush. They put this through their chipper and it is dumped on Town land. This is free mulch for the taking and there is always a lot, in various stages of decomposition. I load my trailer taking aged and well aged mulch. I try to avoid the very new chips.
Voila! My new 'Free' garden, except for my hard work. But then, gardening, hard or not, is always a pleasurable activity for me. I garden in Zone 6a.
By theoldgardenergal from Fenwick, Ontario, Canada
---
RE: Lasagna Gardening
Do you have any rules with the "wood mulch?" The reason I ask is because whenever it gets too close (within inch or two) of plants I've planted or where they're sprouting, it seems to have a toxic effect. I use purchased and have had it all the way from "sawdust" size to red bark chips.
This article certainly gives a lot of food for thought! Thanks, Joyce S. (02/26/2010)
By natvlegl
RE: Lasagna Gardening
Hey Joyce - I'm sorry, I did neglect a couple of tips/steps. But I did mention I shovel from the older wood mulch, not the bright, new, pretty stuff! That new stuff, I believe, is going to suck all the nitrogen out of the area while it decomposes (not a good thing to put around a plant). I got this tip from the Town Worker who told me DO NOT use the new stuff right away. He actually came onto my property and delivered about 8 yards that first year.
Hearing what you have to say, I now know why Mark, the Town guy, told me this.
Probably, I missed another half a tip in my Lasagna method. This is it - within that next year, when the grass underneath is dying/decomposing, the mulch is also turning into wonderful loam. My very first Lasagna garden now has 3" of black beautiful loam on top. I do also, because of the unlimited supply, top up ALL my garden mulch once a year. The way I do it, I've never had a problem with nitrogen depletion.
Bottom line - new sawdust, mulch with "wood" color still in it (not gray yet) is NOT good to put close to plants. As the old (very old) saying goes - happy gardening, and keep your knees dirty!
If anyone else needs more details about what works for me, I would be very happy to share my gardening experiences. Marg S. (02/26/2010)
RE: Lasagna Gardening
I have done this for years. Problem is, where I live I do not get free mulch nor humorous. It really does work though if you have all the things to do it with. (02/26/2010)
By Laniegirl
RE: Lasagna Gardening
I love Lasagna Gardening! I really never had much success with "regular" gardening but with Lasagna Gardening, my garden did very well! I am so glad I got the book and followed the instructions! (02/27/2010)
By mkelly