There are ways to leave your cat safely and well fed while you are gone for a few days. This guide is about leaving a cat while on vacation.
I am on holiday for 10 days and this is only day 2. I am so worried about Kylie my 4 year old cat. I have a really good neighbour who is going in twice a day to feed and do the necessary. I have only had her 1 year and before I had her she was a indoor cat. Now she loves outside, as I live in a tenement which has a large back garden and over the wall there is a huge cemetery where all the cats seem hang around.
My worry is that after I got her she was scared to go outside. My neighbour has 2 cats and said after a couple of days she would let her out and check on her to let her back in the flat. My worry is that she will be lonely with being left in a lot and when she gets out she won't come back. I love her so much and am thinking I will have to go home. My neghbour said cats always come home as they know where there food is. She sometimes goes away for hours when I am there, but she sees me every day and sleeps on the bed with me.
By Ray
October 1, 2013
0

found this helpful
Have you ever heard of Cattery Boarding Kennels?
October 2, 2013
0

found this helpful
Can you call your neighbor to get an update? I can understand your worry. It does sound like you set things up well for your cat to be taken care of. You could make a quick trip home to check on things but things will probably work out OK.
October 13, 2013
0

found this helpful
Ask your neighbor NOT to let your cat out while you are away... she will be safer in the house. Cats do NOT always come back! Just ask one of the thousands of people who have lost their cats. Keep your cat inside until you get home. It's only a few days and you won't worry as much.
February 22, 2015
0

found this helpful
I would also suggest not to have her outside while you're gone. It will give you peace of mind.
Is it OK to leave my 8 month old kitten home alone for 3-4 days? I will make sure it safe for her, and leave plenty of food and water.
By Shannon A. from Ft. Myers, FL
December 10, 2013
0

found this helpful
Please, no, no, no! Kittens can get themselves into troublesome situations in a flash; ones you wouldn't think could even be possible. Partly because of the extremely curious nature cats have, partly due to boredom and due to extreme loneliness. My experience with cats is that they're FAR from aloof & stand-offish. They get nervous & insecure if left for too long, especially the younger they are, & if left with no other buddies (cat/dog). Think about leaving a human toddler alone that long...yikes! Ideally you'll find someone to stay with your fur baby/watch her at their home or at least to pay a visit once/day. Good luck.
December 12, 2013
0

found this helpful
I agree with Maureen. You would need to find someone who will check on her twice a day or so. Petsitters will do this for money of course (about $20) per visit. A pet oriented friend would be even better. Good luck to you.
December 12, 2013
0

found this helpful
Never, ever leave an animal alone for that long. Maureen Boyle is right on every point. For pete sake, find a pet sitter. Someone you can trust.
December 12, 2013
0

found this helpful
Have you heard of Boarding Kennels?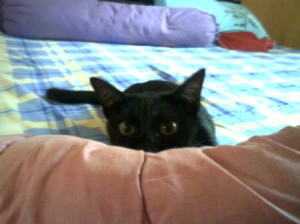 I live in Thailand and have an outdoor cat. She's 18 months old and very independent. She's gone most of the day (she has her own access through a window) and only comes in late at night to sleep until very early in the morning when she takes off again (after something to eat). I plan to go away for 3 weeks and don't want to leave her in a kennel.
Here the only option is to leave her at the vet's in a small cage where she won't be let out to play. I figured that would be more cruel! I'll have a friend visit every day to replenish her food and water, but the only friend willing to do this won't have the time to spend to play with her. Do I risk her running away to find me? Would she be okay, providing she always has food and water and access to her bed inside?
By Solieri
January 6, 2014
0

found this helpful
There is clearly some risk, but it sounds to me like it would work.
January 8, 2014
0

found this helpful
With no disrespect but what do you have against Registered Licensed Boarding Kennels that invite you to inspect their property during Kennel hours?
January 10, 2014
0

found this helpful
I know of people who have done this successfully but they had very reliable people who bought the food around for the cat - the risks are of course that some other animal may eat the food , plus if the cat gets injured or hurt in some way that no-one is there to attend to it. You have to weigh up the thought of loss and injury against the safety of a kennel - chances are the cat won't leave as long as the food is always there . Good luck
What are the dangers of leaving an indoor cat in the home for 30 days if they are checked only twice per week. They are accustomed to being alone for 8 hours per day.
By Sharon S. from Huntington, WV
June 11, 2009
0

found this helpful
Cats are not as independent as people would like to think. They are social creatures, and need plenty of attention. Twice a week for a full month is not enough attention for the poor thing, especially without another feline companion.
There are dangers in all sorts of things too.I came home to find one of my cats dead, strangled in a bedspread fringe once. It was extremely traumatic, as I consider my cats members of my family.
I would enlist more friends and neighbours to come by, so ideally kitty is visited once per day.
I would put out more litter boxes too. My cousin had her mom look after her cat; Mom shut the bedroom door, cutting off kitty's access to her poopy box. Kitty used the leather couch instead!
Many insurance policies are void if your house is not checked daily as well.
June 12, 2009
0

found this helpful
I do not believe that only twice a week is often enough. You need someone to check on your cat(s) at least once per day to make sure that they are okay, to clean out the litter box(es), and to make sure there is clean water and food.
June 20, 2009
0

found this helpful
I wpuld NEVER leave a pet again in a boarding kennel. Firstly, we had a great dog that would NEVER go the the bathroom any where except out side. We told the people at the kennel that, and we were gone 3 days, and he hadn't done one thing because all they did was open the gate to the outside cement run, he would not go on the floor. He was quite ill after those three days and we had to take him directly to the vet from the kennel.
Secondly, I worked in a kennel, for a VERY short time, I don't know about them all, but after their people left, they were sedated and put in much crampier crates or cages. And some of the cats were put in cages with other cats they didn't know. I worked there for 1 week and refused to treat the animals that way and quit, it was a nightmare to see. I would stay home if I did not have another alternative , like family or friends to come in.
May 7, 2011
0

found this helpful
I just got home from checking on my daughter's sweet kitty while she is on a week long vacation. The arrangement we made was for me to go every other day and her in-laws to go on the days I could not. And this has worked out as far as providing food, water, and cleaning the litter box. However, due to other responsibilities, I could not spend as much time playing with her, grooming her, just being with her, as I could see she craved. So my advise is to find a trusted individual that can possibly move into your home and stay while you are gone.
If your cat is used to being alone for 8 hrs a day, then most likely your pet sitter would also need to leave the home for probably the same amount...if not, then have someone to go every other day at the least. I put catnip out for Tisa, and brought new toys for her. I spent one night but could not stay long the next day. She loved that as she is used to sleeping with her parents. I wish I could have stayed every night there. Oh, and put out more than one water bowl, and food bowl, for back up just in case a problem arises and the caretaker cannot get there on time or that day. I put extra food and water out just in case, cats get very stressed when their routines are messed up and doing whatever you can to assure them they will still have food and water at least is one less stress. God bless your kitty.
Read More Answers...
Please advise me. I'm going away for approx. 10-11 days, but I'm so scared and concerned that my little kitten's too small/young to be left alone for that long, even if I would arrange for a friend to come and look after her (food, water etc.). She's only 3 months old. Please help me. Is it dangerous to leave such a young one alone? Will she get traumatised? Many thanks in advance for your kind advice.
I really appreciate your reply, I would rather cancel the holiday, because she comes first!
Thanks again.
By Linn
November 1, 2013
0

found this helpful
Cats are pretty independent creatures. At 3 mos old she's a young 'un, but she should be ok on her own. She might be a little lonely, but not traumatised. You will definitely want someone to look in on her regularly. If a friend pops in every 2 days or so that should be fine.
Just remember common sense. Keep everything that might be hazardous packed away. Make sure windows without/or with flimsy screens are closed. Put toilet seats down.
Leave out food with plenty of water. If she normally eats wet food, you can supplement with a bowl of dry food as well. After that you are good to go. Enjoy your trip!
November 1, 2013
0

found this helpful
Please do not leave this kitten alone for that long! Even with having someone to take care of food and water, a cat or a dog can get into so many difficult situations. A cat's natural curiosity makes your kitten even more vulnerable to getting hurt. If you must be away, board the kitten at your vet's office or a reputable kennel. At any rate, never leave an ainmal alone for any length of time. Be a responsible pet parent.