Does anyone know who Leewards suppliers were and if any of them are still in business?
By Rita
October 20, 2014
0

found this helpful
Try Michael's if you're in the US - they bought Leewards in 1994.
October 14, 2015
0

found this helpful
Michaels doesn't have any answers.
I too am looking for the Leewards Advent Calendar from the 1970s that is a Christmas tree made from felt on a white background with felt/sequin ornaments that hang on it - there's a candy cane, house with snow, panda bear, clown, rabbit, etc. It was the advent calendar I used as a child - would love to find a duplicate or the kit to remake if anyone has it. It would mean soooooo much to me! Thanks! Erin in NH.

ErinInNH
December 6, 2008
0

found this helpful
I made one in the 70's and fortunately still have it. This year I traced the ornaments to make patterns and with the help of my daughter have made three calendars for my grandchildren. If you could find a picture of the old calendar I'm sure you could duplicate it. How I miss Lee wards!
December 19, 2008
0

found this helpful
Hi - if this is what you're looking for, I'm also interested in the patterns for the ornaments, (the puppy ate the camel and santa claus). I'd be more than willing to share dimensions, etc. 19Dec2008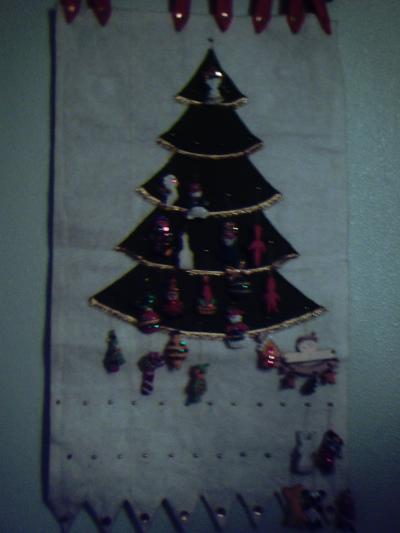 October 15, 2009
0

found this helpful
I am also looking for this pattern, and I would really, really appreciate any patterns, photos, or other information that anyone could share. I would like to create a pattern/tutorial to post and share with others that would like to make this heirloom for their families. It is SO hard to find. My email address is shannon.naan AT yahoo.com
Thanks!
December 2, 2010
0

found this helpful
I actually made this calendar in the early 70's, still have it. Although I made a new tree a few years ago, the ornaments are still original. My always-saving-things mother tucked the instructions and patterns away, still have them too. I am willing to scan and send them to anyone who is interested. Email 8tzmom@gmail.com
December 16, 2015
0

found this helpful
I too made this calendar when my 45 year old daughter was a baby. I gave it to her and she has placed it on the wall for my grandson for many years. There fairly young dog has found a way to get at the ornaments and has chewed up two of hem. Yes I would love just the ornament pattern to replace the chewed ones. qbwalkden@yahoo.com
My mother started this afghan over 30 years ago. She has lost the directions. Does anyone have any idea where we could find this?

Becca from MN
February 15, 2007
0

found this helpful
Freepatterns.com has many Ripple Afgan patterns, Please check here. They are all free
February 15, 2007
0

found this helpful
If it is crocheted and you know how to crochet, I may be able to help you. Just e-mail me at pgiles2283 AT windstream.net.
February 15, 2007
0

found this helpful
Do a Google search - "crochet pattern + ripple afghan", there are loads of sites to check out.
Couldn't find the pattern number you mentioned.
Hope you get it finished!
May 30, 2009
0

found this helpful
This is a couple of yeas after the fist post of this question but I have the directions to this afghan kit. My grandmother had the kit but never started it so I have a complete kit. If you still need the directions let me know and I can copy them for you.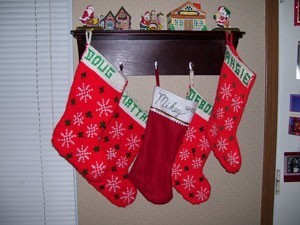 I am looking for an old Christmas Stocking pattern that I believe was put out by Leewards. My mom made them for us when we were little and has since made some for my husband and kids. Now that I have another baby in the house, she's lost the pattern!

It's double crocheted and the lettering and snowflakes are cross stitched on. She remembers that you could also cross stitch a Christmas tree on the front instead of the snowflake pattern. If anyone knows where I can find this pattern, I'd appreciate it! Thank you!!

Angie from O'Fallon, MO
December 17, 2007
0

found this helpful
I need this pattern, too! My grandmother made them for my entire family when I was little, and now I want to make one for my husband. I didn't realize that the original pattern had snowflakes, since she left them off of our's. So cute!
December 18, 2007
0

found this helpful
I would love to have this pattern if anyone finds it.
Thanks,
Debbie
October 15, 2014
0

found this helpful
I need this stocking pattern. We have a new daughter-in-law in our family and I want to make her a matching stocking. My mother in law made ours when we were dating back in the late 70's.
I was wondering if anyone has the Lee Ward's reversible shell crochet afghan pattern. I would so appreciate having it. I made it about twenty-five years ago for someone and would love to make it for my daughter. She has had five miscarriages and has been blessed with a very special little girl who is due in July. I would just love to make it for her. Thank you so much.
By Rachel from La Grange Park, IL
April 10, 2010
0

found this helpful
http://www.knitting-crochet.com/crochet/revbabafg.html
I must be running a lucky streak on search engines. I logged onto Google, copied and pasted your request on their search engine. And then found the website with the crocheting pattern you were looking for. Would you believe it that a thriftyfun member posted the website.
I hope this is the right pattern you were looking for. There's no photo posted but gives all of the instructions. Give my love to your daughter! Happy Crocheting!
February 23, 2011
0

found this helpful
I have the reversable shell stitch afghan pattern #06-3662