Fashioning bed sheets into curtains can save you money and give you the window covering you want. This guide is about making curtains from sheets.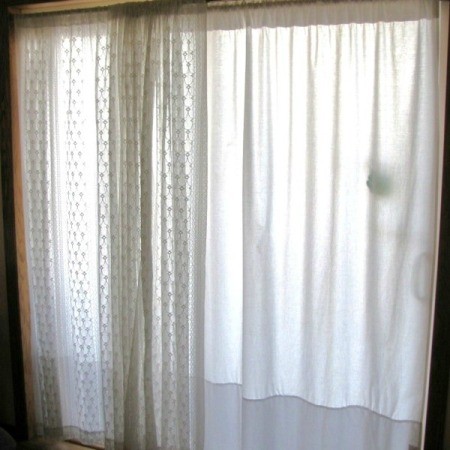 It will be 9 years next month since we moved into our house. There were absolutely no drapes in the house. So I had to find a frugal way of either buying drapes or making them myself.

By Mary Pardue 10 35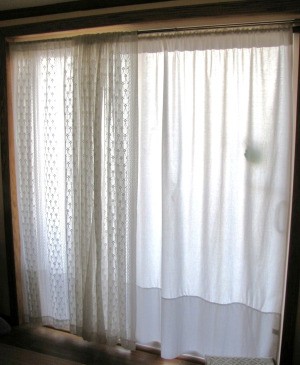 Our sliding glass door has old lace curtains on a spring-loaded rod. I went to Walmart and bought 2 twin size white sheets and a second rod. I hemmed the sheets to fit the door and put them up behind the lace curtains. When the sun is beaming in, we close the sheets to not only block the sun's rays but to reflect them back.
It really keeps the room cooler so our AC doesn't run so much. As you can see in the picture, I was lazy and didn't cut the sheets down before hemming, but no one notices. I don't care as long as it works for us.
By Mary P. from Zeeland, MI
By Cricket 205 896
Most of my curtains I've made from sheets. I simply measure the length then fold the top down and stitch two lines across leaving enough room at the top for the ruffle, and enough between each line for the rod to go through. This gives me a nice curtain with an attached matching valance.
In my kitchen, I found some beautiful lace and made curtains out of that for my glass doors and the windows in the kitchen. For tie backs, I either buy some lace or wide, pretty ribbon or I crochet them. For my lace curtains, I cut enough of the lace and made tie backs from that to match the curtains.
By Cricket from NC
Need to accessorize your bedrooms (or the whole house)? Then I have the answer. Buy sheets to match your bedrooms and make curtains. Curtains are an easy make, as you only have to worry about making two seams for the top. You can line your curtains as well by putting together two fabrics of the same size and sewing your rod hole while leaving a 2 inch space at the top for a bit of ruffling.
Each room can be done cheaply and easily using sheets that match your decor. It is also very economical since you are only buying flat sheets. So, instead of buying expensive curtains try this tip and make your rooms stand out.
By Gem from VA
By Syd Barr 14 46
You can make nice pinch pleated drapes from sheets. I used king sized sheets and made them floor to ceiling for a 22 foot opening. I bought the buckram heading sold by the yard at a fabric store and made my own pinch pleats. Looks professional. I did them unlined, but you could use another sheet to line them.

I bought my flat sheets from Wal-Mart. They were around $14.00 per sheet. Be sure you buy all you need at one time, even white sheets can vary in the whiteness! They can be dyed.

One king sized sheet yields 13 pleats allowing for space on either end. Need wider drapes, sew sheets together.

Don't use the pleater tape that you can sew on and buy the pins to gather them into pleats. They are quick, but do not look, nor hang very well at all. Talking from experience.

I really should have known better, it's not like I didn't know how to make drapes. You can save a bundle making drapes that look custom made.

By Syd from Dunkirk, MD
If you have high windows that need curtains over 86 inches but don't want to spend money buying the longer lengths or for material by the yard, just buy flat bed sheet(s). They're already sewn looking like curtains and come in many colors and patterns (buy extra to make decorative pillow covers, throws, placemats, running mats, whatever you like ) They're about 96 inches or longer. Just buy the pole or wire and curtain clips and hang'em up. You have 4 sheet choices: twin, full, queen and king.

By Vivi from Richmond hill, NY
By Kay Smith 1
How do you make curtains out of bedsheets?
By Kay
---
Most Recent Answer
By Cyinda 214 1,287 Flag
April 20, 2010
Fast and Easy Curtains:
Another way (besides using curtain clips) is to use a seam ripper or a razor blade & open up the top 3 inches of the thread on each side of the top of the flat sheet (where it's folded over). If you open both sides, the sheet will simply slide right on to the curtain rod & all you have to do is to hem the bottom of your sheet!
Spring Rods:
I prefer "spring-rods" instead of curtain rods, because they need no hardware & simply fit tightly inside your window with spring-action! Spring-rods come in all sizes & you twist them to get them bigger or smaller. With the more heavy-duty ones, you use a butter-knife or a screw driver to size them. They cost about $5 at Walmart & are sold with the curtain rods & blinds.
No- Sew Curtains:
If you don't want to ruin your sheet, a simple way to make a quickie curtain is to use a spring rod or curtain rod, then fold your sheet over the curtain rod, so the back is longer & the front (which is shorter) hangs over towards you. Let the back of the sheet hang down to the floor (or however long you want it). Now simply arrange the folds evenly so it looks nice. The shorter part (on top) that is hanging towards you is the "valance". Anyway, this is a quickie way to make an okay looking curtain & you don't damage your sheet.
Fancy Apartment Curtains:
You can use 2 identical sheets & do the same thing, but part them in the middle & add a matching color of ribbon to tie back each side with 2 matching large silk flowers pinned to the ribbon. This looks nice in an apartment or rental house where you want nothing permanent, but want to cover your mini-blinds or windows with something pretty.
---