I saw a good idea to make coloured pink heart sugar cubes. I am having a baby shower for my son and decided to make blue sugar cubes, since they're having a boy. It's a good idea for Valentine's day or parties in general.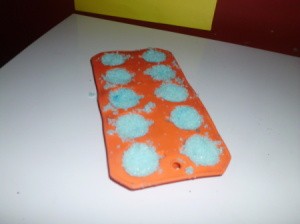 Just use 1/2 cup of sugar, a teaspoon of water and a drop of food colouring. Mix together well. Put into molds of your choice. Let dry and dump out onto a tray.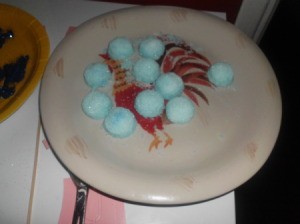 Source: Simply Frugal
By coville123 from Brockville, Ontario
I would like to know if anyone knows how to make sugar cubes? My DH only likes to use the cubes and they can be expensive.

Thanks for your help.

Pico from ST. PAUL, ALBERTA
January 3, 2008
0

found this helpful
Best Answer
Regular sugar with a little warm water - should be clumpy not runny. Pack into molds, ice cube trays, etc. until they dry out. You can add food coloring to the water before you mix it to make them decorative. You can buy molds at any online bakery supply store. They are very inexpensive. :)
Related Content
(article continues below)
October 12, 2007
0

found this helpful
Thanks you for the great question and information. Where I live, you can not buy sugar cubes and the horses love them and I always enjoy carrying them in my pocket. I will try the recipe, there are no silly questions
December 9, 2007
0

found this helpful
Have you ever tried to find sugar cubes? I want to share an art project from my youth (snow house), but sugar tablets are not available anywhere!
<b>Editor's Note</b> Try a restaurant supply store.
December 10, 2007
0

found this helpful
Wow! Thanks! I need this for our science experiment and I didn't know how to make it! Thanks a lot for posting!
December 24, 2007
0

found this helpful
I don't think she said her DH expects her to make sugar cubes for him. She seems to be a very nice person trying to find a less expensive way for her DH to have something he apparently likes a great deal. Too bad more people aren't as thoughtful. It is amazing how many negative comments are posted. Regardless of her reasons, nobody has the right to criticize her. As my Mother would say, "if you can't say something nice, it is better to say nothing at all".
June 8, 2008
0

found this helpful
Sugar cubes or "lumps" as the British say, are for sweetening drinks such as coffee or tea. They are equal to one teaspoon per lump, hence the expression, "One lump or two?" Loose or bagged sugar is used for baking.
July 15, 2008
0

found this helpful
Wow, thank you for posting this so much. I am 13 and looking for a cheap way of making treats for my horses, and I couldn't find one to make sugar cubes. Thank you very much! Your husband is a really lucky guy to have a sweet wife that will go through that much work to just do a little thing, that puts a smile on his face.(=
October 15, 2008
0

found this helpful
I have bought sugar cubes already and was looking for a recipe to add color to them for my daughter's school project Can anyone help? I do not wish to make them from scratch.
December 30, 2008
0

found this helpful
Add little water to the sugar till it is about a 3 to 1 ratio. Then let sit in the house or in sun house is recommended.
February 3, 2009
0

found this helpful
I'll try to make the sugar cubes with a mini ice cube mold. I'm inviting my friends from school for a tea party in my house in Lima. I haven't seen my friends for decades so I want to make everything special and also very english.
Read More Answers