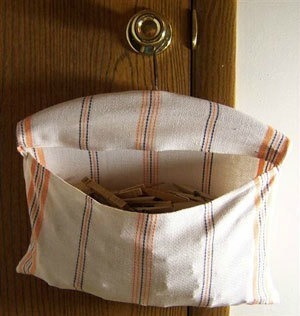 If you dry your clothes on the line, a clothespin bag is an essential item. Have fun and make your own. This is a guide about making a clothespin bag.
Ad
---
Solutions: Making a Clothespin Bag
Read and rate the best solutions below by giving them a "thumbs up".
You can easily make clothespin bags from recycled childrens' clothing. Use a piece of clothing that opens in the front (dress, shirt, or romper). I find that short sleeves work best. Turn inside out. You may need to shorten the garment depending on how long it is. Decide how far down you want the opening of the bag. Sew the front of the garment closed and sew a straight seam at the bottom of the opening. Cut off any excess if necessary and sew the sleeves shut. Insert a small hanger and fill with clothespins.
The size of clothing varies with the size of clothespin bag you want. I find that a 9mo - 2 works best for me.
By Brenda [1]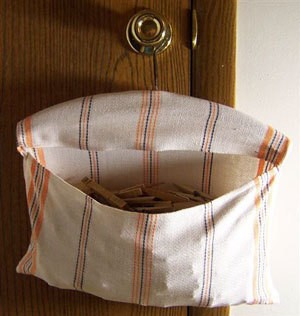 I've been living frugually most of my life and loving it. Always trying to find ways of saving money. My clothes pin bag was worn out and I found a free sewing pattern on a website.
I bought a tea towel for $1.00 at an estate sale. What is needed to complete the project is a wooden hanger. I had one hanging in my closet so I asked my husband to cut the ends to shorten it for the clothes pin bag.
By Marge from NY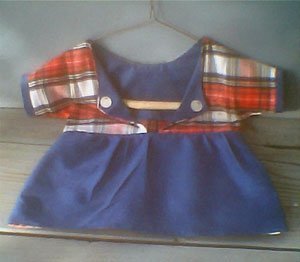 If you have a leftover toddler's dress or buy one at a garage sale, here's a cute way to recycle it into a clothespin holder.
Materials:
old toddler dress
thread and needle or sewing machine
clothes hanger (a child size would also work)
Directions:
All you have to do is sew the bottom straight across and and insert the clothes hanger in top and hang on your clothes line, but don't forget to bring in from the bad weather.
By Sandy from Bluff City, TN.
Give a "thumbs up" to the solution that worked the best! Do you have a better solution? Click here to share it!
Questions
Here are questions related to Making a Clothespin Bag.
I need something to hold my wooden clothespins and keep them dry outside. I need to be able to easily open and close it and easily get my hand inside to grab a few clothespins. Any creative ideas, e.g. recycling another item? Thanks.
By DG
Ad
---
---
Most Recent Answer

By Dolna Garbary [3]08/08/2011
Thanks everyone for the great ideas! I'm about designate an apron as my clothespin holder. Would like to try the milk jug idea too, but I haven't seen 4L milk jugs lately but will keep an eye out for them. I like the ziploc idea too, but the ones that I buy have too short a lifespan before the zipper stops working.
My mother used to have a clothes bag for clothes pins when she hung her clothes out on the line to dry. Does anyone have a pattern for it? I would really appreciate it.
By Jann from Union, OR
Ad
---
---
Most Recent Answer

By cettina [78]12/23/2010
If you know how to crochet, go to myrecycledbags.com they have a great one to make using plarn(cutting up plastic grocery bags) I made mine a few years ago and its still going strong! I even used the same pattern but using cut up tshirts as "yarn" as well. It came out looking great!

Does anyone have a pattern for a knitted clothespin bag that hangs on the line!

Canuckmom
---
Most Recent Answer

By Betty (Guest Post)07/13/2005
Here's a crochet one:
http://www.crochetnmore.com/clothespinbag.htm
Anyone out there have a easy pattern for a clothes pin holder?
By Cindy
---
Most Recent Answer

By Sandy [45]05/09/2013
Hi, I used a size two boy's shirt. Just stitch up the bottom and you have an adorable clothespin bag.
Is it possible to get a pattern for the old fashion dress clothes pin holder? My mother made many of these as gifts years ago, but she said I lost part of her pattern. I don't remember.
I feel crushed because I know how important this pattern was to her. She made hers from a paper bag. If you can let me know where to find one that would be great. Thank you.
By Lori from Bellflower, CA
Archives
Thrifty Fun has been around so long that many of our pages have been reset several times. Archives are older versions of the page and the feedback that was provided then.
***
Little Dress Clothespin Bag
*** I found this in a very old magazine that I bought at the Goodwill store and made a cardboard pattern out of the pattern in the book. I made lots of these clothespin bags which I gave to friends and family as gifts. These were made from fabric scraps, lace, etc. that I had from leftover projects, but you can use whatever you like to make them.
I received lots of compliments on how cute they were. They are very easy to make and I love to make anything easy.
Another way to make these if you don't have a pattern is to use little girl's dresses and sew up the bottom, works best with a "V" neck so you can hang it up with a wire or plastic hanger.
Use a simple dress and take it apart, make a pattern so you can make lots of these clothespins bags.
Hope you enjoy making these as much as I did. Thanks.
Measurements and Instructions for Little Dress Clothespin Bag
Body:
Cut 2 or fold and cut 2:
15 inch long, top to bottom
13 inch wide across at waistline
4 1/2 inch width of each sleeve
14 1/2 inch wide halfway between waistband and hem across
19 inch wide sleeve to sleeve across
15 inch bottom of body across
Cut bottom round on each side.
Back Facing:
Cut 1 - 9 1/2 x 13 1/2 inch
Sew to top of body back (right sides together) even between sleeves.
Turn and press to wrong side.
L-shaped piece: (center front facings)
Cut 1, reverse and cut another one 7 1/2 x 6 x 3 x 2 x 3 x 5 1/2 inches.
Lay (5 1/2 inch sides) facing each other) sides together onto front body at the top at the fold in middle of body.
Sew across top and down each 5 1/2 inch side.
Cut down between the two facings to end of facings.
Make a small cut each side at the bottom so you can turn it.
Cut corners, turn to wrong side and press.
Ruffle skirt:
11 1/4 x 8 inch, cut 1 on fold (fold is 8 inch side).
Hem edges and bottom of skirt.
Add lace to hem.
Gather long edge starting about an inch in on each end.
Pin gathered skirt to waistline.
Sew across.
Waistband:
Cut 1, 14 x 2 inch.
Press under both long edges.
Lay on top of skirt to cover gathers.
Sew across both long edges.
After you attach everything to body pieces. Pin both bodies right sides together and sew around (starting 4 inches in at shoulder). I sew mine twice for strength. Turn bag right side out and press. Fold over each facing and press down then add a button to each side.
You're done.
I hope this makes sense to you. I'm trying very hard to get this info to all who inquired about these bags.
Enjoy!
By Marian from Danville, VA
Editor's Note: Thanks so much for the instructions. We look forward to seeing photos of the completed projects from our crafty readers.
---
RE: Little Dress Clothspin Bag
I have done that as well, but used an infant sleeper with zipper front and sewed the bottom shut. The sleeper is the kind with no legs, just a straight bottom. (08/15/2007)
By aitkin
RE: Little Dress Clothspin Bag
A real baby or toddler dress hung on a child's hanger makes a cute clothespin bag. Just stitch the hem closed and hang it up. Since I have all boys I used to take a small shirt, no larger than size 6, button the front then topstitch on either side of the button opening. Then stitch the hem closed and hang it on a kid sized hanger. (08/15/2007)
By MartyD
RE: Little Dress Clothspin Bag
I made a clothespin bag from a child's blouse I got at a garage sale. I sewed that bottom of the blouse closed and I had my clothespin bag. I love it how simple it was to make and how many clothespins it holds.
Zig (08/17/2007)
By Ziggee
RE: Little Dress Clothspin Bag
I am 65 years old and I remember my mother making these when I was a child. We always used one, as we never left the clothes pins on the line because they would get dirty and leave marks on the clean clothes. Nice to see a little part of my childhood return. It brings back many memories. Thank you for sharing your cute little clothes pin bag. (08/24/2007)
By Danialle
RE: Little Dress Clothspin Bag
Do not have a dress? How about a mans shirt? Works great. Just cut it off and hem. Also, sew the sleeves shut. A short sleeve shirt is what I used. Also, you have the pocket you can use for other things.
Rosemary in OH (04/30/2008)
By meis54
RE: Little Dress Clothspin Bag
This brings back memories. I will be 71 years old this year and I remember when I was growing up that my mother had one of these. She did not like to leave the clothes pins out in all kind of weather to get dirty. We would hang it on the clothes line and slide it along and put the clothes pins in it as we removed the clothes from the line. Thanks for the memories. (04/30/2008)
By Lula
RE: Little Dress Clothspin Bag
OK here are the measurements:
Body
(cut 2)15 inches long top to hem
13 inches wide at waist
4 1/2 inch L sleeve
14 1/2 inches wide halfway between waistband and hem
19 inches wide sleeve to sleeve, across
15 inches bottom of body (cut bottom round on each end)
Back facing
(cut 1) 9 1/2 inches x 13 1/2inches, lay this piece on top of back body right sides together. Sew across, turn, and press
L shaped piece, center front facing
cut 1 reverse and cut another one, 7 1/2 inches x 6 inches x 3 inches x 2 inches x 3 inches x 5 1/2 inches
lay each piece in center of front body (5 1/2 inch sides to meet at center) right sides together
sew across top and down each center to end of piece
split down the middle between the two pieces
clip corners, turn, and press to wrong side
Ruffle skirt
cut 1 on fold (fold is short end) 11 1/4inches x 8 inches
gather at 11 1/4 inch edge
lay on body at waistline
pin and sew across
Waistband
14 inches x 2 inches
press both long edges
lay on top of gathered skirt to hide gathers
pin
sew across top and bottom
Sew two bodies together starting at 4 inches from end of sleeve; sew all way around (twice for strength). Turn and press. Turn back top facing pieces and press. Add a button to each side.
You are done!
If you are a guest on here I can't reply back to you. Please sign up first. Thanks. (05/01/2008)
By SewnVa
Does anyone have a pattern for a clothespin cozy or caddy that is sewn as opposed to knitted or crocheted?