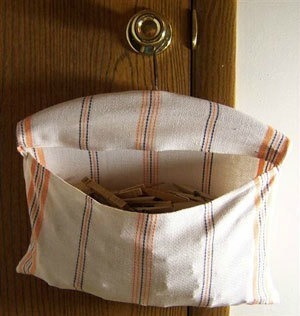 If you dry your clothes on the line, a clothespin bag is an essential item. Have fun and make your own. This is a guide about making a clothespin bag.
Ad
---
Solutions: Making a Clothespin Bag
Read and rate the best solutions below by giving them a "thumbs up".
You can easily make clothespin bags from recycled childrens' clothing. Use a piece of clothing that opens in the front (dress, shirt, or romper). I find that short sleeves work best. Turn inside out. You may need to shorten the garment depending on how long it is. Decide how far down you want the opening of the bag. Sew the front of the garment closed and sew a straight seam at the bottom of the opening. Cut off any excess if necessary and sew the sleeves shut. Insert a small hanger and fill with clothespins.
The size of clothing varies with the size of clothespin bag you want. I find that a 9mo - 2 works best for me.
By Brenda [1]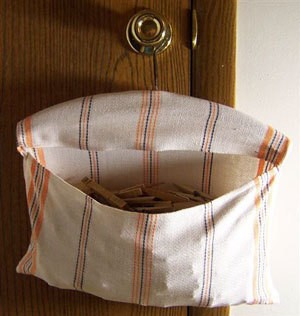 I've been living frugually most of my life and loving it. Always trying to find ways of saving money. My clothes pin bag was worn out and I found a free sewing pattern on a website.
I bought a tea towel for $1.00 at an estate sale. What is needed to complete the project is a wooden hanger. I had one hanging in my closet so I asked my husband to cut the ends to shorten it for the clothes pin bag.
By Marge from NY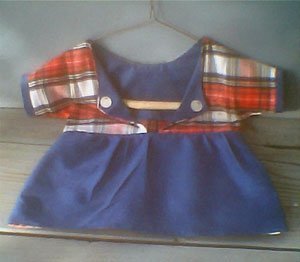 If you have a leftover toddler's dress or buy one at a garage sale, here's a cute way to recycle it into a clothespin holder.
Materials:
old toddler dress
thread and needle or sewing machine
clothes hanger (a child size would also work)
Directions:
All you have to do is sew the bottom straight across and and insert the clothes hanger in top and hang on your clothes line, but don't forget to bring in from the bad weather.
By Sandy from Bluff City, TN.
Give a "thumbs up" to the solution that worked the best! Do you have a better solution? Click here to share it!
Questions
Here are questions related to Making a Clothespin Bag.
I need something to hold my wooden clothespins and keep them dry outside. I need to be able to easily open and close it and easily get my hand inside to grab a few clothespins. Any creative ideas, e.g. recycling another item? Thanks.
By DG
AnswerWas this interesting? Yes No
Ad
---
---
Most Recent Answer
By Dolna Garbary 3 42 08/08/20110 people found this helpful
Thanks everyone for the great ideas! I'm about designate an apron as my clothespin holder. Would like to try the milk jug idea too, but I haven't seen 4L milk jugs lately but will keep an eye out for them. I like the ziploc idea too, but the ones that I buy have too short a lifespan before the zipper stops working.
---
My mother used to have a clothes bag for clothes pins when she hung her clothes out on the line to dry. Does anyone have a pattern for it? I would really appreciate it.
By Jann from Union, OR
AnswerWas this interesting? Yes No
Ad
---
---
Most Recent Answer
By cettina 78 392 12/23/20100 people found this helpful
If you know how to crochet, go to myrecycledbags.com they have a great one to make using plarn(cutting up plastic grocery bags) I made mine a few years ago and its still going strong! I even used the same pattern but using cut up tshirts as "yarn" as well. It came out looking great!
---
Does anyone have a pattern for a knitted clothespin bag that hangs on the line!

Canuckmom
AnswerWas this interesting? Yes No
---
Most Recent Answer
---
Anyone out there have a easy pattern for a clothes pin holder?
By Cindy
AnswerWas this interesting? Yes No
---
Most Recent Answer
Is it possible to get a pattern for the old fashion dress clothes pin holder? My mother made many of these as gifts years ago, but she said I lost part of her pattern. I don't remember.
I feel crushed because I know how important this pattern was to her. She made hers from a paper bag. If you can let me know where to find one that would be great. Thank you.
By Lori from Bellflower, CA
Archives
Thrifty Fun has been around so long that many of our pages have been reset several times. Archives are older versions of the page and the comments that were provided then.
I found this in a very old magazine that I bought at the Goodwill store and made a cardboard pattern out of the pattern in the book.
Does anyone have a pattern for a clothespin cozy or caddy that is sewn as opposed to knitted or crocheted?

Your response is much appreciated!
By craftyonetoo from Brantford, Ontario, Canada
Feedback:
RE: Pattern for Sewing a Clothespin Bag
Try tipnut.com (07/06/2010)

By MCW
RE: Pattern for Sewing a Clothespin Bag
For years my grandmother had a clothes pin bag made from a baby girl's dress. It was a simple dress with the bottom sown shut. (07/07/2010)

By deebomb
RE: Pattern for Sewing a Clothespin Bag
For a perfect, no-sew clothes pin bag, purchase an infant blanket sleeper bag (pj's for infants with no feet or legs, almost like a sleeping bag). I hung it on a plastic hanger with a metal rotating top. The snap at the top holds it in place, and the zipper can be opened and closed as needed. I have purchased as many of these as I come across for less that 50 cents each at yard sales and thrift stores. I fill them with clothes pins. They make wonderful shower gifts and prizes. I have been using the same one for about 12 years and just had to replace it! (07/15/2010)

By ftj31358