I made a towel holder for the kitchen. I had a yogurt lid that was begging for a project and instead of giving it to the kids, I took it.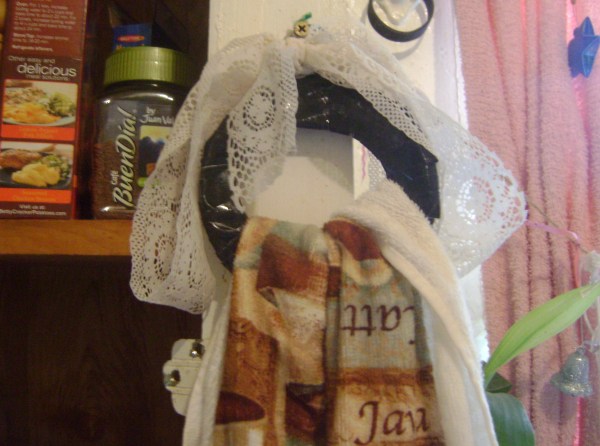 I cut a hole in the middle of the lid, large enough for a towel to go through. I then covered it with duct tape all the way around. It would have been easier if I had had the whole width of duct tape to use, but I only had a lot of small strips, as duct tape sometimes does not come off the roll evenly.
After I was through with that, I taped a key ring onto the lid. Running the same strip of tape over and through the key ring and the towel ring.
Then I took a twisty tie and secured the key ring part to the nail in my kitchen. I had some lace, from an old fabric curtain piece, and I used it to tie a bow and also to attach it to the nail. It turned out really cute.
I love seeing it, and the towels being not on the floor! The only thing I like more is to see my kids doing crafts, which I always love to take pictures of. However, I am thinking of ways to tweak the design, to make it look more crafty. I love crafts! Here is a picture.
Blessings and have a happy Fall!
By Robyn F. from Tri-Cities, TN
September 20, 2011
0

found this helpful
Thank you, to both of you, for your sweet comments. I am homeschooling now and we will be doing lots of projects that are tied into how the settlers in 1600 lived and ate, etc. I will probably post a few on here.
Blessings to you both for your comments, Robyn
Read More Comments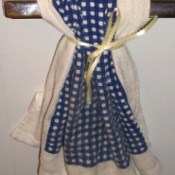 I had a towel on the oven rack that kept slipping out. Putting it back in was a pain, as the slot between the handle and the door wasn't very wide.
So, I got a light bulb over my head! I simply tied a piece of ribbon around it with a knot then a bow. Now it stays in place and I can simply slip it out for washing!
Hope this helps!
By Sandi from Salem, OR
August 29, 2011
0

found this helpful
Love this idea, very decorative too! Thanks!
Read More Comments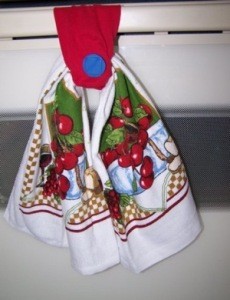 Using a leftover shirt sleeve I made this towel holder for my stove.
Approximate Time: 10 minutes
Supplies:
sleeve from child's tee shirt
Velcro dots or button
sewing machine
scissors
Instructions:
Cut the sleeve in a rounded pattern at the shoulder end.
Turn wrong side out and sew around that cut edge.
Turn right side out and attach half of two sets of Velcro to one end and the other half to the other end or if you prefer make a button hole and attach a button to the other end.

I don't care to make button holes so I used Velcro and added a large button for looks.
This holder is large enough to run a towel through and easily pull out when I need it. When the holder gets dirty, I just throw it in the washer and dryer.
I used the sleeves left from my child's apron pattern, just couldn't see wasting them.
By Ann from Loup City, NE