There are many fun and different ways to make these table protectors. This guide is about making a trivet.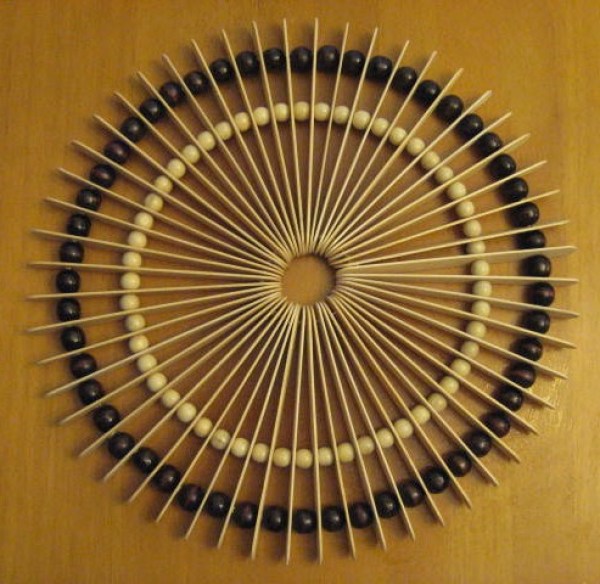 Filter

: All Articles
Sort

: Relevance
This trivet is made from wooden beads and tongue depressors. The result is a very eye catching trivet that is inexpensive to make.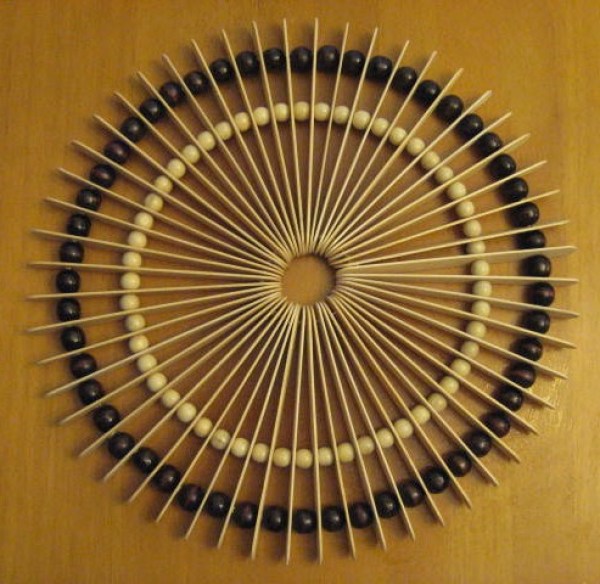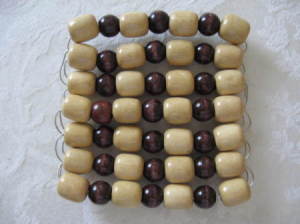 Approximate Time: 1 Hour
Supplies:
20 gauge wire
28 large wooden beads
21 medium wooden beads
Instructions:
My trivet measured 4 inches X 4-1/2 inches. You can buy the large assorted packs of beads for approximately $10, and there will be enough to make a trivet.
Lay out the beads into a pattern that you like and then measure the wire accordingly. You will be going back through the rows, so you will need a lot of wire. (I used approximately 80 inches of wire.)
Find center, then thread the first and second rows of the trivet onto your wire, then you will go back through the second row and continue doing this with your rows until you have finished your trivet.
At the end you will need to go back through your previous row (or two) to hide the ends of your wire.
By CDC from FL
What do you put on the corks so when you put a hot dish on there it doesn't melt the corks?
By Joan D
Answer
Was this helpful?
Helpful?
Yes
Best Answer
Nothing, the corks are not damaged by the heat from pots, etc. This is why cork trivets are popular.
Reply
Was this helpful?
Helpful?
Yes
Want to recycle those magazines? Here is a fun way to involve the children in making versatile project they could give to grandmother or perhaps their teacher. It can be used as a trivet or a decorative bowl.
Approximate Time: 2 hours
Supplies:
several magazines
clear tape
glue
Instructions:
Start by carefully tearing or cutting colorful pages out of the magazines. I tried to find at least two of a similar color as you can see in the one photo.
My finished trivet is 4 1/2 inches across and I used 23 pages.
Line your pages up in whatever order you want. The paper needs to have the slick finish magazine pages have in order to slide open to the shape of the bowl. You will fold each page the same way, but the first page you will go one step further.
Fold each page in half lengthwise, unfold and fold each long edge to the center crease, fold the folded long edge to the center again and then once more until the fold is about 1/2 inch wide. Repeat with the other side. You will do this with each of your pages.
For your first page only take one of the folded pages and fold it in half lengthwise, put stick glue on one half and tightly roll it from the folded edge. Remember to keep it as tight as you possibly can. When you are to the end wrap it securely with tape. Refer to photo.
Now take your second folded page and tape one end of it to the center coil. (second page) Keep taping pages together end to end until you have used all of them. Starting with your center coil tightly wrap your folded pages around the center. I found it easier as the coil got bigger to keep it on the table and slightly tug on the portion left to wrap. When you get to the end, securely tape the end to the last wrap on your coil. If it isn't good and tight unwrap it and start over it has to be really tight.
If you are going to leave it as a trivet spread your glue over the entire bottom and let it dry. You could glue felt to the bottom for extra support if you wish.
If you want it to be a bowl permanently, after you have carefully opened the bowl, spread glue over the entire outside making sure to cover all of the edges.
Another idea is to use mostly white pages, and spray paint the coil, then pull the bowl out for a completely different look. Just have fun with it, OK?
By Ann from Loup City, NE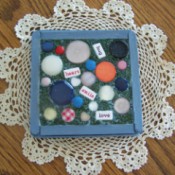 Mix kids and mud and you have a kid having fun. With just a little structure they can make a trivet for a gift in no time.
Approximate Time: 3 hours
Supplies:
grout or plaster of Paris
acrylic paint
16 craft sticks
4 1/2 x 1/4 inch wood block
good glue
assorted buttons
4 small wooden plugs
Instructions:
Note: If you choose shank buttons make sure they are no taller than the top of the craft sticks or cut the shank off with nippers.
Glue two of your sticks to opposite sides on the top of your block; before they dry measure and trim two more sticks to fit inside the opposite two sides and glue them in place as in the photo.
Repeat putting the two full sticks on the side with the two trimmed sticks this time.
Glue the four wood plugs in four corners on the bottom side. Let the glue dry then paint all, but the inside of the top, as shown in the first photo.
When the paint is dry mix up your mud or use grout or plaster of Paris. If you use flour and water, mix it until it is just past being sticky. You want it thick, but not sticky.
It helped me to trace the block on paper then I laid out my buttons in a pattern that I liked before I started so I had an idea where to place the main buttons. Then I started with the larger ones and the word buttons followed by the smaller ones to fill in where I needed. Make sure everything is level with the top of the top row of the sticks. After all the buttons were placed I filled in with seed beads pushing them into the wet cement.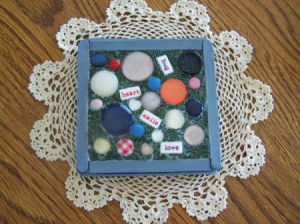 By Ann Winberg from Loup City, NE
This is a guide about making a greeting card trivet. Old greeting cards can be used in many crafts. Use a favorite one to make a unique trivet.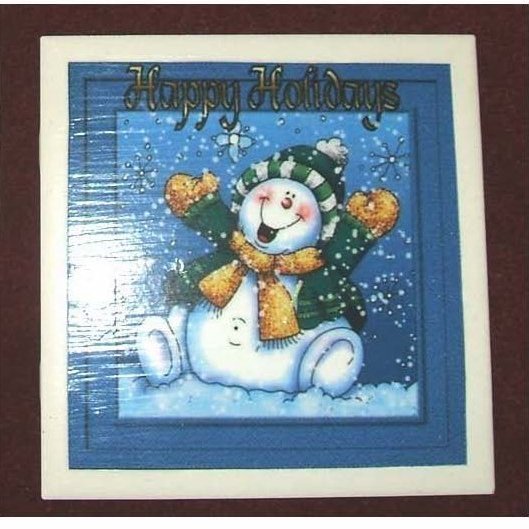 Trivet made with recycled sealer rings and yarn. Thread needle with yarn and wind it around six of the sealer rings, completely covering each ring. Tuck ends back through yarn and cut.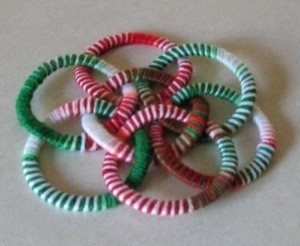 I am looking for ideas for a trivet. We are having a summer camp and want to use stamps. I was thinking of something like a tile.

Kerry from Winnebago, MN
Answer
Was this helpful?
Helpful?
Yes
If you have funds, you can buy discontinued ceramic tile from stores like home depot or lowesor local flooring stores at low prices. Stamp your design on with acrylic for glass, let dry and then add marbles at each corner for feet and you have a trivet/hot plate. Great gift for Mother's day, too!
Reply
Was this helpful?
Helpful?
Yes
Read More Answers...
My son is getting married soon and I wanted to decorate a tile to use as a hot plate and also some for coasters. What would you suggest for decorating both and sealing them so the paint/decoration is not damaged? Can you put stickers as a decoration on them then put something on top to seal and bake them? Any suggestions are welcome. Thank you.
By Lil from FL
Answer
Was this helpful?
Helpful?
Yes
Hello Lil, I did a tile trivet using a black 'n white picture printed on regular paper, from my personal photos. I tore the picture a bit larger than the tile. I carefully burned the edges for effect. Then using Hodge Podge I painted some on back of the pic. Using a boning tool, I smoothed out air bubbles. When dried, I put a coat of Hodge Podge on the top of the pic. You may want to use something more durable if using a lot. I then used a dry paper towel wadded up and blotted the wet surface. This gave it a cloth like texture. You can use cork board for back to prevent marring surfaces. I used a 4 x 6 white tile. Hope this is of help to you. Peace<3
Reply
Was this helpful?
Helpful?
Yes
Read More Answers...
Go to Home Depot or Lowe's ceramic tile department. Choose a tile that is one color, but has a design in it. Take 6 corks, cut them in half as evenly as possible. Glue them to the underside of the tile.
Turn over and paint the tile, following the design, using ceramic tile paint, available at Michael's. Let dry and you have a trivet for the table. Fun for all ages!
By Marthann from Natick, MA
I would like instructions on making a ceramic tile hot pad or trivet. I made one in junior high school, but don't remember the exact instructions.

The one I want to make is with four 4 inch or 6 inch ceramic tiles on a board. It is put on your table to put hot dishes on. I don't know how to attach the tiles to the board with grout or glue? Can anyone help me?

By NanaMay from Mulhall, OK

Answers:
Making a Ceramic Tile Trivet
You could just attach a thin sheet of cork cut to fit on the underside with glue or glue the sort of thick round felt or round cork pieces that are often used to keep the bottom of an item from causing scratches to table surfaces on the underside of all four corners.
In either case just make sure to wipe clean instead of immersing in water. (02/15/2010)

By Deeli
Comment
Was this helpful?
Helpful?
Yes
***
***
What to do with all those old wine corks? I made mine into a trivet. It's perfect to put hot pots or plates on. It is simple and inexpensive. All you need besides the corks, is a wire clamp (2$ at home depot). Put your corks in the middle and then just use a screw driver to tighten the wire clamp and voila - done!
By Julianna from Princeton, NJ
Comment
Was this helpful?
Helpful?
Yes