Morning Oats Mix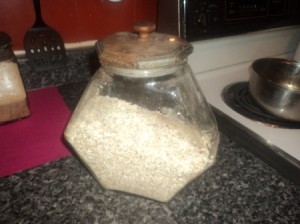 I mix this up ahead and it's easy to make in the mornings. It also makes a good gift in a decorative jar.
Ingredients:
12 cups large flake, rolled oats
4 cups raisins
2/3 cup of flax seeds
1/2 cup of sesame seeds
2 Tbsp. nutmeg
Mixing Instructions:
Toss oats, raisins, flax seeds, sesame seeds, and nutmeg. Transfer to large jar or scoop 1/2 cup portions into small sandwich bags and seal shut.
Directions:
To make stir 1/2 cup of mix and pinch of salt into 3/4 cup of water. Microwave on high one minute, stir, and microwave until bubbling, about 45 seconds. Serve with milk and brown sugar.
Servings:
32 1/2 cup servings
By coville123 from Brockville, Ontario
Feedback
Read feedback for this post below. Click here to post feedback.

By
01/24/2013
Great idea!
I think I will mix this up and put in all back into my regular "barrel oat meal" container with printed instructions on it! Thanks!
Post Feedback
Add your voice to the conversation.