Homemade Instant Oatmeal Recipes
Recipes
Share on ThriftyFunCheck out these recipes. If you have made this recipe please submit a photo and let us know how it worked. Or, add your own recipe variation.
Make your own "instant" oatmeal bags. Measure out a weeks worth of oatmeal and place into ziploc snack bags. To each bag, add 1 tsp. chopped nuts and 2 tsp. chopped dates for date nut flavor. F
or maple flavor, add 1 1/2 tsp. brown sugar and a pinch of salt. You can substitute any dried fruits, according to your tastes. Don't forget to re-use the zip lock bags!
Try different flavors. Use cinnamon or pumpkin or apple pie spices. Add syrup or honey instead of sugar. Coconut is good, and so is nearly any fresh fruit. If you can't have sugar, use whatever artificial sweetener you choose.
Flavor extracts and coffee syrups can also be used to create different flavors. You save money, use less sugar, and save on calories too.
By Monica from Cortez, CO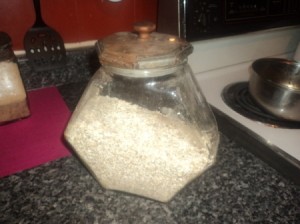 I mix this up ahead and it's easy to make in the mornings. It also makes a good gift in a decorative jar.
Ingredients:
12 cups large flake, rolled oats
4 cups raisins
2/3 cup of flax seeds
1/2 cup of sesame seeds
2 Tbsp. nutmeg
Mixing Instructions:
Toss oats, raisins, flax seeds, sesame seeds, and nutmeg. Transfer to large jar or scoop 1/2 cup portions into small sandwich bags and seal shut.
Directions:
To make stir 1/2 cup of mix and pinch of salt into 3/4 cup of water. Microwave on high one minute, stir, and microwave until bubbling, about 45 seconds. Serve with milk and brown sugar.
Servings:
32 1/2 cup servings
By coville123 from Brockville, Ontario
Mix together a large batch of instant oatmeal and scoop up a serving that costs only about a quarter a day.
Ingredients:
1 container (18 oz) quick-cooking oats
3.2 oz nonfat dry milk
1/2 cup firmly packed brown sugar
1 cup raisins
Directions:
In a large bowl combine all ingredients. Transfer to an airtight container. Makes about 16 servings.
For breakfast: scoop 1/2 cup oatmeal mix into a bowl and add 1/2 cup water. Microwave on high for 1 minute.
By Laurie from Manitowoc, WI
This is an awesome way to trick your instant oatmeal into a luxurious textured, full-of-flavour delight. I like to whip this up for my friends who stay over... only takes a few minutes. They think I go through a lot of trouble making it. No trouble! But they can think what they want. ;)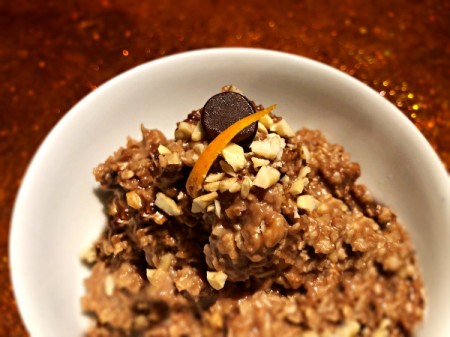 Read More...
Steel cut oats or Groats are the only type of oats that actually reduce cholesterol and lower triglycerides according to a study published last year. That is due to the fact that the bran is still intact.
Read More...
Solutions
Share on ThriftyFunThis page contains the following solutions. Have something to add? Please share your solution!
Make your own premixed oatmeal using baggies. The pre-packaged is 34 cents a pack. The homemade is 19 cents! Use half cup of rolled oats with 2 teaspoons of powdered milk, 1 tablespoon of brown sugar, and one half teaspoon of cinnamon mix together put in bag. When ready to use add three fourths water or milk. Microwave for 30 to 40 seconds and mix. Then add honey, fruit, nuts or whatever you like!
By coville123 from Brockville
Instant oatmeal is pretty quick and easy to make yourself to have at the ready. No need for all those little baggies! This recipe is especially nice for those of us who have kids or otherwise demanding lifestyle where we need something quick and healthy.
If your family eats instant oatmeal, you can save a significant amount of money, by making it yourself. All you need is: quick cooking or instant oats, sugar (either white or brown), salt (I prefer kosher salt), and optional flavorings such as cinnamon, nutmeg, raisins, or chopped dried fruit.
I use my stand mixer for this, but of course you could just use a bowl. First, combine 1/2-1 cup or so of sugar with two teaspoons or so of salt.
Then mix in about two quarts of oats. Then pour the mix into whatever storage vessel you have.
This works out best if you have access to large bags of quick cooking oats. You can find such a thing through Costco, a food co-op, restaurant supply, etc. A 25 pound bag of Bob's Red Mill at my local Cash and Carry is $14.28, which works out to about 3.5 cents per ounce. For a quick comparison, a decent brand of oatmeal is about 40 cents per ounce. Granted, this doesn't factor in the small amount of sugar and other flavorings, but I think you get the picture!
Source: http://www.mysuburbanhomestead.com/homemade-instant-oatmeal
By Vegetable Garden Cook from Beavercreek, OR
Questions
Ask a QuestionHere are the questions asked by community members. Read on to see the answers provided by the ThriftyFun community or ask a new question.
Is there a recipe for sugar-free instant oatmeal, plain or flavored?
By Linda from Bloomington, IL from Bloomington, IL
Answers
June 23, 2011
0

found this helpful
I Googled "instant oatmeal recipe" and got tons of hits. This one looks great: www.instructables.com/.../
June 23, 2011
1

found this helpful
I use Quaker's Instant Oatmeal, it is sugar-free, then I add the Sugar-free coffee creamer for flavor. The Caramel Latte flavor is amazing!
June 23, 2011
0

found this helpful
I make this for me all the time and it is so good: You have to use a big bowl, or it will overflow in the microwave.
I put as much plain oatmeal as I think I will eat into a bowl. Usually 1/2 cup. I pour water over it until the water comes to the top of the oatmeal, usually a cup. Most of the time I don't measure it, but just pour water over the oatmeal until it is all covered regardless of the instructions on the container of oatmeal.
Then I microwave it for two minutes. When it is done, I put some butter in the oatmeal, which will be hot, and then some sugar free pancake syrup. I love pancake syrup on oatmeal it gives it a maple flavor. Also, some people like to put raisins in the oatmeal after it comes out of the microwave. Some folks put milk in it, or a large dollop of yogurt.
I just love this recipe so much!
Blessings,
Robyn
June 24, 2011
0

found this helpful
Use regular oatmeal. Use 2 parts water and 1 part oatneal and cook in microwave. Fast & easy. I often add fruit or yogurt to mine. Be careful and watch because it does boil over quickly when it is almost done.
June 24, 2011
0

found this helpful
Here is the one I use and I eat it every morning. I like the idea that this will last for several days. I mix 5 cups old fashioned oatmeal (just because I like it better than the quick). I add 1/2 cup brown sugar, 1/4 cup powdered milk and this is optional, but I use a package of Craisins or whatever dried fruit I have on hand and stir. To cook, I put a scant cup of water in a 2 cup Pyrex measuring cup, add 1/2 cup of the mix. I cook it on high for 2 minutes. If you use the instant oatmeal, you would only have to cook it for 1 minute. I add milk when done, delish!
Answer

this Question

...
Archives
ThriftyFun is one of the longest running frugal living communities on the Internet. These are archives of older discussions.
I wanted to share a tip with all those busy moms who love instant oatmeal, but can't stand those awful prices. I take regular oatmeal and put it in my blender and just give it a few zaps, to break up the oats. You can add different ingredients to make it taste better.

Here are a few of mine.

Cinnamon Apple
1/4 cup of blended oats
A few chopped dehydrated apples
1/4 tsp cinnamon
A bit of brown sugar
Peaches and Cream:
1/4 cup of blended oats
1/2 peach from can or fresh if you have it, cut up
1-2 tbsp of vanilla instant pudding powder
All you have to do is bag up the mix. Be sure to only store dry ingredients. I like using dehydrated fruits and instant puddings. they store well and you can put them in single serve bags or bowls and all you need to do is add hot water.
By Melissa from Pine City, NY
Answers:
Make Your Own Instant Oatmeal
The Quick Oats can be prepared in the microwave exactly as they come out of the box. There is no need to process them more. Time is same as for "instant". I emailed Quaker about this over a year ago and this was info they gave me.
TC JAN (10/12/2007)

By Jan
create your own oatmeal
I read this article and I have to say I was baffled as to why the oats would be put into a blender. Anyway, my contribution to this post is my own creation, something I have done for years and I love. I, too, use the Quaker quick oats, add a handful (or so) of orange flavored dried cranberries and some hot water. I used to use orange extract and Craisins, but found the orange flavored dried cranberries to be even faster. :) I used to make "apple" flavored oatmeal for my daughter when she was a toddler, using the quick oats and apple juice. I also used to use maple syrup and brown sugar to get that maple and brown sugar taste, but found that it took a lot of both to create a good flavor, and stopped because of all the sugar I was putting in her body. Cinnamon and apple juice is so much better :) (10/12/2007)

By Valerie
Make Your Own Instant Oatmeal
Another tip: I hold onto small canisters, including larger used spice jars, to carry my oats. I keep them lined up on the kitchen counter to grab on the go! I am not a parent, but I am a busy young adult working in a competitive career field -- having a healthy instant breakfast I can stick in my purse then mix in a bowl with hot water at my office is a huge boon for me.

I am so grateful for the ideas on add-ins! None of this had occurred to me before. I just mix my oats with powdered honey, purchased in large quantities at BulkFoods.com. Tastes like regular honey when mixed with water, but more convenient and slightly cheaper. (11/20/2007)

By Amy
Make Your Own Instant Oatmeal
To save time and money I set out my crock pot before bed and make long cook oatmeal. I add chopped apples and cinnamon and leave it on low all night. I end up with a very velvety oatmeal in the morning. I put most of it into containers in the fridge so anyone in my family can microwave a bowl during the week for breakfast. I work so this saves time and the family can still get a hot healthy breakfast. (05/25/2008)

As a busy single mom, I can certainly appreciate convenience foods. It is not necessary, however, to pay a high price for convenience with a little advance planning. For example, you can make your own flavored instant oatmeal packets by simply combining the ingredients (quick oats and the flavoring of your choice - brown sugar, cinnamon, etc) in a ziplock baggie ahead of time. If something requires both wet and dry ingredients, you can use two baggies (wet ingredients in one, dry in the other) and combine when preparing. To use the oatmeal example again, oats and sugar would go in one baggie, a mashed banana and vanilla in another.
By Leann D

Answers:
Convenience Foods - Make Your Own Instant Oatmeal
This is a great idea. I usually just follow the microwave directions on the oatmeal box (round), but my son is always wishing for the packets. I could make up packages for him, and for myself that would take both of us less time.

I have also started making my oatmeal with milk instead of water. This gives you more nutrition for the same preparation time.
(12/26/2004)

By Cindy
Convenience Foods - Make Your Own Instant Oatmeal
Try also raisins, chocolate chips, or dried apples. This is a great tip. No need to buy the already made packets of oatmeal when you can save A LOT of money packaging up your own. (12/26/2004)

Convenience Foods - Make Your Own Instant Oatmeal
I have been making these for about 4 years and I love them! I have saved a lot of money as well. Even the store brand oatmeal packets are expensive now. Check them out and see for yourself.

Creamy Homemade Fruit Oatmeal Packets
1 cup quick cooking oatmeal
3 tabs, powered coffee creamer.
2 tabs dried fruit or (2 tabs. fruit preserves) of your choice,
2-3 tsp. sugar. More or less to taste
Directions for Each Oatmeal Packet:
Place 1/2 cup of the oats in a blender and grind until powdery. Then place in zip-lock bag along with all of the other ingredients. I make up a weeks worth at a time. When ready to use. Open one bag and pour in a bowl. Add 1/2 cup boiling water and stir. If you like thick oatmeal use less water and if you like thinner oatmeal use more water. Enjoy.
Sandy-TN (01/13/2005)

By sandy
Convenience Foods - Make Your Own Instant Oatmeal
Thanks for the tips, guys. I have been wondering this for a few months and I finally did a Google search on the topic. Glad I found this thread and this website. I love being thrifty!

Lori - Kansas City, MO (11/02/2005)

By Lori
Make Your Own Instant Oatmeal
My kids were mad when I stopped buying it. I asked them what they liked about it that mine didn't have and they said the dinosaur eggs. So, I bought a pkg of inexpensive dinosaur, creature, and floral sprinkles (I let each child choose their own) to put on my homemade prepackaged oatmeal after it's cooked. They're in heaven and haven't complained a bit since!

Sometimes it's the little things that make all the difference. (04/16/2007)

By Toni