Making cookies without having to get the oven hot is sometimes the best way to go. This page contains no bake peanut butter cookie recipes.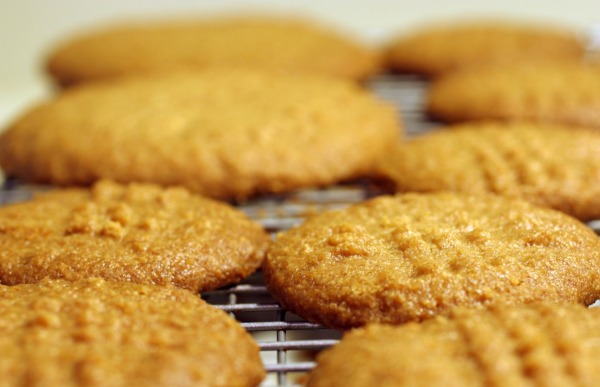 Filter

: All Articles
Sort

: Relevance
If you don't have time (or all the ingredients) to bake a whole batch of cookies, or you don't want to use electricity (or gas), but you crave a tender, just-baked peanut butter cookie right NOW, here is how you can make as good a "peanut butter cookie" as you might ever want in less than two minutes (less than 30 seconds if you have the ingredients at hand):

Approximate Time: Less than two minutes
Yield: one
Ingredients:
1 Ritz cracker
1 heaping tsp peanut butter
1 heaping tsp brown sugar
sprinkle of cinnamon
Steps:
Take a Ritz cracker. I only guarantee this recipe if you use Ritz crackers as they are perfect for this, tender and well-salted.
Put a good-size dollop of peanut butter on top of the cracker, and then however much brown sugar you can fit on top of that, and then top the brown sugar with a sprinkle of cinnamon.
Enjoy! It tastes like a very tender, freshly-baked peanut butter cookie.
I am looking for a cookie recipe that is a lot like the oatmeal nobake cookies except it has saltine crackers and peanut butter but doesn't have the cocoa. This is a drop cookie. I think I remember all the ingredients but not the measurements. Butter, milk, sugar, vanilla, peanut butter, and saltine crackers added at the end. If anyone has this recipe I would love to have it again.

Thanks,
Leanne
Does any one have a recipe for a no-bake peanut butter cookie with oatmeal, but no cocoa?

Sylvia from AL
Answer
Was this helpful?
Helpful?
Yes
By guest (Guest Post)
Flag
the recipe mazie submitted is the same as mine/except 4 cups oatmeal, & 1 cup coconut
Reply
Was this helpful?
Helpful?
Yes
Read More Answers...
A quick and easy recipe with 5 pantry items, that's just like Reeses!
Ingredients:
1 1/2 cups graham cracker crumbs
1 lb confectioners' sugar (3 to 3 1/2 cups)
1 1/2 cups peanut butter
1 cup butter, melted
1 (12 oz.) bag milk chocolate chips
Directions:
Combine graham crumbs, sugar and peanut butter and mix well. Blend in melted butter until well combined. Press mixture evenly into a 9x13 inch pan. Melt chocolate chips in microwave or in double boiler. Spread over peanut butter mixture.
Chill until just set and cut into bars (these are very hard to cut if the chocolate gets "rock hard".
Servings:
24
Time:
10 Minutes Preparation Time
0 Minutes Cooking Time
Source: Church Cookbook
By LovingLynden from Lynden, WA
Comment
Was this helpful?
Helpful?
Yes
I am looking for a recipe for a no-bake cookies with two of the ingredients being peanut butter and saltine crackers, but does not have chocolate in it. Thanks for
the help.

Lin from Topeka, KS
Combine first three items in pan on stove heat until you are able to blend well. Remove (do not boil), add oats, mix well. Mixture will be stiff.